Tuesday, December 30, 2014
Commits Fill USHL Prospect Rosters
19 schools have recruits set for Jan. 13 Top Prospects Game in Dubuque, Iowa.
---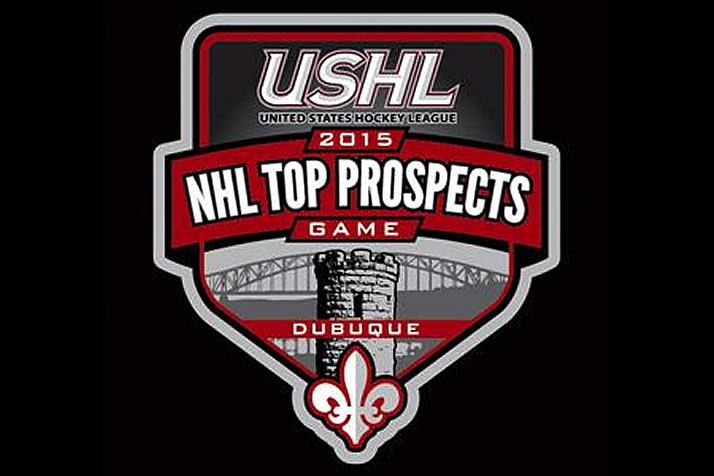 Updated: Jan. 13 with injury replacements
Thirty-eight of the 43 players selected to the 2015 USHL/NHL Top Prospects Game are already committed to Division I schools, with the event set for Jan. 13 in Dubuque, Iowa. Faceoff is set for 7 p.m. CT and the game will be shown live on FASTHockey.
Those 35 players represent 19 Division I schools and 15 of the 17 USHL member clubs. Michigan and Minnesota have the most committed players participating with four, followed by Denver, Notre Dame and Penn State with three each. Boston University, Miami, North Dakota, Providence, St. Cloud State, Western Michigan and Wisconsin each have two recruits named to the game.
The selection process was completed in coordination with USHL general managers, NHL scouts and team personnel and NHL Central Scouting. All 43 players chosen are eligible for the 2015 NHL Draft, including 30 players who are in their first year of eligibility for the draft.
"The USHL/NHL Top Prospects Game provides a unique opportunity for the management and scouts of the 30 NHL teams to view the top USHL talent available for the 2015 NHL Draft," said Dan Marr, director of NHL Central Scouting. "The prospects are encouraged to showcase their skills and abilities amongst their peers in this competitive and entertaining environment that brings out their best."
2015 USHL/NHL Top Prospects Game Lineups
| | | |
| --- | --- | --- |
| TEAM WEST | USHL Team | NCAA Commitment |
| Forwards | | |
| Brock Boeser | Waterloo | |
| Robert Carpenter | Sioux City | Boston University |
| Mikey Eyssimont | Fargo | St. Cloud State |
| Michael Floodstrand | U.S. NTDP | Harvard |
| Jakob Fosbacka-Karlsson | Omaha | Boston University |
| Matthew Freytag | Tri-City | Wisconsin |
| Jake Henderson | Omaha | Providence |
| Cooper Marody | Sioux Falls | Michigan |
| Tom Novak | Waterloo | Minnesota |
| Nikita Pavlychev | Des Moines | Penn State |
| Denis Smirnov | Fargo | Penn State |
| Chris Wilkie | Tri-City | North Dakota |
| Defensemen | | |
| Tory Dello | Tri-City | Notre Dame |
| Bryce Hatten | Cedar Rapids | Miami |
| Wyatt Kalynuk | Lincoln | Western Michigan |
| Joe Masonius | U.S. NTDP | New Hampshire |
| Ethan Spaxman | Waterloo | Merrimack |
| Ryan Zuhlsdorf | Sioux City | Minnesota |
| Goaltenders | | |
| Chris Birdsall | Youngstown | Boston College |
| Ben Blacker | Cedar Rapids | Western Michigan |
| TEAM EAST | USHL Team | NCAA Commitment |
| Forwards | | |
| Mason Bergh | Chicago | Colorado College |
| Cal Burke | Cedar Rapids | Notre Dame |
| Kevin Conley | Youngstown | Denver |
| Kyle Connor | Youngstown | Michigan |
| Erik Foley* | Cedar Rapids | Providence |
| Jiri Fronk | Cedar Rapids | |
| Dylan Gambrell | Dubuque | Denver |
| Brent Gates Jr.* | Green Bay | Minnesota |
| Adam Gaudette | Cedar Rapids | Northeastern |
| Robby Jackson* | Chicago | St. Cloud State |
| Tanner Laczynski | Chicago | Ohio State |
| Seamus Malone | Dubuque | Wisconsin |
| Sam Miletic | Green Bay | Michigan |
| Chase Pearson | Youngstown | |
| Tyler Sheehy | Waterloo | Minnesota |
| Defensemen | | |
| Joe Cecconi | Muskegon | Michigan |
| Dennis Gilbert | Chicago | Notre Dame |
| Blake Hillman | Dubuque | Denver |
| Kris Myllari | Youngstown | Penn State |
| Vili Saarijarvi | Green Bay | |
| Christian Wolanin | Muskegon | North Dakota |
| Goaltenders | | |
| Ryan Larkin | Cedar Rapids | Miami |
| Eric Schierhorn | Muskegon | |
| * Injured; will not play | | |