Monday, December 8, 2014
Cover Boy
BU's Jack Eichel graces two magazine covers in advance of World Junior Championship.
---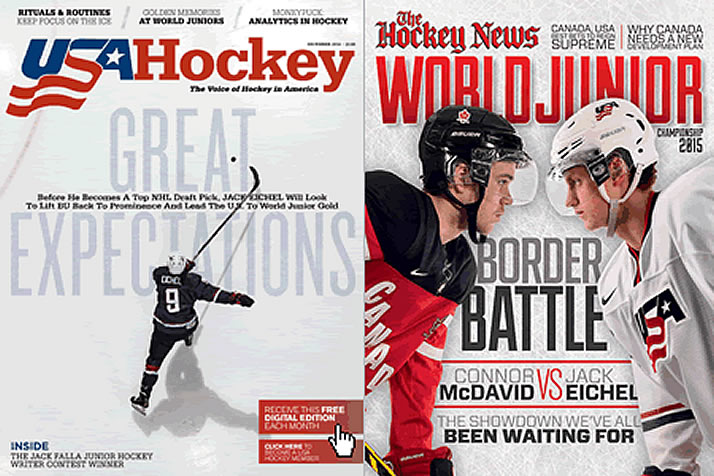 Boston University freshman Jack Eichel (N. Chelmsford, Mass./U.S. NTDP) has taken the college hockey world by storm, leading the nation in points (25) and points per game (1.67).
With the World Junior Championship looming at the end of the month, Eichel is poised to take on an even bigger stage, and two of the world's largest hockey publications - USA Hockey Magazine and The Hockey News - have him featured on the cover.
USA Hockey Magazine's Dec. 2014 cover story, titled Great Expectations, looks at Eichel's efforts to help turn around BU, lead the U.S. to World Junior gold, and earn a top spot in the 2015 NHL Draft.
"It's been awesome," Eichel tells author Jess Myers of his first semester at BU. "For years, I kind of imagined what it would be like to play at Agganis, and it was all of that and more."
The Hockey News cover features Eichel and the other top candidate for No. 1 honors in the 2015 NHL Draft, Canada's Connor McDavid. Ryan Kennedy takes a close look at the two, previewing their battles not just for the top draft spot, but at the upcoming World Junior tournament.
Note: The Jan. 5, 2014 issue of The Hockey News also features a four-page special advertising section on NCAA hockey produced by College Hockey Inc.
The U.S. and Canada are set to meet Dec. 31 in Montreal, and could clash again in the medal round. As Kennedy notes, with Eichel playing NCAA hockey and McDavid in the OHL, that's the only head-to-head action scouts will see this year.
"A bit bigger than McDavid," Kennedy writes, "[Eichel is] also playing against older, stronger, more experienced competition in college. Not that those lettermen have had much luck stopping him lately."
Eichel, who assisted on all four BU goals Friday night, has one more game (at Rensselaer) before the U.S. training camp begins (at BU's Walter Brown Arena). All eyes, as these magazines prove, are already on him.