Monday, December 22, 2014
First Semester Helps WJC Freshmen
College hockey newcomers already sensing development entering 2015 World Junior Championship
---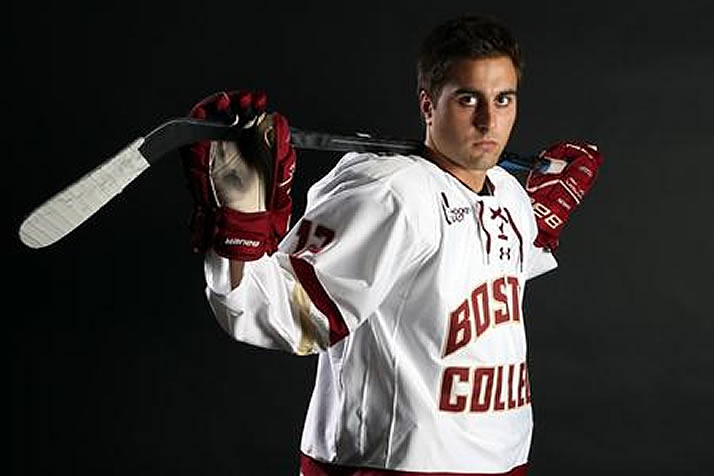 BC freshman Alex Tuch cites the pace of college hockey as helping him improve in the first half of 2014-15.
By Nate Ewell
When U.S. National Junior Team linemates Jack Eichel and Alex Tuch left the team's summer evaluation camp in August, they went their separate ways, with Eichel headed to BU and Tuch to BC.
Now the NCAA freshmen at rival schools have reunited on the first line for the red, white and blue, and they – and other freshmen on the team – are finding out how much their limited time on campus has helped them prepare for the upcoming World Junior Championship.
NCAA Player Development | U.S. Camp Roster
So what's different about their games now from when they left Lake Placid this summer?
"My tempo of play and pace of my game has developed a lot more," said Tuch (Baldwinsville, N.Y./U.S. NTDP). "The college aspect is very go-go-go, really fast play. [Coaches Jerry] York, [Greg] Brown and [Mike] Ayers have really helped me with that this year."
Strength and conditioning has been a big focus for Eichel (N. Chelmsford, Mass./U.S. NTDP).
"I worked out at BU all summer and obviously continue to work out each week," he said. "Our trainer does an unbelievable job, and I definitely feel like my body has felt really good in the first few months."
Different players cite other areas of improvement. Michigan freshman Dylan Larkin (Waterford, Mich./U.S. NTDP) has averaged more than a point per game with the Wolverines, and said his offensive game has progressed in the last two months. Tuch's teammate at BC, Noah Hanifin (Norwood, Mass./U.S. NTDP), cited the help of assistant coach Greg Brown both on the ice and in bi-weekly video sessions to help him improve.
Tuch said that Hanifin – his roommate at BC – "has taken really big steps this year and has gotten better and better every day."
While the specific benefits each player has seen may be different, a big reason for their improvement is the level of competition they have found in Division I. Freshmen – even those who played NCAA teams while members of the U.S. National Team Development Program last season – find themselves playing against (and practicing with) bigger, stronger, faster and more skilled players on the whole.
Average Age in NCAA
Part of that comes from the age of U.S. college players. While everyone on the U.S. National Junior Team is a teenager, those in college are competing among players who average 21.88 years old. By comparison, the average age in the Canadian Hockey League is more than three years younger (18.65).
"One of the reasons I wanted to play college hockey was playing against older, stronger guys on a nightly basis," said Eichel. "I think it's really going to help me in the long run, making sure I'm competing for every loose puck, moving my feet and avoiding hits when I can. I've got to work hard at the faceoff dot and away from the puck."
Now these NCAA freshmen hope to take their experience on campus and apply it in their pursuit of a WJC medal. For Hanifin, 17, knowing he can compete with 22-year-olds gives him a new comfort level headed into this tournament.
"Preparation-wise, playing at a higher level helped me a ton," he said at last week's training camp at BU. "The speed of the college game, the physicality of it, makes me feel a lot more comfortable playing with guys who are a little younger than the college level."