Thursday, December 11, 2014
NHL Teams Highlight NCAA
Minnesota Wild, Tampa Bay Lightning feature rapidly growing college presence in web features.
---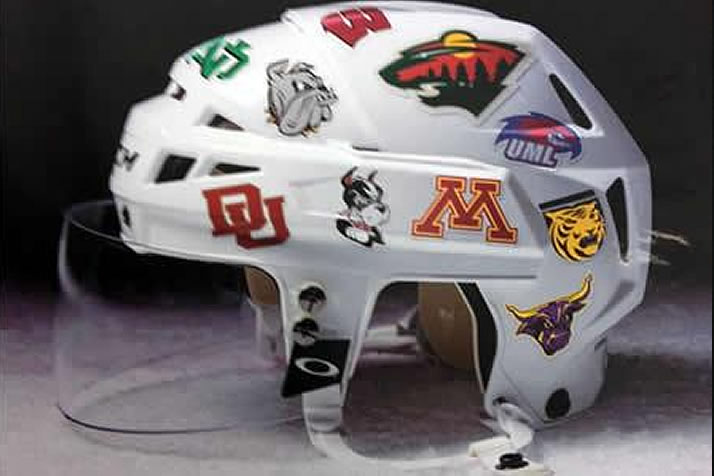 This photo graced the cover of the Minnesota Wild's game program.
Two NHL teams - the Minnesota Wild and Tampa Bay Lightning - have highlighted the growing impact of NCAA hockey on their rosters and the NHL as a whole in feature stories on their web sites this week.
Minnesota Wild feature | Tampa Bay Lightning feature | NCAA In the NHL
The Wild feature, entitled School Days and written by Mike Doyle, looks at the rapid growth of U.S. college alums on the Minnesota roster, including an NHL-high 12 on opening night.
"There wasn't a plan to find college kids, but it goes to show you how strong American college hockey is now," Fletcher said. "There are so many more former college players that are playing in the NHL. It's a great avenue to become a player."

Many have the opportunity to choose between Canadian junior or college hockey. The Canadian junior route has produced the greatest number of NHLers, but more and more players are earning roster spots in the League after attending college.

For Wild players like Zach Parise (North Dakota), Ryan Suter (Wisconsin) and Thomas Vanek (Minnesota), it seemed like their destiny was always going to be the NHL. All three were first-round draft picks in 2003, but decided to pursue their pro hockey career through the college route.

"I felt it was the spot that could develop me best for the NHL— that's really what it came down to," Parise said. "I got pointed in that direction by some pretty influential hockey people and it was a great decision for me."
In Tampa, a feature on Brian Boyle - in both written and audio form - begins with the suggestion that his path to the NHL through Boston College was an exception. Boyle quickly shoots that down.
"No, no," he told Samantha Ouimette of Lightning Radio. "Sustr, Garrison, Carle, Killorn, Brown, Me, Bishop. In New York we had a lot too. I mean it's not the majority, it's not like everyone goes from college to pro like in the NFL. We just have such a wide range of guys to pick from that make this league."
As both features point out, the number of NCAA alums in the NHL reached an all-time high in 2013-14, with 305 former college players comprising 31% of the league.
That success has made NCAA hockey the fastest growing development path to the NHL - and NHL teams are taking notice.