Friday, December 26, 2014
Notes: Holiday Tourneys Face Off
Pittsburgh natives lead RMU downtown as NCAA players take ice in WJC, plus more.
---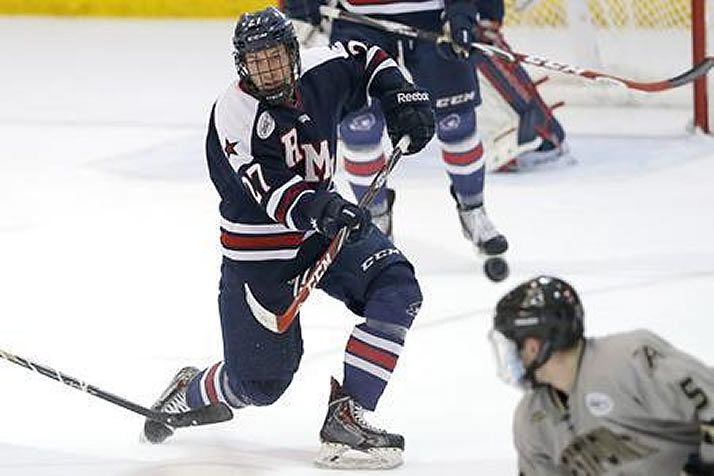 Zac Lynch and Robert Morris have raced to an 11-2-3 start this season (Photo by Paul Bereswill).
By Nate Ewell
The Pittsburgh Penguins' success has helped create a bustling youth hockey area, and for the third year in a row that will come full circle in the Three Rivers Classic, which begins Monday. Senior David Rigatti (Pittsburgh, Pa./Texas-NAHL) and junior Zac Lynch (Pittsburgh, Pa./Bay State-EJHL) are locals leading Robert Morris into the tournament, where they will face Western Pennsylvania neighbor Penn State in the first round (Colgate and Western Michigan meet in the other semifinal). Rigatti, a defensive forward and assistant captain, has contributed his first two career goals in the last two months. Lynch is one of the team's offensive catalysts; his 16 points include an overtime goal Dec. 5 against Sacred Heart.
Must Read/See/Head Material
New York Times: A return to power for Michigan Tech, where hockey is king
Duluth News Tribune: Duluth native at home in more than one uniform
Buffalo News: Russian player finally takes ice with Niagara
Calgary Herald: Gaudreau faces former idol St. Louis, BC linemate Hayes
College Hockey News: Better late than never – UAH's Guerriero was an emergency recruit
College Hockey News: Dartmouth's Elder Statesman
Let's Play Hockey: Adam Krause: A rare find
College Hockey Inc.: First Rounders Flourishing
Don't Miss:
Dec. 26-Jan. 5: World Junior Championship, featuring 16 NCAA players on the U.S. team, two on Germany and one each on Finland and Sweden | U.S. Schedule (games on NHL Network) | Infographic
WJC Related
College Hockey Inc.: First semester helps WJC freshmen
Yahoo Puck Daddy: Jack Eichel Q&A
Boston Herald: At BU, it's all about Jack Eichel
ESPN.com: BU, Team USA all-in on Jack Eichel
College Hockey News: Putting Jack Eichel into historical context
USCHO.com: In Osiecki, U.S. has coach who 'completely understands the tournament'
SB Nation: Gopher freshmen WJC paths are intertwined
St. Cloud Times: Ilvonen gets back to Finnish roots
Four More Storylines No One Should be Without
Cousins lead UConn – Only 10 players from the state of Washington populate Division I rosters, and two of them are teammates at Connecticut. Shawn Pauly (Bellingham, Wash./Wenatchee-NAHL) and Trevor Gerling (Seattle, Wash./Langley-BCHL) not only share a home state and rank 1-2 in scoring for the Huskies, but they are also distant cousins – a relationship that even second-year head coach Mike Cavanaugh didn't know until this fall. As usual, they will be linemates as UConn faces defending NCAA champion Union Saturday in the Frozen Holiday Classic in Bridgeport, Conn. (with Sacred Heart and UMass Lowell). | More from Mike Anthony of the Hartford Courant
Emerging Bobcat – Quinnipiac junior Soren Jonzzon (Mountain View, Calif./Youngstown-USHL), who scored once while playing roughly half of the team's games last season, dedicated himself in the offseason to earning a more permanent role in the lineup. He's accomplished that, playing in 15 of 16 games thus far, and is also contributing offensively. The straight-A biomedical science major has four goals and seven points, including a pair of game-winning goals – one of which came in OT vs. Dartmouth, just prior to the Bobcats' holiday break. | More from Chip Malafronte of the New Haven Register
Sunday's game is on ESPNU
Better to give for Miami's Czarnik – 890 NCAA players have scored more goals than Miami senior Austin Czarnik (Washington, Mich./Green Bay-USHL), but it's doubtful head coach Enrico Blasi would swap his No. 1 center for any of them. Czarnik, though scoreless on his 40 shots, has 17 assists, second behind BU's Jack Eichel (N. Chelmsford, Mass./U.S. NTDP) for the national lead. Czarnik, the RedHawks' captain and the nation's leading active career scorer (141 points), returned for his senior year hoping to lead a resurgence after Miami finished last in the NCHC last year. The RedHawks enter the Florida College Classic with Notre Dame, Cornell and Lake Superior State as the No. 6 team in the nation.
Another Californian leads Ferris State – Matt Robertson's (Rohnert Park, Calif./Smiths Falls-CCHL) hockey journey has taken him all over North America, but this weekend he's in an all-Michigan field at the Great Lakes Invitational. The Bulldogs will compete with Michigan, Michigan State and Michigan Tech in the 50th annual GLI, led by their top scorer Robertson (17 points in 17 games). His mother, Donna, is a Quebec native and he left California for her homeland for high school at Stanstead College. From there, he spent two seasons in Ontario with the CCHL's Smiths Falls Bears before joining the Bulldogs. Robertson is the second Californian in as many years to lead the Big Rapids, Mich., school in scoring; last year Cory Kane, now with the Providence Bruins, shared the team lead with 32 points.
NHL Note of the Week
Duncan Keith, who will play in the 2015 NHL Winter Classic on New Year's Day, also played in the 2001 "Cold War" as a freshman at Michigan State. That game – a 3-3 tie against Michigan at Spartan Stadium – ushered in the current era of outdoor games.
Fries at the Bottom of the Bag
An all-star team from Russia's top junior league, the MHL, will face Harvard, Yale and Army in exhibitions this week … There are five holiday tournaments between Saturday and Tuesday: the Catamount Cup, the Florida College Classic, the Frozen Holiday Classic, the Great Lakes Invitational and the Three Rivers Classic. Two more tournaments take place next weekend – the Ledyard Bank Classic and the Mariucci Classic – plus the Snowtown Throwdown in Erie, Pa., and an outdoor game between Robert Morris and Bowling Green at Fifth Third Field in Toledo, Ohio.