Wednesday, December 31, 2014
Notes: Minnesotans Lead BGSU Outdoors
Falcons face RMU, a new position for a top Mercyhurst scorer and more in this week's notes.
---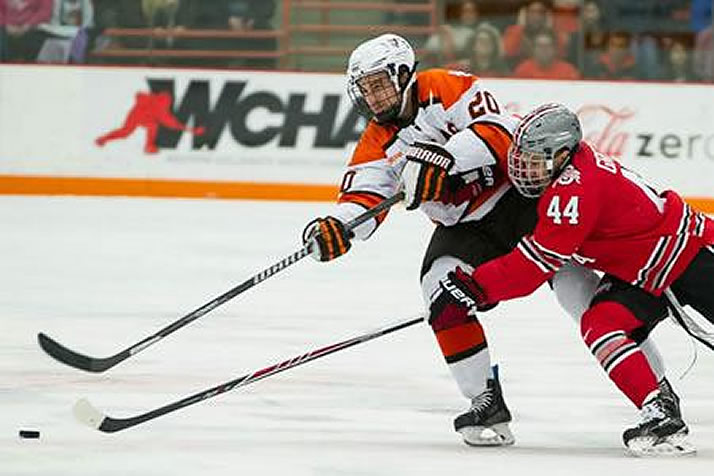 Matt Pohlkamp has at least a point in 10 of 16 games this season (Photo by Todd Pavlack/BGSUHockey.com).
By Nate Ewell
Baxter, Minnesota, is a town of less than 8,000 in Central Minnesota where outdoor hockey is a way of life – the town's outdoor rinks and warming centers opened earlier this week. Two Baxter natives play NCAA Division I hockey and are teammates at No. 13 Bowling Green, which will take to the outdoor ice at Toledo's Fifth Third Field Saturday vs. No. 19 Robert Morris. Sophomore Matt Pohlkamp (Baxter, Minn./Bismarck-NAHL) leads the Falcons in scoring while freshman Mitchell McLain (Baxter, Minn./Langley-BCHL) ranks second among BGSU freshmen in points. Those two and junior goaltender Tommy Burke (Chaska, Minn./Bismarck-NAHL) make up the three Minnesotans on the Falcon roster.
Must Read/See/Head Material
Burlington Free Press: Hot start re-energizes UVM hockey, Gutterson crowd
Providence Journal: After battle with cancer, PC's Drew Brown ready for fresh start
USCHO.com: For former UMass player Raiola, giving back is second nature
HockeyThisWeek.com: Vesey, 2.0
Jamestown Sun: Updates on local stars
MGoBlue.com: Former icers returning to finish what they started
Don't Miss:
World Junior Championship: Pool play concludes for the U.S. (16 NCAA representatives) vs. Canada today at 4 p.m. ET (NHL Network/TSN) | U.S. Schedule | Infographic
WJC Related
NHL.com: US goalies Demko, Gillies share special bond
Toronto Sun: An NHL scouting director evaluates McDavid, Eichel
Five More Storylines No One Should be Without
New position suits Misiak – Mercyhurst senior Ryan Misiak (Shelby Township, Mich./Muskegon-USHL) entered this season one of the nation's top 10 career scorers, an offensive threat from the left wing since he set foot on campus. He's still dangerous offensively but as the Lakers host Ohio State in the "Snowtown Throwdown" in Erie, Pa., this weekend, he's deploying his talents from the blue line, having switched positions in November. He's given head coach Rick Gotkin a left-handed defenseman with offensive skill, while proving to be adept defensively.
Another D star at Union – While Mat Bodie and Shayne Gostisbehere starred for national champion Union last year, then-freshman defenseman Jeff Taylor (Clifton Park, N.Y./Dubuque-USHL/PIT) worked in the background – not garnering headlines, but warranting selection in the NHL Draft. Now in a bigger role for the Dutchmen he's delivering, leading the nation's defensemen with 20 points in 18 games. He and classmate Mike Vecchione (Saugus, Mass./Tri-City-USHL) lead Union to Boston Saturday to face No. 1 BU.
Saturday's game is on NBCSN and TSN2
Gophers' Iron Man – Minnesota hopes to regain its Mariucci Classic crown – the Gophers surrendered their home tournament last year in a shootout loss to Colgate in the opening game – with three players at the World Junior Championship. As coaches always say, it's about the players who are there, and Minnesota knows it can count on junior goaltender Adam Wilcox (South St. Paul, Minn./Tri-City-USHL/TB). Wilcox, who has played 91 of the team's 95 games since he arrived on campus, is the team's Iron Man – in fact, he has that superhero's image on the side of his mask.
Friday's game is on FOX Sports North+
NU hopes to continue turnaround – Northeastern emerged from a painful 0-8-1 start with a 5-2-0 run before the break and returns to action this weekend at home for two with St. Lawrence. One reason for the remarkable turnaround is the team's power play, which was 12.5% in the first nine games and 31.2% in the last seven. Offensive wiz Kevin Roy (Lac-Beauport, Que./Lincoln-USHL/ANA) has 9 of his 16 points this season on the power play and became the seventh player in the country to record a 5-point game in his last outing, Dec. 16 at Massachusetts.
Bradley sparks CC – Colorado College was held to less than two goals per game in the first half but may get a boost from an eight-goal explosion – from eight goal scorers – in Sunday's exhibition against the U.S. Under-18 Team. Top scorer Cody Bradley (Tampa, Fla./Dubuque-USHL) wasn't part of that offensive output, sitting out as a precaution, but has been the team's bright spot up front and leads the Tigers on a Hockey East swing at Providence and Connecticut in the coming days. Bradley, the son of former NHLer Brian Bradley, grew up in Tampa, where Brian starred for the Lightning. Cody has had a hand in 45% of the goals CC has scored this year.
NHL Note of the Week
Entering the 11 games slated for New Year's Eve, a total of 311 former NCAA players have played in the NHL in calendar year 2014.
Fries at the Bottom of the Bag
The first five holiday tournaments featured champions from four conferences: Big Ten (Michigan), Hockey East (UMass Lowell, Providence), ECAC Hockey (Colgate) and the WCHA (Lake Superior State) … Two tournaments this weekend: the Mariucci Classic in Minnesota and the Ledyard Bank Classic at Dartmouth … Harvard junior Jimmy Vesey (N. Reading, Mass./South Shore-EJKHL/NSH) is the only player in the country with a point in every game thus far (10g-10a in 13 GP).