Wednesday, December 3, 2014
Notes: Parity Clear at the Top
The perils of the No. 1 ranking, surging goalies at Dartmouth and Minnesota State and much more.
---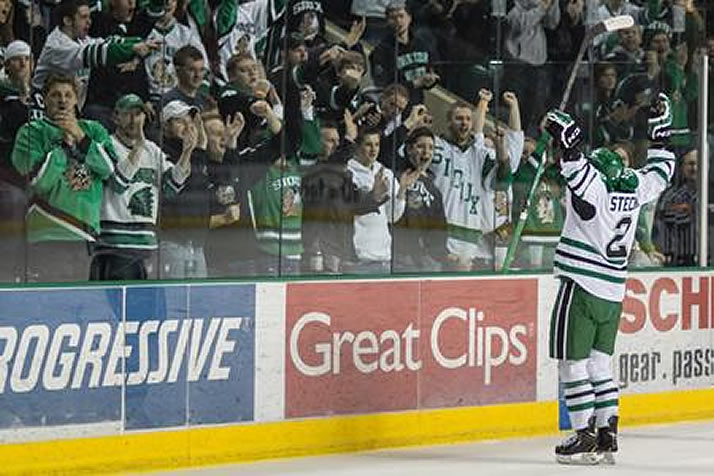 North Dakota is No. 1 in the polls for the first time since April 2011.
By Nate Ewell
With fully half of all Division I teams participating in at least one of the last three NCAA Tournaments, college hockey is in an era of tremendous parity. The current national polls are further examples, with seven teams earning first-place votes in the USCHO.com poll. North Dakota ranks No. 1 entering a series vs. Lake Superior State, the fourth different No. 1 team in the last four weeks. The previous three – Minnesota, Michigan Tech and Boston University – went a combined 1-6-0 while ranked No. 1.
Must Read/See/Head Material
Bemidji Pioneer: BSU's Triple Threat
Hartford Courant: Distant cousins who are close on the ice
New Haven Register: Stu Wilson earns family bragging rights
Schenectady Daily Gazette: DiPauli's road to Schenectady began in Italy | College Hockey News
St. Cloud Times: Brodzinski continues to reel in goals for Huskies
FOX Sports Florida: Bjugstad, Haula pen latest chapter of their friendly rivalry
Concord Monitor: Freshman Poturalski turns heads with fast start
The Pipeline Show: BU's Jack Eichel
Providence Journal: College a smart choice for Warwick's Armstrong
Don't Miss:
Thursday: U.S. Hockey Hall of Fame induction dinner
Debuting Thursday: Brothers of the Gut documentary on Vermont Hockey
Hockey News WJC Preview Issue: Features BU's Jack Eichel on the cover and includes a four-page special section on NCAA hockey produced by College Hockey Inc.
Five More Storylines No One Should be Without
Kruger ascends to No. 1 at Dartmouth – An injury to last season's starting goaltender Charles Grant (Berwick, N.S./Yarmouth-MHL) opened the door for Dartmouth junior James Kruger (Minnetonka, Minn./Langley-BCHL), and he's responded in a big way. Sunday he stopped all 23 shots in a shutout of No. 1 Boston University – his second shutout of the year – and his .930 save percentage ranks in the top 20 nationally. An avid outdoorsman whose hockey career has taken him from Minnesota to Texas to British Columbia, Kruger now leads a Dartmouth team that appears to have made big strides from last season's 10-20-4 finish.
Hyman leads Michigan – After a 4-6-0 start through 10 games Michigan has won three in a row by a combined score of 17-3. Nine Wolverines have scored in that time, led by the season's leading scorer, senior Zach Hyman (Toronto, Ont./Hamilton-OJHL/FLA). Hyman recorded 14 of his 17 points last season in the final 15 games, and picked up that pace this fall (6-9—15 in 13 GP). Hyman is accomplished off the ice, as well – he has penned two children's books, Hockey Hero and The Bambino and Me (published by Tundra Books). More: Michigan Daily feature from 2012
Friday's game is on BTN
Williams returns to form – Minnesota State boasts the nation's longest active winning streak (6-0-0) and posted back-to-back shutouts from Stephon Williams (Fairbanks, Alaska/Sioux Falls-USHL/NYI) last weekend. Now the Mavericks, who have played 9 of 14 games on the road, return home to face Williams's hometown team, Alaska. The junior goalie has rebounded from a sub-par season last year and returned to his freshman form, when he was a first-team All-WCHA selection and was drafted by the New York Islanders.
Transfer bolsters SHU – Sacred Heart, coming off a win at RIT Saturday, challenges Atlantic Hockey-leading Robert Morris in Pittsburgh this weekend. The Pioneers have been bolstered by the arrival of junior Zach Luczyk (Charlton, Mass./Jr. Bruins-EJHL), a junior transfer from Quinnipiac who played sparingly in two seasons with the Bobcats. He has not only been a fixture for head coach C.J. Marottolo but has averaged nearly a point per game, leading the team in goals (5) and points (12).
Offense arrives for WMU – Western Michigan exploded for 14 goals last weekend – one-third of its season total – as it beat Ohio State and Union to win the Shillelagh Tournament at Notre Dame. Senior Justin Kovacs (Grosse Point Woods, Mich./Cedar Rapids-USHL) assisted on half of those goals, earning tournament MVP honors. As encouraging as the offensive eruption was, there could be even more to come; Kovacs, while leading the team in points (14), has scored just 1 goal on 22 shots (4.5%) after scoring on 11.4% of his shots in his first three seasons.
NHL Note of the Week
Josh Jooris became the first former Union player to record an NHL hat trick Tuesday night with the Calgary Flames. Jooris leads all players who have made their NHL debut this season with 8 goals on the year.
Fries at the Bottom of the Bag
Providence has posted three straight shutouts, a stretch of 221:24, entering Wednesday night at Northeastern … Friday night Minnesota State's Brett Knowles (Vanderhoof, B.C./Cowichan Valley-BCHL) became the third Maverick to record a hat trick this season, most of any team … Holy Cross's Ryan Ferrill (Havertown, Pa./Philadelphia-USPHL) and Western Michigan's Frederik Tiffels (Cologne, Germany/Cedar Rapids-USHL) became the first freshmen in the nation to record hat tricks last weekend … St. Lawrence freshman Kyle Hayton (Denver, Colo./Sioux City-USHL) has already tied the school record for shutouts in a season with four. He shares the national lead with Northern Michigan sophomore Mathias Dahlstrom (Smedjebacken, Sweden/Chicago-USHL), who is one shy of the NMU school record … Both of Harvard's special teams rank in the top five nationally … The last two national champions meet Saturday as Yale hosts Union.