Tuesday, December 2, 2014
Stat Pack: Really Special Teams
The best power play and penalty kill teams, plus more, in this week's look at college hockey stats.
---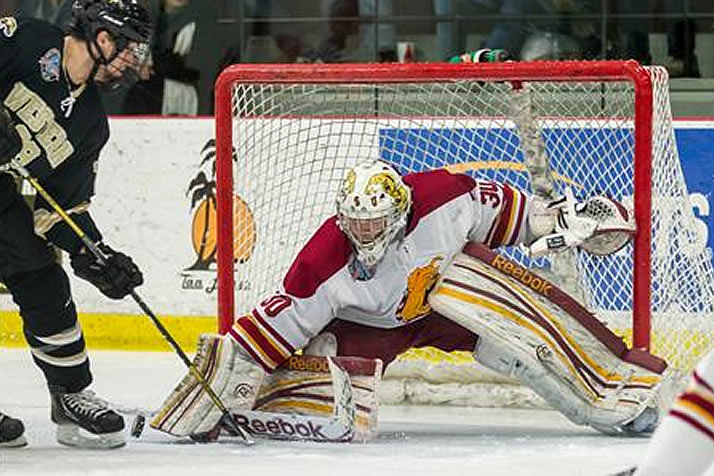 Ferris State senior C.J. Motte is one of seven goaltenders who has faced 400-plus shots this season.
In our Stat Pack feature, College Hockey Inc. highlights five obscure but telling statistics from the world of college hockey. You can find many more in our filtered stats database.
1. Five schools rank in the top 20 nationally in both power play and penalty killing:
| | | |
| --- | --- | --- |
| Team | PP (Rank) | PK (Rank) |
| Colgate | 20.0% (t-17) | 89.4% (10) |
| Cornell | 20.5% (16) | 91.2% (7) |
| Harvard | 31.2% (2) | 91.7% (t-4) |
| Robert Morris | 20.0% (t-17) | 87.5% (18) |
| Vermont | 21.8% (11) | 94.6% (1) |
2. The 2015 U.S. National Junior Team Training Camp roster features 20 current or future NCAA players. Here are the eight with the best points per game averages this year in the NCAA (four are Chicago Blackhawks draft picks):
Best Points Per Game, U.S. World Junior Training Camp Participants
1.62 - Jack Eichel, Boston University
1.12 - John Hayden, Yale (CHI)
0.92 - Dylan Larkin, Michigan (DET)
0.91 - Nick Schmaltz, North Dakota (CHI)
0.78 - Anthony Louis, Miami (CHI)
0.77 - J.T. Compher, Michigan (BUF)
0.77 - Tyler Motte, Michigan (CHI)
0.77 - Zach Werenski, Michigan
3. Rand Pecknold won his 400th game as an NCAA coach Saturday night. Here are the active leaders in coaching wins (all divisions):
Most NCAA Wins, Active Coaches (listed with active school)
970 - Jerry York, Boston College
795 - Red Berenson, Michigan
660 - Mike McShane, Norwich
659 - Don Lucia, Minnesota
593 - Bill Beaney, Middlebury
563 - John Rolli, UMass Dartmouth
550 - Bob Emery, SUNY-Plattsburgh
545 - Dick Umile, New Hampshire
536 - Bill O'Neill, Salem State
521 - Terry Meagher, Bowdoin
487 - Dean Fuller, Fitchburg State
479 - Rick Gotkin, Mercyhurst
470 - Tim Coghlin, St. Norbert
412 - Jack Arena, Amherst
400 - Rand Pecknold, Quinnipiac
396 - Jeff Jackson, Notre Dame
386 - Bob Daniels, Ferris State
4. Seven goaltenders have faced more than 400 shots through the first two months of the season. The leaders:
Most Shots Against
465 - Kyle Hayton, St. Lawrence
460 - Gordon Diefel, Lake Superior State
449 - Chris Truehl, Air Force
441 - Matt Ginn, Holy Cross
426 - Rob Nichols, Connecticut
423 - C.J. Motte, Ferris State
418 - Zane McIntyre, North Dakota (BOS)
368 - Jamie Phillips, Michigan Tech (WPG)
367 - Charlie Finn, Colgate
365 - Jon Gillies, Providence (CGY)
5. Here's a look at the players recording the most special teams points to this point:
Most Power Play Points
11 - Sam Anas, Quinnipiac
11 - Mike Vecchione, Union
9 - Jeff Taylor, Union (PIT)
9 - Jonny Brodzinski, St. Cloud State (LA)
9 - Nolan LaPorte, Western Michigan
9 - Hampus Gustafsson, Merrimack
9 - Spiro Goulakos, Colgate
Most Shorthanded Points
5 - Michael Parks, North Dakota (PHI)
3 - Cam Brown, Maine
3 - Blaine Byron, Maine (PIT)