Feature story examines the scholarly side of NCAA hockey student-athletes.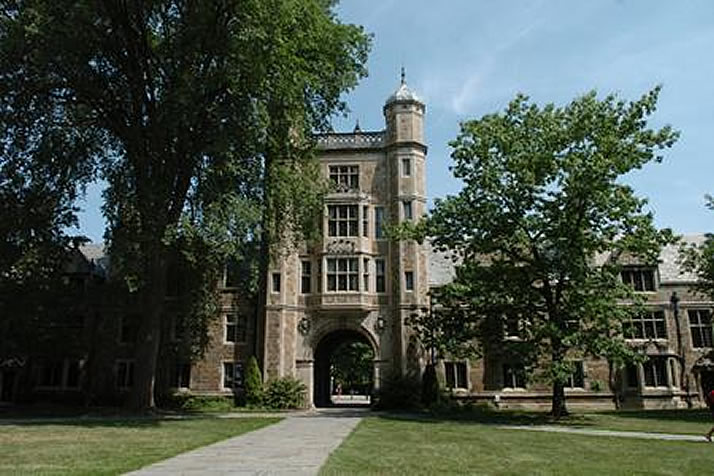 Michigan graduate Ben Winnett is back on campus, working toward his law degree.
From current stars to former players now studying law, writer Gregg Krupa looked at the academic side of college hockey in Wednesday's edition of the Detroit News.
The article, titled "Players study for life after college hockey," is part of the paper's "Five Days of Hockey" series, looking at "how the game intertwines with family, community and the desire to excel."
Krupa caught up with current players Villiam Haag (Michigan State) and Zach Hyman (Michigan), their coaches, and Michigan alum Ben Winnett. A common theme emerged - that a college degree helps prepare student-athletes for the inevitability of life after hockey.
On campus in East Lansing, Ann Arbor and other places in the state, some players are wise enough to know their lives will require more than hockey. And they fully exploit the opportunity it presents — higher education at an American university.
"They know very well of the benefits of playing in the NCAA today, probably more so than ever before," said Anastos, who for 13 years was commissioner of the Central Collegiate Hockey Association.
Hockey players, even more than other NCAA sports, take advantage of that opportunity. The most recent Graduation Success Rate data released by the NCAA showed a 92.1% graduation rate for men's hockey players, leading all NCAA men's sports.
Winnett, now in Michigan's law school after a four-year college career and a stint in pro hockey, hails from New Westminster, B.C. As he pursues his graduate degree, he is keenly aware of the opportunities provided by NCAA hockey.
All in all, Winnett said, it's important that serious hockey-playing kids about age 15 or 16 hear about the opportunity of college and factor that into their development, and that as they get older, they resist the sort of tunnel vision that tends to point only to the NHL, or bust.
"There certainly is life after hockey," Winnett said. "And college hockey can be a very valuable vehicle for that."