Wednesday, May 9, 2018
Four in Mix for NAHL Title
Robertson Cup to feature 32 NCAA Division I commits.
---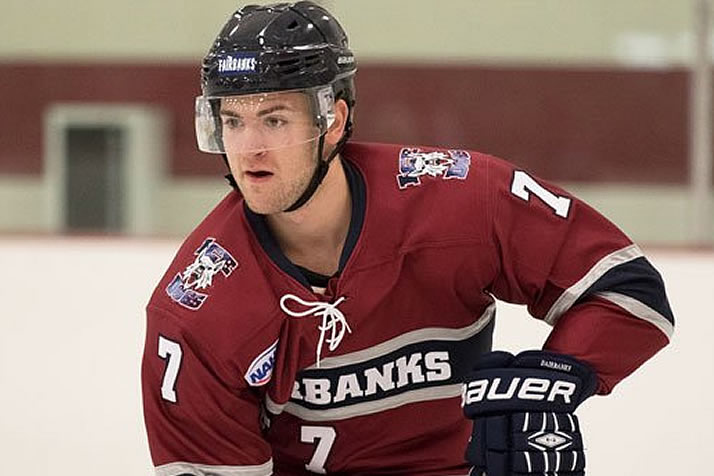 Bentley commit Luke Orysiuk helped lead Fairbanks to the top seed in the NAHL's Robertson Cup.
Thirty-two Division I commits fill the rosters of the four teams in contention for the NAHL's Robertson Cup, which will be decided May 11-14 in Blaine, Minn.
The Fogerty Ice Arena plays host to the Fairbanks Ice Dogs, Minot Minotauros, Shreveport Mudbugs and Wilkes-Barre/Scranton Knights to determine the NAHL's playoff champion.
Robertson Cup Site | Watch on HockeyTV
The four teams are seeded and will play best-of-three semifinal series: No. 1 Fairbanks vs. No. 4 Minot and No. 2 Shreveport vs. No. 3 Wilkes-Barre/Scranton. The winners will meet Monday, May 14, for a single-game championship. All games can be seen on HockeyTV.
The 32 players already committed to Division I programs are headed to 22 schools. Army West Point and Lake Superior State lead all schools with three commits at the Robertson Cup, while Alaska, Bemidji State, Ferris State and UMass Lowell each boast a pair.
Each of the four teams in the Robertson Cup feature at least six Division I commits, led by Fairbanks with 10. The Ice Dogs posted the league's best record in the regular season with 45 wins and 97 points, including a 24-game winning streak from Dec. 8 to March 2.
Wilkes-Barre/Scranton forward Jack Olmstead (Michigan) leads all scorers in the Robertson Cup field with 10 points in the playoffs. He is followed closely by Fairbanks forward Samuel Ruffin (Alaska), Shreveport's Ryan Burnett (uncommitted) and Minot's Alex Adams (Bemidji State).
Fairbanks boasts a pair of first-team All-NAHL selections in forward Hunter Wendt (Ferris State) and defenseman Luke Orysiuk (Bentley). Shreveport is the only other team in the field with an all-league player in second-team defenseman Dominick Procopio (UMass Lowell).
---
NCAA Commits in the Robertson Cup
Fairbanks Ice Dogs
Josh Benson
G
Sacred Heart
Robert Blueger
F
Lake Superior State
Daniel Haider
F
Army West Point
Kyle Mayhew
D
Denver
Luke Orysiuk
D
Bentley
Samuel Ruffin
F
Alaska
Tanner Schachle
F
Alaska Anchorage
Nolan Schaeffer
D
Robert Morris
Erkka Vanska
F
Holy Cross
Hunter Wendt
F
Ferris State

Minot Minotauros
Alex Adams
F
Bemidji State
Colby Enns
D
Omaha
Grant Loven
F
Northern Michigan
Miroslav Mucha
F
Lake Superior State
Jack Robbel
G
Lake Superior State
Nolan Sawchuk
D
UMass Lowell

Shreveport Mudbugs
Jonatan Asplund
D
Michigan State
Jack Clement
D
Miami
Cameron Cook
F
Niagara
Kieran Durgan
F
Air Force
Gueorgui Feduolov
F
Mercyhurst
Gustavs Grigals
G
Alaska
Dominick Procopio
D
UMass Lowell
Jake Transit
F
Ferris State

Wilkes-Barre/Scranton Knights
Jeff Bertrand
F
Penn State
Tyrone Bronte
F
Bemidji State
Justin Engelkes
F
Miami
Thomas Farrell
D
Army West Point
Anthony Firriolo
D
Army West Point
Jack Olmstead
F
Michigan
Reed Robinson
F
Niagara
Gabe Temple
F
Michigan Tech