Friday, October 26, 2018
NMU Explores Women's Hockey
Wildcats could become the first Division I women's program in Michigan.
---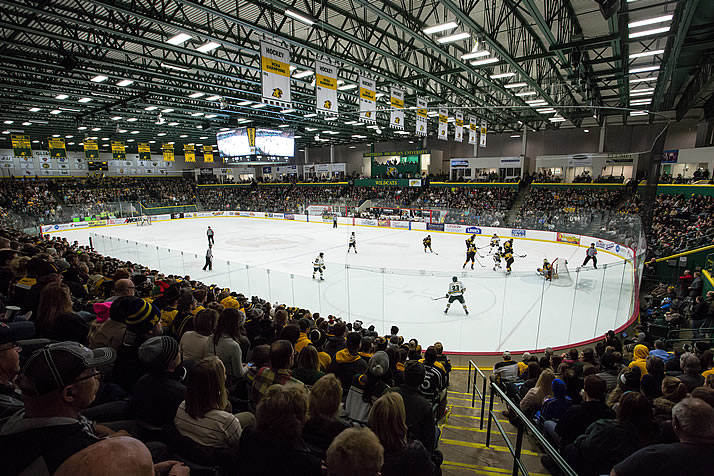 Northern Michigan's men's program won 25 games in 2017-18.
Northern Michigan will explore adding a Division I women's hockey program, becoming the latest school to take advantage of the NHL and NHLPA feasibility study initiative designed to expand Division I opportunities.
The Wildcats have fielded a very successful men's program since 1976, winning the 1991 NCAA championship and currently competing in the WCHA.
NHL-NHLPA June 2017 announcement
Women's hockey is among a group of sports the school is considering adding. Its possible addition is particularly noteworthy given Northern Michigan's success in men's hockey and the absence of any Division I women's programs in the state of Michigan.
NHL Vice President Kevin Westgarth, College Hockey Inc. Executive Director Mike Snee and WCHA Women's Commissioner Katie Million joined Northern Michigan Athletic Director Forrest Karr for a news conference Friday in Marquette, Mich., to discuss the feasibility study.
"Adding an NCAA Division I women's program to the state of Michigan is long overdue, and we are proud to be a part of NMU's exploration of what would be required to do so," Westgarth said. "Just by joining NMU in taking this small first step toward a women's team in Marquette, we hope to inspire and encourage new girls, boys, and parents to join the hockey family."
The feasibility study will analyze the many factors necessary for Northern Michigan to start and maintain a women's hockey program, such as one-time and annual expenses, funding opportunities and student and community support. The Wildcats' men's program plays in the 3,800-seat Berry Events Center, which opened in 1999.
Northern Michigan is the third school to announce their participation in the NHL-NHLPA feasibility study initiative, joining Illinois and Oakland, while others have done so confidentially.
---
What They Are Saying
Mike Snee, College Hockey Inc. Executive Director
"Northern Michigan has been a vibrant member of the men's college hockey community and we are excited that their leadership is considering a women's program. Their addition would be particularly welcome in the state of Michigan, which has produced more than 30 Division I players this year, all of whom have to leave the state to play college hockey."
Katie Million, WCHA Vice President and Women's League Commissioner
"I am thrilled for the initial steps Northern Michigan University is taking to explore adding women's hockey as a D-I sport. I applaud the vision of NMU President Dr. Fritz Erickson and Athletic Director Forrest Karr, both of whom have a tremendous passion for their student-athletes and a deep appreciation for what college hockey adds to a campus."