Thursday, March 21, 2019
Study: Data Shows Need for Patience
Average age that Division I players committed to school is over 18.
---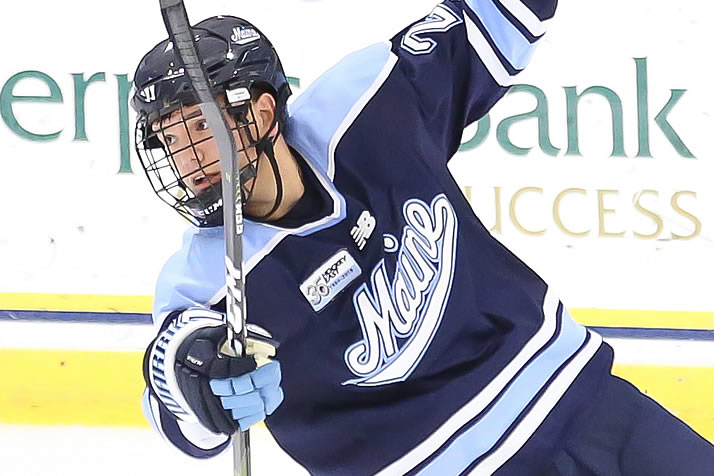 Brady Keeper, an All-Hockey East defenseman at Maine who signed with the Florida Panthers, committed to the Black Bears at age 20.
By Nate Ewell and Brent Darnell
The concerns come up every time a 14-year old tweets his thanks "to everyone who has helped along the way."
Recruiting has gotten too young. It's out of hand.
All of that is understandable and the concern is undeniable, but the data shows that those young commitments are outliers. The vast majority of Division I men's hockey players commit to schools during their senior year (grade 12) of high school or later.
College Hockey Inc. examined the commitment dates for the 1,600-plus men playing Division I hockey in 2018-19. The average age that a Division I player committed to school is 18.9 – much later than might be expected given the attention paid to the youngest commits.
In fact, the number of players who committed at 18, 19 or 20 dwarfs the number who committed at 14 or 15. More than five times as many 18-year olds commit to school than 15-year olds.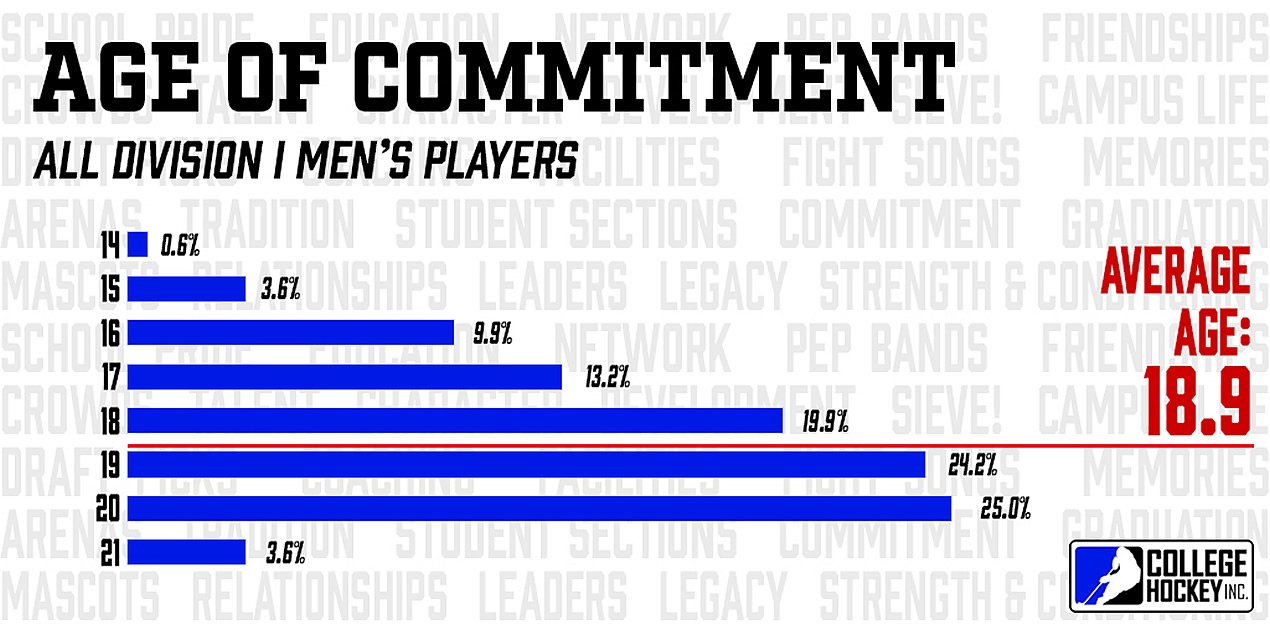 "This data may surprise some but it really shouldn't," said Dan Marr, director of NHL Central Scouting. "The perceived focus and pressure has been to commit to a school at a young age, which often comes at the expense of what is significant and that is the player's long-term development path. It is important to be educated on the process and exercise patience."
---
What it Means
The number one takeaway from this data, as Marr said: development and the recruiting process require patience.
While the 15-year-old commits garner a disproportionate amount of attention, youth hockey should never be seen as a race to a college commitment. The goal, if it is to play Division I hockey, is years down the road, and most who make it there won't know where they will play until much closer to that destination.
In fact, looking again at every men's player in Division I, the average age a player makes his college debut is 20. That means, on average, players were committed to schools just over a year prior to pulling on the sweater for the first time.
---
What About the Top Players?
For those who doubt the overall average – which, admittedly, includes everyone from All-Americans to healthy scratches – College Hockey Inc. also wanted to examine the age of commitment for the top players in college hockey.
To do that, we took the 99 players who were named all-conference around the country in the past week. The result, while slightly younger than the overall average, showed that those players committed at an average age of 18.4.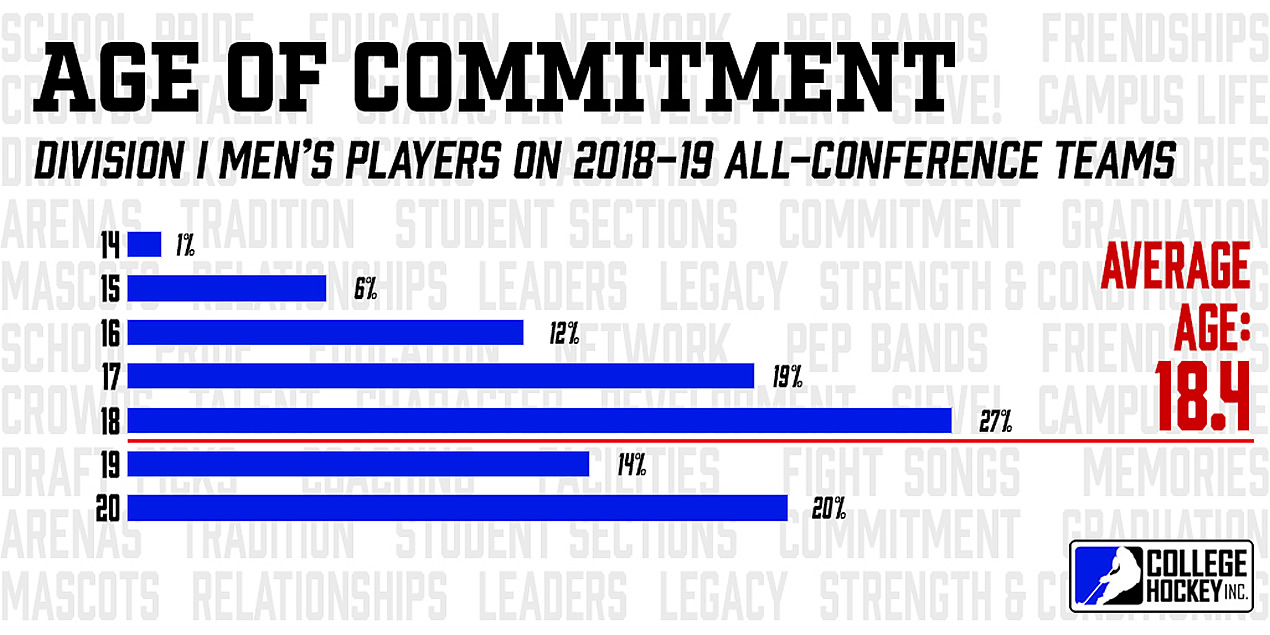 Those players who become the best college players often aren't always the ones who are the best at 15 – in fact, more often than not, they aren't.
This holds up however you define the top players. All six conferences – Atlantic Hockey, Big Ten, ECAC Hockey, Hockey East, NCHC and WCHA – have average ages of commitments of 18 or older. All six also had all-conference players who committed to their schools at age 20.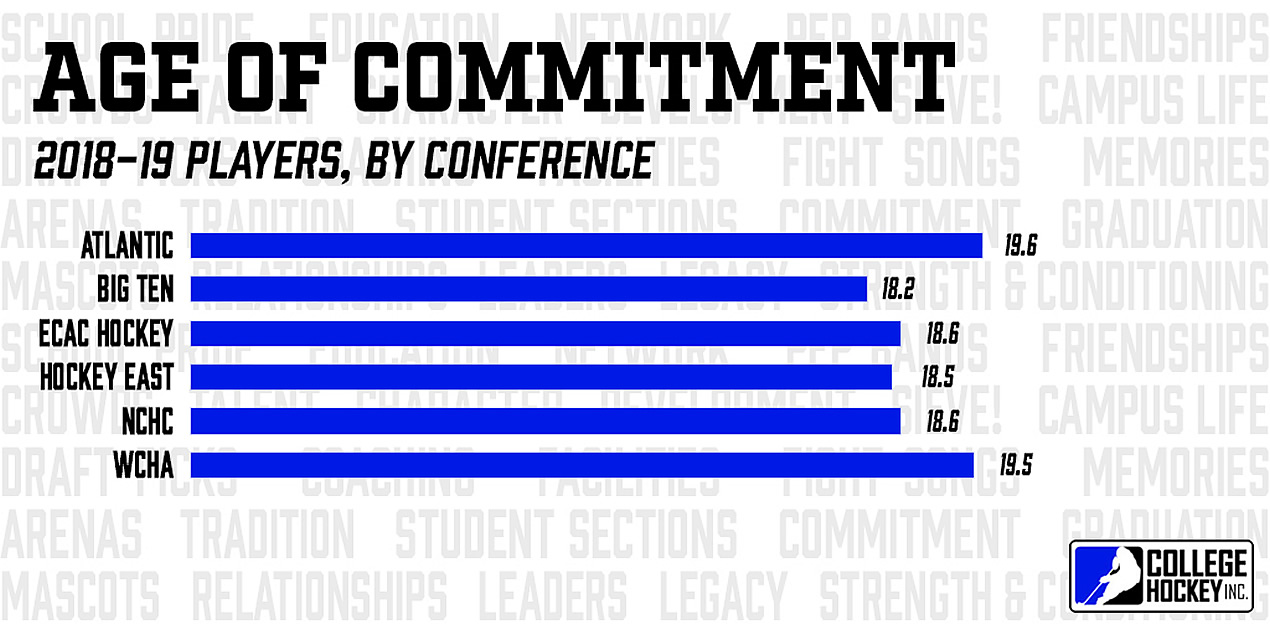 Even the Hobey Baker Award finalists – judged to be the top 10 players in college hockey this season – committed at an average age of 17.4.
Those who are drafted by NHL teams are, not surprisingly, the youngest cohort, committing at an average of 17.3 years old. But those who go on to sign NHL contracts commit later than that group as a whole; last year's NHL signees committed at an average age of 17.6.
---
Conclusion
The issue of early recruiting is real, and it's one that college hockey's leadership is working to address. But the data shows that the perception may not match the reality.
On average, less than one player per Division I men's team committed to school when they were 15 years old. Nearly seven per school committed at age 20.
That means there's no sense in feeling rushed at age 14, 15 or 16 to figure out where you'll be playing in five years. Those opportunities will come – there is plenty of time left to thank those who helped along the way.