Tuesday, October 27, 2020
Watch List Highlights NCAA Stars
Michigan, NCAA hockey could set records at 2021 NHL Draft.
---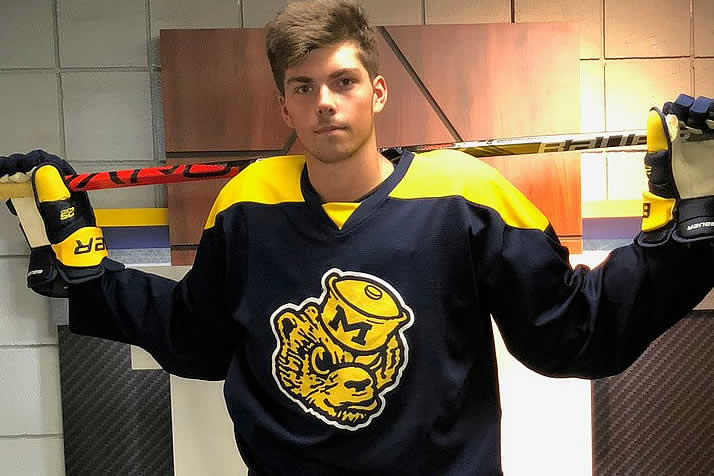 Michigan freshman Owen Power is a candidate for the No. 1 overall selection in 2021.
NHL Central Scouting released its Players to Watch list for the 2021 NHL Draft Tuesday, and it strongly suggests that this could be a record draft for NCAA hockey and the University of Michigan in particular.
Sortable: NCAA Players to Watch for 2021 NHL Draft
Nine NCAA players or recruits – including three Michigan freshmen – earned "A" ratings as first-round candidates, leading a total of 98 NCAA players or recruits on the list.
The Wolverine freshmen with "A" ratings are defenseman Owen Power (Mississauga, Ont./Chicago-USHL), forward Matty Beniers (Hingham, Mass./U.S. NTDP) and forward Kent Johnson (Port Moody, B.C./Trail-BCHL). All three are rated among the top eight prospects by ESPN.com's Chris Peters, with Power standing at No. 1 overall. Two other Michigan commits – Luke Hughes and Mackie Samoskevich – also earned "A" ratings.
In all, 30 schools – nearly half of the 61 in Division I – have players or recruits on the watch list. Michigan leads all schools with eight players listed, followed by Notre Dame and Wisconsin with seven each. Boston College and Boston University both have six recruits listed.
The USHL has 51 players on the watch list, including 20 from USA Hockey's National Team Development Program. That is the most of any league world-wide.
Sixteen of the players listed have yet to commit to a school but are playing in a North American NCAA-eligible junior league.
All-Time NCAA First-Round Picks
The trio of Michigan freshmen projected to go in the first round would mark the first time three current college players from one team all went in the first round (three previous teams have had two: Ohio State in 2001, Boston College in 2000 and Michigan State in 1990).
The five Michigan players or recruits that could go in the first round would be a record for one school. Two teams – Minnesota in 2006 and Boston University in 2016 – have had four players or recruits taken in the first round of the same draft.
The last time three current freshmen from multiple teams were taken in the first round was 2015, when Jack Eichel (Boston University), Noah Hanifin (Boston College) and Zach Werenski (Michigan) all went in the top eight selections.