Monday, November 23, 2020
Leagues Pick Preseason Favorites
Defending champions favored in four conferences.
---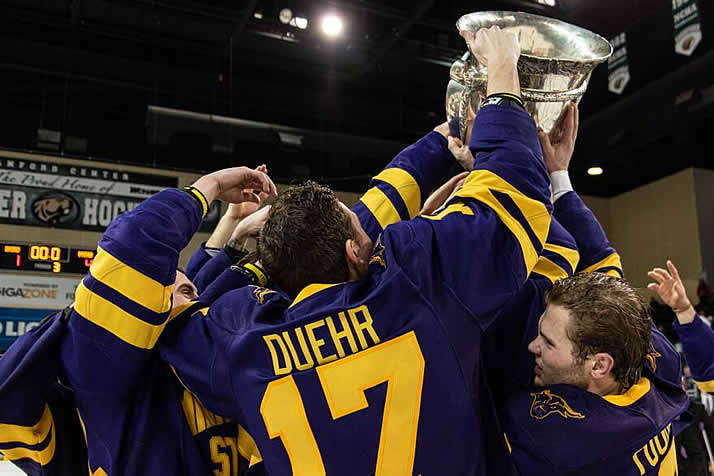 Minnesota State is the WCHA preseason favorite in the media and coaches' polls.
Five of the six Division I men's conferences have released preseason polls in advance of the 2020-21 season. ECAC Hockey, which has seen eight of its 12 schools opt out of the season due to the pandemic, is the lone exception. It plans to play conference games between the remaining teams – Colgate, Clarkson, Quinnipiac and St. Lawrence – in the new year.
Defending champions are favored in four of the five conferences that have released polls: American International in Atlantic Hockey, Boston College in Hockey East, North Dakota in the NCHC and Minnesota State in the WCHA. The exception is the Big Ten, where Minnesota is the preseason favorite and defending champion Penn State is pegged for seventh in the poll.
Last season's preseason polls correctly predicted five of the regular-season champions in the six Division I men's conferences.
---
Atlantic Hockey Preseason Coaches' Poll
1.
American International (7)
96 points
2.
Sacred Heart (2)
76
3.
Bentley
75
4.
Niagara (1)
69
5.
Army West Point
60
6.
Air Force
49
Robert Morris
49
8.
Holy Cross
27
9.
Canisius
18
Mercyhurst
18
---
Big Ten Preseason Coaches' Poll
1.
Minnesota
2.
Michigan
3.
Notre Dame
Ohio State
5.
Wisconsin
6.
Michigan State
7.
Penn State
---
Hockey East Preseason Coaches' Poll
1.
Boston College (8)
95 points
2.
Massachusetts (2)
87
3.
Providence
77
4.
UMass Lowell (1)
71
5.
Northeastern
68
6.
Boston University
55
7.
UConn
48
8.
New Hampshire
44
9.
Maine
27
10.
Merrimack
23
11.
Vermont
10
---
NCHC Preseason Media Poll
1.
North Dakota (27)
223 points
2.
Denver (1)
185
3.
Minnesota Duluth
173
4.
St. Cloud State
126
5.
Western Michigan
116
6.
Omaha
96
7.
Colorado College
45
8.
Miami
44
---
WCHA Preseason Coaches' Poll
1.
Minnesota State (6)
86
2.
Bemidji State (1)
79
3.
Bowling Green (3)
78
4.
Michigan Tech
64
5.
Northern Michigan
63
6.
Lake Superior State
49
7.
Alaska
40
8
Ferris State
35
9.
Alaska Anchorage
28
10.
Alabama Huntsville
18
---
WCHA Preseason Media Poll
1.
Minnesota State (10)
100 points
2.
Bemidji State
89
3.
Bowling Green
76
4.
Northern Michigan
68
5.
Michigan Tech
67
6.
Lake Superior State
44
7.
Alaska
40
8.
Ferris State
33
9.
Alaska Anchorage
21
10.
Alabama Huntsville
12