Wednesday, January 6, 2021
U.S. Captures WJC Gold
Record 22 NCAA players earn gold medals.
---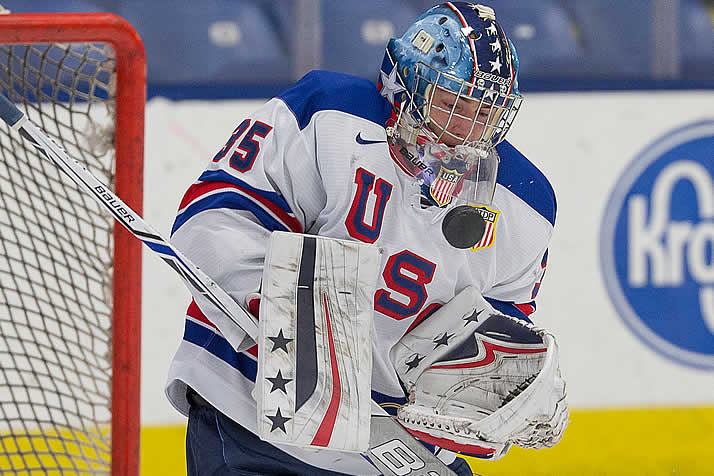 Boston College sophomore Spencer Knight posted three shutouts in six games at the World Juniors.
The United States National Junior Team – led by a record 22 NCAA players – posted a 2-0 victory over Canada to win the gold medal at the 2021 World Junior Championship Tuesday night in Edmonton.
After an opening game loss to Russia, the U.S. reeled off six straight victories to win gold. In the gold medal game, the Americans posted goals in the first and second periods and held off Canada to earn the win.
It marks the fifth gold medal for the United States in the event (2004, '10, '13, '17) and the fifth medal in the last six tournaments. The 22 NCAA players on the team are two more than the previous high, in 2017.
"I'm very proud of this group of guys, we really came together as a team over the course of this tournament," said head coach Nate Leaman, the Providence head coach who led an all-NCAA coaching staff. "We played a great Canadian team today and we're very fortunate to have beat them. I'm proud of how this team played together. This will be a memory they have forever."
Trevor Zegras, who was a freshman at Boston University last season, led the tournament in scoring with 18 points and was named its Most Valuable Player. Boston College sophomore Spencer Knight (Darien, Conn./U.S. NTDP/FLA) and Michigan sophomore Cam York (Anaheim, Calif./U.S. NTDP/PHI) joined Zegras as the top three U.S. players as selected by the team.
Knight made 34 saves in the gold medal game to post his third shutout in six games in the tournament.
Leaman becomes the third head coach to have led teams to NCAA and World Junior titles, joining Dean Blais and Mike Eaves.
Three current college players claimed silver medals with Canada: Wisconsin sophomore Dylan Holloway (Bragg Creek, Alta./Okotoks-AJHL/EDM), Northeastern freshman Devon Levi (Dollard-Des-Ormeaux, Que./Carleton Place-CCHL/FLA) and Boston College sophomore Alex Newhook (St. John's, Newf./Victoria-BCHL/COL). Levi was named the tournament's top goaltender by the media.
2021 U.S. National Junior Team Roster
Player
NCAA Team
Goaltenders
Spencer Knight
Boston College
Logan Stein
Ferris State
Dustin Wolf

Defensemen
Brock Faber
Minnesota
Drew Helleson
Boston College
Ryan Johnson
Minnesota
Tyler Kleven
North Dakota
Jackson LaCombe
Minnesota
Jake Sanderson
North Dakota
Hunter Skinner
Henry Thrun
Harvard
Cam York
Michigan

Forwards
Matthew Beniers
Michigan
Brett Berard
Providence
Matthew Boldy
Boston College
Bobby Brink
Denver
Brendan Brisson
Michigan
Cole Caufield
Wisconsin
Sam Colangelo
Northeastern
John Farinacci
Harvard
Arthur Kaliyev
Patrick Moynihan
Providence
Landon Slaggert
Notre Dame
Alex Turcotte
Wisconsin
Trevor Zegras
Boston University

Coachng Staff
Nate Leaman
Providence
Ted Donato
Harvard
Kris Mayotte
Michigan
Steve Miller
Ohio State
Theresa Feaster
Providence