Friday, February 26, 2021
Richter Names Nine Finalists
Group of top goaltenders up for annual award.
---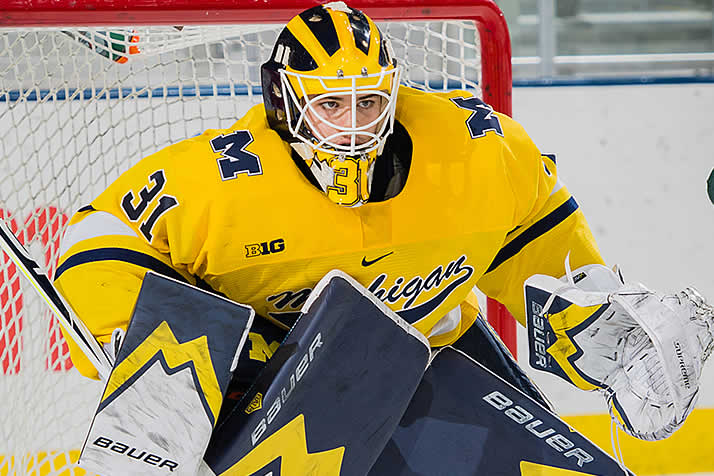 Michigan's Strauss Mann is a finalist for the Richter Award for the second year in a row (Photo by Michigan Photography).
Nine goaltenders have been named finalists for the 2021 Mike Richter Award, given to the nation's top goalie.
The finalists are:
Spencer Knight, Boston College (So., Darien, Conn./U.S. NTDP)
Jack LaFontaine, Minnesota (Sr., Mississauga, Ont./Penticton-BCHL)
Strauss Mann, Michigan (Jr., Greenwich, Conn./Sioux Falls-USHL)
Dryden McKay, Minnesota State (Jr., Downers Grove, Ill./Madison-USHL)
Mareks Mitens, Lake Superior State (Sr., Ventspils, Latvia/Aston-NAHL)
Keith Petruzzelli, Quinnipiac (Sr., Wilbraham, Mass./Muskegon-USHL)
Blake Pietila, Michigan Tech (So., Howell, Mich./Cedar Rapids-USHL)
Adam Scheel, North Dakota (Jr., Lakewood, Ohio/Penticton-BCHL)
Jaxson Stauber, Providence (So., Plymouth, Minn./Sioux Falls-USHL)
The winner of the Mike Richter Award will be determined by a panel of voters and announced in April at the Frozen Four in Pittsburgh, Pa.