Thursday, March 4, 2021
Hobey: The First 40
New book chronicles the history of men's college hockey's top individual honor.
---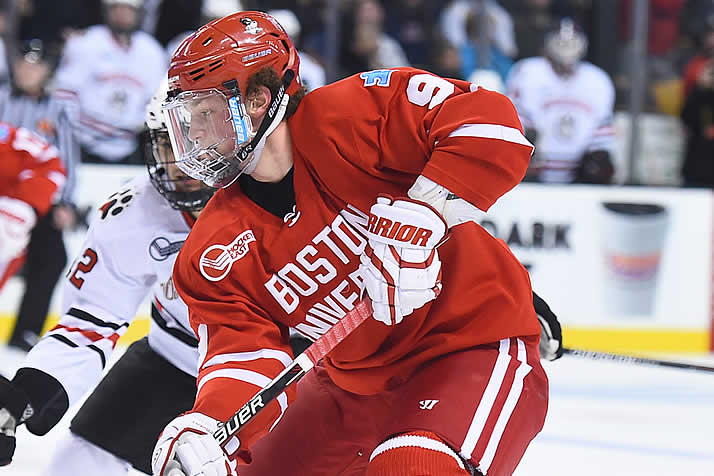 Jack Eichel is among the Hobey Baker Award winners profiled in Shaughnessy's book.
The Hobey Baker Award was launched a year after the 1980 U.S. Olympic triumph in Lake Placid, and its first honoree was a member of that Miracle team, Neal Broten. Shaughnessy begins his look at the 40 winners with a profile of Broten, tracking not only his remarkable 1980-81 season, but looking before and after that year as well.
The First 40: Order Your Copy
He does the same for each Hobey recipient, the result of which is a detailed look at the best college hockey players of the last 40 years.
The years covered in the book could certainly be called the golden age of college hockey. They saw expansion of the sport, widespread parity and an explosion of talent reaching the NHL level. College players began to emerge from Europe and non-traditional areas of the United States.
In telling the stories of the Hobey winners, Shaughnessy hits on all those trends. He weaves together connections, like brothers Mark and Scott Fusco winning the award, and the unlikely stories like former walk-on Matt Gilroy.
From Broten through 2020 recipient Scott Perunovich, the book captures this exclusive club of Hobey Baker Award winners. In their stories, a reader sees the commitment and development each winner displayed during their college career, as well as the embodiment of the award's motto: Character builds excellence.
The First 40 was published by the Hobey Baker Memorial Award Foundation and is available for order on hobeybaker.com.