Thursday, March 25, 2021
TSN to Provide Complete Coverage of NCAA Tournament
Canadian audience will get to experience excitement of the tourney.
---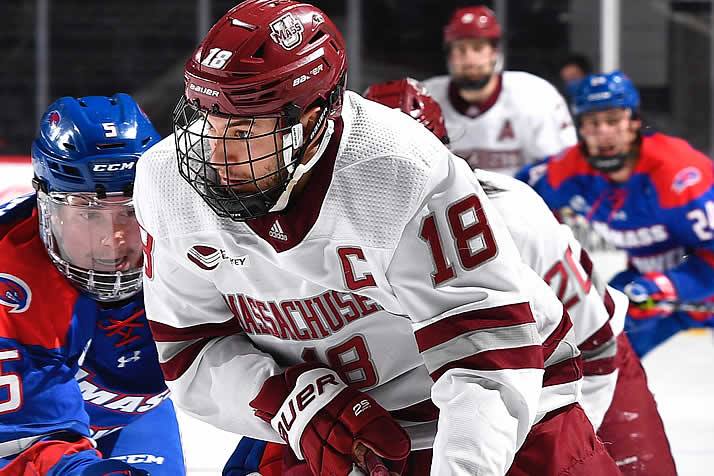 TSN's televised coverage begins with UMass's tournament opener, against Lake Superior State (Photo by Thom Kendall).
TSN will deliver every game of the 2021 NCAA Men's Hockey Tournament to Canadian audiences beginning Friday, including televising the national championship game on Canada's top sports network.
Thirteen tournament games will be available for TSN and TSN Direct subscribers to stream on TSN.ca and the TSN App. Four games will be televised:
Fri., March 26, 6:30 p.m. ET – Massachusetts vs. Lake Superior State on TSN2
Fri., March 26, 9:30 p.m. ET – North Dakota vs. American International on TSN2
Sat., March 27, 5 p.m. ET – East Regional Final on TSN5
Sat., April 10, 7 p.m. ET – National Championship on TSN
In addition, French-language network RDS will televise at least one game in the province of Quebec: Friday's tournament opener featuring Montreal Canadiens first-round draft pick Cole Caufield and the Wisconsin Badgers taking on Bemidji State (1 p.m. ET).
"This is the best time of year to be a follower of men's NCAA hockey. We are excited that the passionate hockey fans throughout Canada will have unprecedented access to the 2021 NCAA men's hockey tournament," said College Hockey Inc. Executive Director Mike Snee. "There are many impactful Canadian-born players throughout the tournament as well as more than 100 NHL draft choices, including some high-profile picks of Canadian-based NHL teams."
The tournament represents the culmination of a significant effort to play the 2020-21 season despite the impact of the global pandemic. Fifty-one Division I teams competed this season, with 16 reaching the NCAA Tournament. Highlights among those participating in the tournament:
Two-time defending champion Minnesota Duluth, which will attempt to become the second school to win three straight crowns (Michigan, 1951-53).
Many of the sport's traditional powers, including each of the five schools that have made the most appearances in the tournament's history (Michigan, Minnesota, Boston University, Boston College and North Dakota).
Cinderella candidates like American International, which upset the No. 1 overall seed in the most recent tournament, or Lake Superior State, which returns to the tournament for the first time in 25 years.
Canadian World Junior Championship veterans Jacob Bernard-Docker (North Dakota), Dylan Holloway (Wisconsin) and Alex Newhook (Boston College).
Twelve first-round NHL Draft picks, including selections of the Edmonton Oilers (Wisconsin's Holloway), Montreal Canadiens (Wisconsin's Cole Caufield) and Ottawa Senators (North Dakota's Jacob Bernard-Docker and Jake Sanderson).
Nearly 100 additional NHL Draft picks representing 30 NHL teams (Washington is the lone exception).
Top draft-eligible NHL prospects including a trio at Michigan who could each be selected in the top five of the 2021 NHL Draft (Matty Beniers, Kent Johnson and Owen Power).
All 10 finalists for the 2021 Hobey Baker Award as U.S. college hockey's top player, just the second time in history that all 10 have made the tournament (1989).