Friday, April 9, 2021
Caufield Leads Award Honorees
A first-time champion will be crowned Saturday in Pittsburgh.
---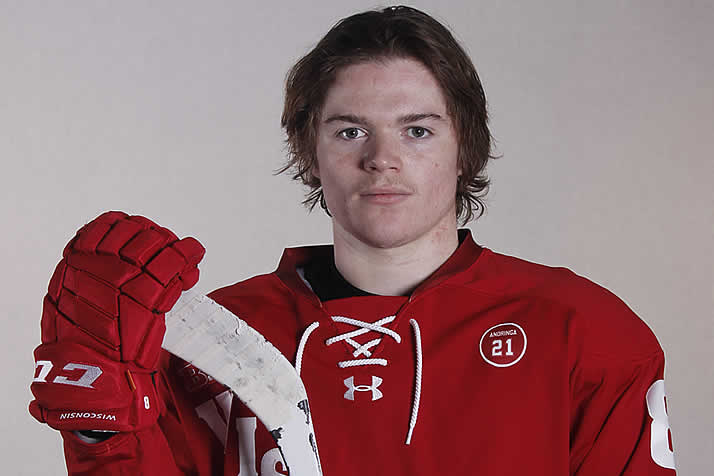 Caufield's 30 goals this season included 11 in the last six games.
After leading the nation in goals and points, Wisconsin sophomore Cole Caufield captured the 2021 Hobey Baker Award as the nation's top player this year in college hockey.
Caufield's honor headlined the awards show televised live on NHL Network Friday, on the eve of the national championship game. Also honored:
Mike Richter Award: Jack LaFontaine, Minnesota
Hockey Humanitarian Award: Delaney Wolf, Saint Mary's University
Tim Taylor National Rookie of the Year: Thomas Bordeleau, Michigan
Derek Hines Unsung Hero Award: Josh Kosack, Union
Senior CLASS Award: Jordan Kawaguchi, North Dakota
AHCA All-America Teams – listed below
Caufield was the nation's only 50-point scorer this season, finishing with 52 points in 31 games for the Badgers. He was also the only 20- or 30-goal scorer, as his 30 goals were 11 more than the next closest player.
The Montreal Canadiens first-round draft pick, who signed with Montreal following his season, beat out North Dakota forward Shane Pinto and Minnesota State goaltender Dryden McKay, who were the other members of the Hobey Hat Trick.
All three of those Hobey Hat Trick members were honored as ACHA West All-Americans. Pinto was one of three North Dakota honorees, joined by second-team selections Jordan Kawaguchi and Matt Kiersted.
In the East, Boston College led all teams with three All-Americans – Spencer Knight and Matt Boldy on the first team, with Drew Helleson on the second team.
2020-21 CCM Hockey/AHCA Division I Men's All-American Hockey Teams
First Team East
Spencer Knight, SO, Boston College
(Darien, CT)
Goalie
David Farrance, SR, Boston University*
(Victor, NY)
Defense
Brennan Kapcheck, SR, American International
(Mt. Prospect, IL)
Defense
Matt Boldy, SO, Boston College
(Millis, MA)
Forward
Bobby Trivigno, JR, University of Massachusetts
(Setauket, NY)
Forward
Odeen Tufto, SR, Quinnipiac University
(Chaska, MN)
Forward
First Team West
Jack LaFontaine, SR, University of Minnesota
(Mississauga, ON)
Goalie
Ronnie Attard, SO, Western Michigan University
(White Lake, MI)
Defense
Cam York, SO, University of Michigan
(Anaheim, CA)
Defense
Cole Caufield, SO, University of Wisconsin
(Stevens Point, WI)
Forward
Shane Pinto, SO, University of North Dakota
(Franklin Square, NY)
Forward
Sampo Ranta, JR, University of Minnesota
(Naantali, Finland)
Forward
Second Team East
Trevin Kozlowski, SR, Army West Point
(Valencia, CA)
Goalie
Drew Helleson, SO, Boston College
(Farmington, MN)
Defense
Zac Jones, SO, University of Massachusetts
(Glen Allen, VA)
Defense
Colin Bilek, JR, Army West Point
(Brighton, MI)
Forward
Will Calverley, JR, Rochester Institute of Technology
(Scarborough, ON)
Forward
Jonny Evans, JR, University of Connecticut
(North Delta, BC)
Forward
Second Team West
Dryden McKay, JR, Minnesota State*
(Downers Grove, IL)
Goalie
Matt Kiersted, SR, University of North Dakota
(Elk River, MN)
Defense
Jackson LaCombe, SO, University of Minnesota
(Eden Prairie, MN)
Defense
Dylan Holloway, SO, University of Wisconsin
(Bragg Creek, AB)
Forward
Jordan Kawaguchi, SR, University of North Dakota*
(Abbotsford, BC)
Forward
Linus Weissbach, SR, University of Wisconsin
(Goteborg, Sweden)
Forward
* First Team in 2019-20