Saturday, April 10, 2021
Coronation Mass
Convincing title game performance gives UMass its first championship.
---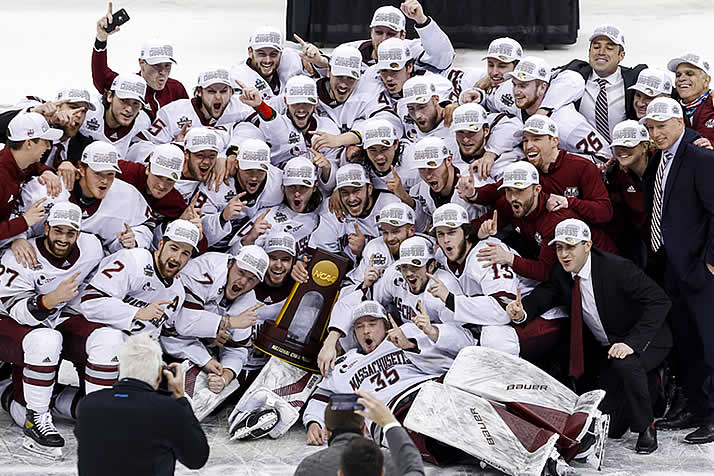 Filip Lindberg made 25 saves in Saturday's 5-0 shutout. (Photo by Matt Dewkett).
Massachusetts, with an impressive championship game performance, captured the school's first national championship Saturday night at PPG Paints Arena in Pittsburgh. The Minutemen's convincing 5-0 win against St. Cloud State marked the culmination of an uncertain season in college hockey, one that was abbreviated and for many teams paused due to the pandemic.
Saturday, however, was a showcase of the sport, with UMass even close to full strength thanks to the return of goaltender Filip Lindberg and forward Carson Gicewicz from Covid-related quarantine. Lindberg was perfect, stopping all 25 shots he faced and setting an NCAA Tournament record with his fourth career shutout in the event.
UMass is only four years removed from a last-place finish in Hockey East and a 5-29-2 record in 2016-17, head coach Greg Carvel's first with the program. This season's team finishes 20-5-4, the fewest losses for an NCAA champion since 1993 (Maine, 40-1-2). Its 11-0-3 run to end the season is the longest unbeaten streak to end a season since Union in 2014 (16-0-1).
"I can't say a lot to describe it. The feeling's unbelievable," said captain Jake Gaudet. "To be here four years, the guys that have come through this program and worked really hard, to wear a letter and help lead our team to the biggest national stage is one of my proudest achievements and it's something I'll never forget."
Saturday's game started fairly evenly, with St. Cloud State controlling some shifts and even hitting the crossbar while the game was still scoreless. UMass broke through when Aaron Bohlinger and Ryan Sullivan were sprung on a two-on-none, with Bohlinger finishing it for his first career goal.
From there, the Minutemen seemed to take over play. Two more rare goal scorers – Reed Lebster and Philip Lagunov – had the next two goals, late in the first and early in the second. Lagunov's was a shorthanded tally, featuring a highlight-reel move past a St. Cloud State defenseman.
"Our depth has been a huge reason why we made it to the game tonight," Gaudet said. "I'm so happy for these guys to put pucks in the net; they completely deserve it. We wouldn't be here without a solid four-line team and we have six great D that play outstanding and a great goalie. And I think that's the difference between their team this year and our team two years ago is we can roll four lines be successful."
Two of the team's top goal scorers, defenseman Matthew Kessel and forward Bobby Trivigno, added the fourth and fifth goals. Lindberg and the Minutemen protected the 5-0 lead for the final 14 minutes and erupted in celebration afterwards.
The All-Tournament Team was made up of six players from three teams, four of them from the national champions: Filip Lindberg (UMass), Zac Jones (UMass), Matthew Kessel (UMass), Nathan Smith (Minnesota State), Bobby Trivigno (UMass) and Nolan Walker (St. Cloud State). Trivigno was named the Most Outstanding Player.
---
Notes
- Massachusetts becomes the 22nd team to win the NCAA Division I men's hockey championship and the first first-time champion since Providence in 2015.
- Massachusetts' +14 goal differential in the tournament matched the best since Boston College was +15 in 2010 (BC was also +14 in 2012).
- Lindberg's fourth career NCAA Tournament shutout set a tournament record, one he previously shared with Boston College alum Cory Schneider with three.
- Lindberg, a Finland native, is the first non-North American goaltender to win the NCAA championship game.
- Bohlinger was the seventh player in the 13-game tournament to score his first goal of the season.
- Kessel's goal was his 10th of the season, breaking a tie with teammate Zac Jones for the national lead among defensemen.
- The tournament averaged 6.3 goals per game, the most since 2010 (6.7).
- The team with more shots on goal was 8-1 in the NCAA regionals, but 0-3 in the Frozen Four.
---
Frozen Four Championship Photo Gallery
Photos by Matt Dewkett