Monday, June 28, 2021
Collegians Fill U.S. WJSS Roster
39 players, recruits invited to Summer Showcase at USA Hockey Arena.
---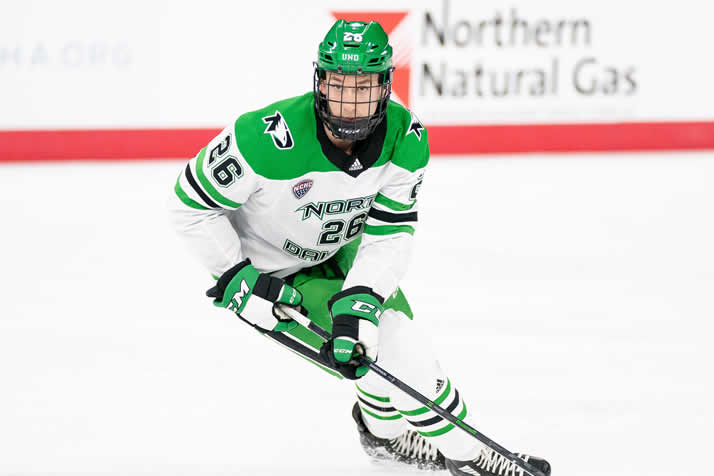 North Dakota's Jake Sanderson is one of six returnees from the 2021 U.S. National Junior Team (Photo by Mark Kuhlmann).
Thirty-nine current and committed college players highlight the group of 44 players who will represent the United States at the 2021 World Junior Summer Showcase, USA Hockey announced Monday.
The event, set for July 24-31 at USA Hockey Arena in Plymouth, Mich., will feature teams from the U.S., Finland and Sweden, as players audition for their respective national teams for the 2022 IIHF World Junior Championship.
Eighteen schools are represented by players or recruits on the U.S. roster. Michigan leads all schools with six representatives, followed by Boston University and Minnesota (four each), and Denver and Notre Dame (three each).
Sixteen of the players were freshmen in 2020-21. Twenty-two will be freshmen this fall, while one (Logan Cooley, Notre Dame) is slated to enroll in 2022-23.
Six players on the roster – Matty Beniers, Brett Berard, Brock Faber, Tyler Kleven, Jake Sanderson and Landon Slaggert – are returnees from the 2021 U.S. National Junior Team that won gold at the World Junior Championship.
The WJSS will include 11 games across eight days, with games streamed live on HockeyTV.
2021 U.S. World Junior Summer Showcase Roster
Name
Most Recent Team
2021-22 NCAA Team
Goaltenders
Aidan Campbell
Erie (OHL)
Drew Commesso
Boston University
Boston University
Kaidan Mbereko
U.S. National Under-18 Team
Uncommitted
Tucker Tynan
Niagara (OHL)

Defensemen
Sean Behrens
U.S. National Under-18 Team
Denver
Shai Buium
Sioux City (USHL)
Denver
Brock Faber
Minnesota
Minnesota
Alex Gagne
Muskegon (USHL)
New Hampshire
Aidan Hreschuk
U.S. National Under-18 Team
Boston College
Luke Hughes
U.S. National Under-18 Team
Michigan
Wyatt Kaiser
Minnesota Duluth
Minnesota Duluth
Connor Kelley
Minnesota Duluth
Minnesota Duluth
Tyler Kleven
North Dakota
North Dakota
Ian Moore
Chicago (USHL)
Harvard
Scott Morrow
Shattuck-St. Mary's
Massachusetts
Jack Peart
Fargo (USHL)
St. Cloud State
Eamon Powell
Boston College
Boston College
Jake Sanderson
North Dakota
North Dakota
Jacob Truscott
Michigan
Michigan
Ryan Ufko
Chicago (USHL)
Massachusetts

Forwards
Carson Bantle
Michigan Tech
Wisconsin
Matty Beniers
Michigan
Michigan
Brett Berard
Providence
Providence
Cameron Berg
Muskegon (USHL)
Omaha
Thomas Bordeleau
Michigan
Michigan
Tyler Boucher
U.S. National Under-18 Team
Boston University
Tristan Broz
Fargo (USHL)
Minnesota
Logan Cooley
U.S. National Under-17 Team
Notre Dame (2022-23)
Matt Coronato
Chicago (USHL)
Harvard
Tanner Dickinson
Soo (OHL)
Josh Doan
Chicago (USHL)
Arizona State
Dylan Duke
U.S. National Under-18 Team
Michigan
Matthew Knies
Tri-City (USHL)
Minnesota
Chaz Lucius
U.S. National Under-18 Team
Minnesota
Carter Mazur
Tri-City (USHL)
Denver
Declan McDonnell
Syracuse (AHL)
Sasha Pastujov
U.S. National Under-18 Team
Notre Dame
Dylan Peterson
Boston University
Boston University
Mackie Samoskevich
Chicago (USHL)
Michigan
Red Savage
U.S. National Under-18 Team
Miami
Landon Slaggert
Notre Dame
Notre Dame
Ty Smilanic
Quinnipiac
Quinnipiac
Luke Tuch
Boston University
Boston University
Chase Yoder
Providence
Providence