Saturday, July 24, 2021
56 Selected in NHL Draft
47 selections on Saturday follow historic first round.
---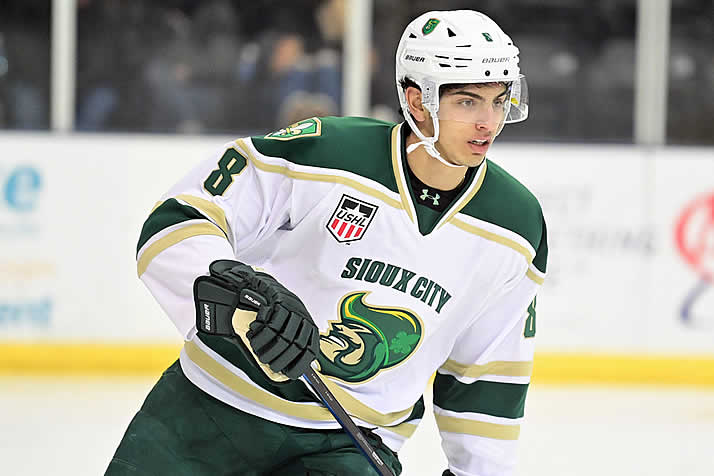 Denver incoming freshman Shai Buium was the first NCAA player selected in the second round (Photo by Dan Hickling).
Fifty-six NCAA players were selected in the 2021 NHL Draft, with 47 selections coming on Saturday during rounds two through seven. Friday's historic first round saw five of the top 10 picks come from the college ranks for the first time in NHL Draft history.
Sortable: NCAA Selections in 2021 NHL Draft
Twenty-five schools – nearly half of those in Division I – had a player or recruit selected in the draft, led by Michigan with six. Denver, Massachusetts and Minnesota followed the Wolverines with four selections each.
Other notes on the draft:
27 of the NHL's 32 franchises selected at least one NCAA player, led by nine teams with three selections each.
Boston College and Michigan each had at least one player selected for the 26th consecutive draft, one shy of the all-time record (Minnesota, 1974-2000).
The majority of NCAA selections will be freshmen in 2021-22. Five players who spent this season in college were taken, led by Michigan's trio of Owen Power, Matty Beniers and Kent Johnson in the top five picks.
The NCAA selections included 30 forwards, 23 defensemen and three goaltenders.
Forty of the NCAA selections were Americans; other countries represented were Canada (10), Finland (2), Russia (2), Germany (1) and Kazakhstan