Thursday, September 9, 2021
U.S. Hall of Fame Welcomes Trio
Former college stars Holmgren, McNab to be inducted along with journalist Fischler.
---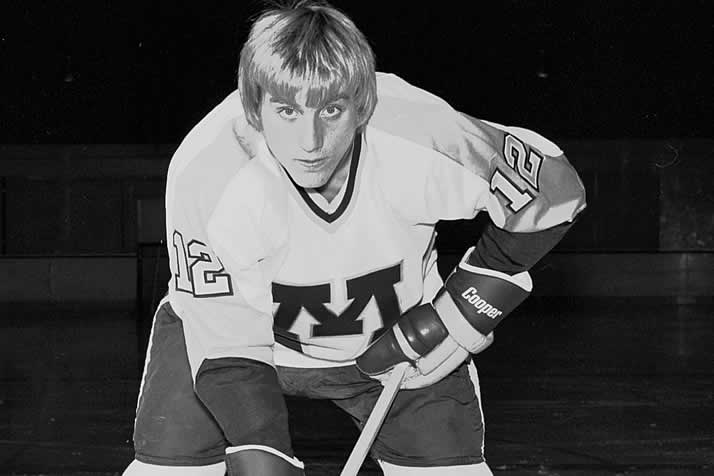 Paul Holmgren played one season for Herb Brooks at Minnesota.
Former college stars Paul Holmgren and Peter McNab, along with legendary journalist Stan Fischler, make up the U.S. Hockey Hall of Fame class of 2021, USA Hockey announced Thursday. "Stan, Paul and Peter have all had an enormously positive impact on American hockey over the course of many decades," said Mike Trimboli, president of USA Hockey. "Their extraordinary contributions to our sport continue today and will be felt for generations to come. Our warmest congratulations to each of them on their well-deserved selection and we look forward to the formal enshrinement ceremonies later this year."
USA Hockey Announcement | NCAA Hall of Famers
Holmgren, best known for his more than 40 years of association with the Philadelphia Flyers, was drafted by the club from the University of Minnesota in 1975. He recorded 31 points in 37 games for the Golden Gopher team in 1974-75 that finished as the runner-up in the NCAA Tournament.
Holmgren went on to play 10 NHL seasons for the Flyers and Minnesota North Stars. The St. Paul, Minnesota, native, is the only person ever to serve as a player, assistant coach, head coach, general manager and president of the Flyers and today serves as senior advisor for the club.
McNab played three years at Denver before embarking on a successful NHL playing career, helping the Pioneers reach the Frozen Four each season. As a junior in 1972-73, he earned first-team All-WCHA and NCAA All-Tournament honors.
"Back then, college players were seen in a different light," McNab said. "We had to fight our way to be seen as legitimate players."
McNab's 14-season NHL career spanned four teams and featured 995 career regular-season games played. He currently works in the shadow of his alma mater as the color analyst for Colorado Avalanche television broadcasts.