Tuesday, October 5, 2021
Augustana to Add Hockey
Announcement brings Division I men's hockey to South Dakota.
---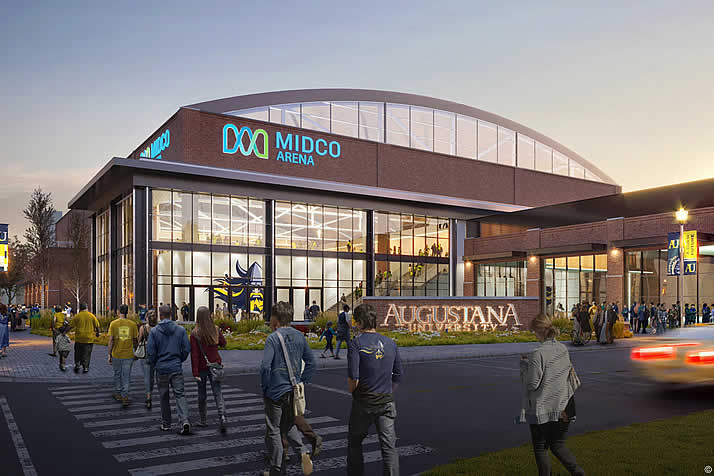 Midco Arena is designed with 3,000 season plus luxury suites.
College hockey is headed to South Dakota, with Tuesday's announcement that Augustana will build a new facility and field a Division I men's program beginning in the fall of 2023.
The Sioux Falls, South Dakota, university held a formal groundbreaking for Midco Arena, a $40 million facility made possible by a lead gift from T. Denny Sanford, Midco, Sanford Health and several other major donors.
"Hockey is the right program at the right time for where Augustana is now, and it's just been so affirming because of all the enthusiasm that our campus, alumni, community and donors have expressed," said Augustana President Stephanie Herseth Sandlin. "This is more than a men's hockey program at Augustana. This is a university-wide initiative that has great potential impact for our city and region."
College Hockey Inc. applauds the initiative of Augustana's leadership and looks forward to the future of Viking hockey.
"Augustana University's decision to add men's hockey and invest significantly in our sport is a powerful statement about the appeal of college hockey and the positive impact it can make on a school, its students and alumni," said College Hockey Inc. Executive Director Mike Snee. "We are excited that [athletics director] Josh Morton and the leadership of Augustana University sees the potential of Vikings men's hockey and being the first NCAA college hockey team in South Dakota. This is a memorable day for all of college hockey."
NHL Vice President of Hockey Development Kevin Westgarth took part in the groundbreaking ceremony. He saluted the school for growing college hockey and the sport as a whole.
"Augustana University, with the generous support of Denny Sanford, is taking a bold step today, breaking ground on a new facility here on its campus in Sioux Falls," Westgarth said. "The shovel's first cut into the earth is not just the beginning of the foundation of a building, but the foundation of a community. A place where we will see new role models – hockey players at the Division I level inspiring the next generation of athletes – and that will give access and exposure to our sport for new families in Sioux Falls, South Dakota, and beyond. The NHL is proud to support the Vikings in this effort, and applaud their ongoing commitment to their students and their city."
Likewise, USA Hockey commended Augustana on its vision for the future.
"We applaud Augustana for its vision and commitment to add Division I hockey," said Pat Kelleher, executive director of USA Hockey. "With the success of the USHL's Sioux Falls Stampede, Augustana's program will further solidify the hockey tradition currently in place in Sioux Falls and the state of South Dakota. As our sport continues to grow, it's also great to have additional opportunities for players to compete at the Division I level."
Augustana is the third school in as many years to announce plans to join Division I, following Long Island and St. Thomas.