Wednesday, January 19, 2022
Applications now open for College Hockey Inc. Scholarship
Grant presented by JLG Architects in honor of Lonnie Laffen
---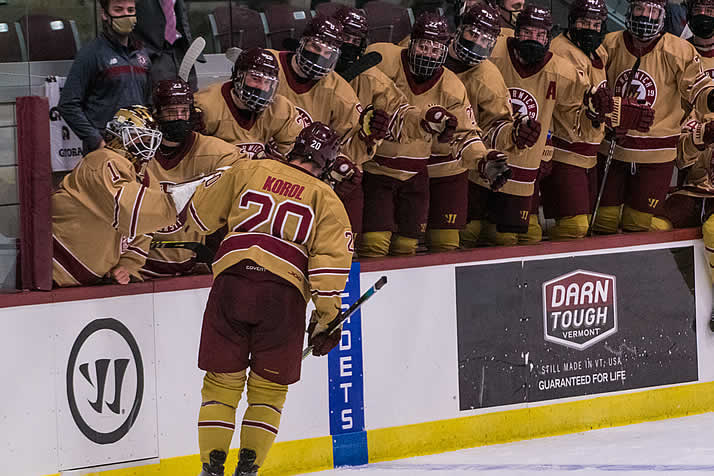 Norwich University's Michael Korol was the 2021 recipient of the CHI Scholarship
College Hockey Inc. is accepting applications for the third annual College Hockey Inc. Scholarship, presented by JLG Architects. The grant, which went to Norwich University alumni Michael Korol in 2021, is awarded in honor of JLG founder Lonnie Laffen, a passionate hockey supporter who passed away in 2020.
The College Hockey Inc. Scholarship, presented by JLG Architects, is a $2,500 postgraduate scholarship given to an NCAA hockey student-athlete who helps build the game through their support of the next generation of hockey players.
"At JLG Architects, hockey is in our hearts and at the core of our professional passion," said JLG Architects CEO Michelle Allen. "We are committed to empowering future architects and design leaders, youth and collegiate hockey players, and the programs that make positive progress possible. As a tribute to our founder, the late Lonnie Laffen, we are proud to support this scholarship, built to honor and encourage passionate players to exceed expectations on and off the ice. With this scholarship, Lonnie's legacy lives on, devoted to the far-reaching impact of College Hockey Inc. and the NCAA student-athletes who work tirelessly to enrich the lives of young hockey players."
The College Hockey Inc. Scholarship, presented by JLG Architects, is open to any senior NCAA hockey player (men's or women's, regardless of division). The winner will be selected by a committee made up of representatives of College Hockey Inc. and JLG Architects.
"JLG Architects and late founder Lonnie Laffen have made such a noteworthy impact on college hockey," said College Hockey Inc. Executive Director Mike Snee. "They have helped literally build our game. We truly appreciate JLG Architects' generosity and continued support of the College Hockey Inc. scholarship, and their commitment to tomorrow's builders of college hockey."
Applications require an essay (maximum 1,000 words) on the student-athlete's contributions to the youth hockey community, which may be accompanied by videos or other supplemental information.
Click HERE to complete the application form. Applications are due by April 30. Applicants must be seniors exhausting their NCAA eligibility in 2021-22.
Past Recipients:
2020
Breanna Scarpaci, Boston University
2021
Michael Korol, Norwich University
---
About College Hockey, Inc.
Formed in 2009 in partnership with USA Hockey, College Hockey Inc. is a nonprofit organization dedicated to promoting Division I men's college hockey to prospective players and fans through extensive marketing and informational efforts. The entity is operated under the auspices of a 12-member Board of Directors and works closely with the commissioners, coaching staffs and administrators of the 60 programs and six conferences that sponsor Division I men's hockey.
---
About JLG Architects
JLG is a 100% employee-owned architecture firm with over 150 architects, interior designers, community and fundraising specialists, and related staff across 10 offices in Minnesota, Massachusetts, South Dakota, and North Dakota, and has been named one of the Top 25 Sports Facility Architecture Giants in the U.S. by Building Design+Construction, the Best Ice Hockey Arena Architects in the Upper Midwest U.S. by LUXlife International, and one of 50 Most Admired Companies in America by MSN Money. JLG's dedicated ice hockey studio is the Preferred Architecture Partner of the National Collegiate Hockey Conference and the Western Collegiate Women's Hockey Association.
---
About Lonnie Laffen
The co-founder of JLG Architects and a lifelong hockey fan, Lonnie Laffen dedicated his career to "rethinking the rink" by challenging long-established perceptions about how fans, players, and facility managers are made better by the gameday and practice environment. For over 30 years, was directly involved in the planning and execution of all of JLG's ice projects across the nation, from Sacred Heart University to Colorado College. In addition to his focus on the sport, Lonnie was a passionate advocate for the state of North Dakota, serving as a State Senator for Grand Forks District 43 from 2010 – 2018. Lonnie passed away in December 2020, leaving behind a legacy of hockey excellence, which will live on through the work by his dedicated sports architecture team.