Thursday, January 13, 2022
Entire United States Olympic men's hockey roster boasts NCAA ties
Twenty-five current, former collegiate standouts named to 2022 squad
---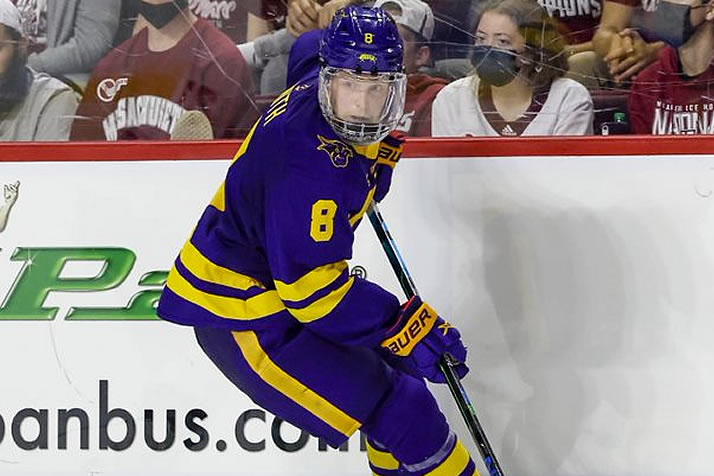 Nathan Smith is one of 15 current college players on the roster (Photo: Matt Dewkett / CCHA)
Twenty-five current and former NCAA Division I men's hockey players, representing 14 different schools, have been named to the 2022 United States Olympic roster, it was announced Thursday by USA Hockey. The team will represent the United States at the 2022 Olympic Winter Games Feb. 3-20 in Beijing, China.
Fifteen of the 25 players are currently playing in the NCAA, including national scoring leader Nathan Smith of Minnesota State University, who has recorded 13 goals and 33 points in 22 games this season for the Mavericks.
Five Division I men's hockey conferences are represented, including five current players from the Big Ten, four from the NCHC, three from Hockey East, two from the ECAC and one from the CCHA.
The other 10 players on the roster all played collegiately, including 2011 Hobey Baker Award winner Andy Miele (Miami University), who now skates for Torpedo Nizhny Novgorod in the Kontinental Hockey League (KHL).
2022 UNITED STATES MEN'S OLYMPIC ROSTER:
Player
Pos.
Current Team
NCAA Team
Nick Abruzzese
F
Harvard
Harvard
Kenny Agostino
F
Torpedo Nizhny Novgorod (KHL)
Yale
Matty Beniers
F
Michigan
Michigan
Brendan Brisson
F
Michigan
Michigan
Noah Cates
F
Minnesota Duluth
Minnesota Duluth
Drew Commesso
G
Boston University
Boston University
Brian Cooper
D
Oskarshamn (SHL)
Omaha
Brock Faber
D
Minnesota
Minnesota
Sean Farrell
F
Harvard
Harvard
Drew Helleson
D
Boston College
Boston College
Sam Hentges
F
St. Cloud State
St. Cloud State
Steven Kampfer
D
Ak Bars Kazan (KHL)
Michigan
Matthew Knies
F
Minnesota
Minnesota
Strauss Mann
G
Skelleftea AIK (SHL)
Michigan
Marc McLaughlin
F
Boston College
Boston College
Ben Meyers
F
Minnesota
Minnesota
Andy Miele
F
Torpedo Nizhny Novgorod (KHL)
Miami
Pat Nagle
G
Lehigh Valley (AHL)
Ferris State
Aaron Ness
D
Providence (AHL)
Minnesota
Brian O'Neill
F
Jokerit (KHL)
Yale
Nick Perbix
D
St. Cloud State
St. Cloud State
Jake Sanderson
D
North Dakota
North Dakota
Nick Shore
F
Sibir Novosibirsk (KHL)
Denver
Nathan Smith
F
Minnesota State
Minnesota State
David Warsofsky
D
Ingolstadt (DEL)
Boston University
The U.S. Olympic Men's Ice Hockey Team opens play on Feb. 10 when it faces host China in its first preliminary round game at 8:10 a.m. ET. For more information on the 2022 U.S. Olympic Men's Ice Hockey Team, including the full roster, click here.
---
About College Hockey, Inc.
Formed in 2009 in partnership with USA Hockey, College Hockey, Inc. is a nonprofit organization dedicated to promoting Division I men's college hockey to prospective players and fans through extensive marketing and informational efforts. The entity is operated under the auspices of a 12-member Board of Directors and works closely with the commissioners, coaching staffs and administrators of the 61 programs and six conferences that sponsor Division I hockey.