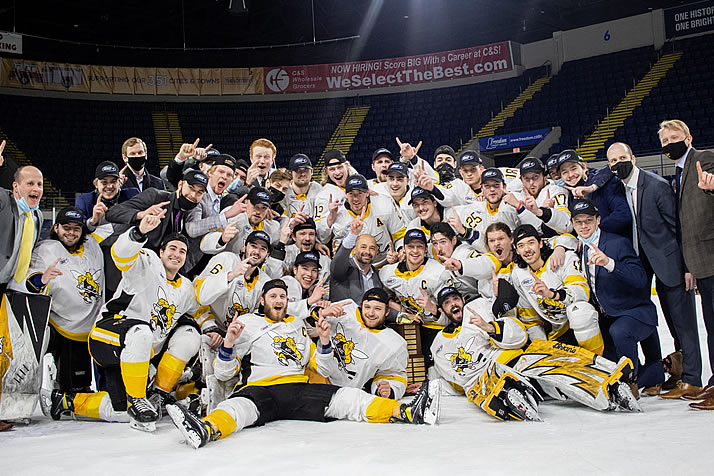 AIC is looking for its fourth straight Atlantic Hockey regular-season title.
By Jayson Hajdu
As college hockey hits the home stretch of the regular season, Minnesota State and American International are in position to become the first teams to clinch their respective conference championships.
The top-ranked Mavericks can clinch the CCHA's McNaughton Cup outright Friday with a regulation win vs. Bemidji State, coupled with a Michigan Tech regulation loss at Ferris State. MSU is gunning for an unprecedented fifth straight outright regular-season league title, the first four of which came in the WCHA. Meanwhile, AIC seeks its fourth consecutive Atlantic Hockey crown, needing either two points at Mercyhurst or a Canisius loss to Sacred Heart.
Daily Scoreboard | Weekly Schedule | TV Schedule | Stat Leaders
---
Must Read:
College Hockey News: 'I felt like I was home'; Stejskal's triumphant return to the crease, post-cancer
The Hockey News: Top NCAA prospect Ben Meyers is catching NHL's attention
Boston Globe: For a while, this didn't look like Boston University's year. But its turnaround now includes a men's Beanpot title.
Western Herald: WMU hockey reaches new heights in first year of Pat Ferschweiler era
Duluth News Tribune: Stejskal returns for first time since cancer diagnosis, backstops Bulldogs to win at Denver
Grand Forks Herald: How Connor Ford quickly became an invaluable piece for UND
WMU News: Bronco Hockey goalie looks to net support for autism awareness
---
Must Hear:
CHN Insiders (feat. hockey writer Chris Peters)
College Hockey SW Weekly (feat. ASU Head Coach Greg Powers)
The Has-Beens (co-hosted by former North Dakota players Gage Ausmus and Trevor Olson)
The Pipeline Show (feat. Boston College recruit Cutter Gauthier)
The Rink Live (Weekend Rewind)
USCHO Weekend Review (Is Big Ten best? Plus, winners, losers, Beanpot, Olympics, standings outlook)
---
Century Club:
Michigan Tech teammates Brian Halonen (UDFA) and Trenton Bliss (UDFA) each notched his 100th career point last Friday against Bowling Green, becoming the sixth set of active teammates in NCAA Division I men's hockey player to have hit that plateau:
Clarkson (3) – Luke Santerno (120), Zach Tsekos (110), Jack Jacome (105)
Denver (2) – Cameron Wright (126), Cole Guttman (108)
Michigan Tech (2) – Brian Halonen (101), Trenton Bliss (100)
Minnesota State (2) – Julian Napravnik (111), Reggie Lutz (109)
Omaha (2) – Brannon McManus (111), Taylor Ward (108)
Western Michigan (2) – Ethen Frank (109), John Passolt (102)
That exclusive group may soon have company:
Minnesota: Sammy Walker (107), Blake McLaughlin (99)
Minnesota Duluth: Casey Gilling (96), Noah Cates (94)
North Dakota: Connor Ford (136), Ashton Calder (97)
St. Cloud State: Easton Brodzinski (119), Kevin Fitzgerald (96)
---
Olympic Offerings:
The semifinal matchups are set at the 2022 Winter Olympics, where Finland will face Slovakia and Russia will meet Sweden. Five former college hockey players remain in the medal mix: Finland goalie Jussi Olkinuora (Denver, 2011-13), Slovakia goalie Matej Tomek (North Dakota, 2015-17; Omaha, 2018-19), and Sweden's trio of defensemen Christian Folin (UMass-Lowell, 2012-14) and Erik Gustafsson (Northern Michigan, 2007-10), plus forward Fredrik Olofsson (Omaha, 2015-19) … Former Union forward Parker Foo (2017-20) made history during the preliminary round when he scored China's first-ever Olympic goal in men's hockey during Saturday's 3-2 loss to Germany … A trio of former collegians helped land Denmark a victory over the Czech Republic in its first-ever Olympic men's hockey appearance last Wednesday: Nicholas B. Jensen (Plattsburgh State, 2010-14), Oliver Lauridsen (St. Cloud State, 2008-11) and Patrick Russell (St. Cloud State, 2014-16) … Harvard sophomore forward Sean Farrell led the United States in scoring with six points (3 goals, 3 assists) in four games. Team USA was eliminated in a 3-2 shootout loss to Slovakia during the quarterfinals.
---
NHL Note of the Week:
New York Rangers forward Chris Kreider (Boston College, 2009-12) boasts a career-high 33 goals this season, tying him with Edmonton's Leon Draisaitl for the NHL lead. Kreider is bidding to become the first NCAA alum to lead the NHL in goals since Boston University great Keith Tkachuk scored a league-leading 52 times for Phoenix in 1996-97. | NHL Matchup Tool