Tuesday, March 22, 2022
Entire 2022 NCAA Tournament to be streamed live by TSN
More than 100 Canadian players competing for NCAA title
---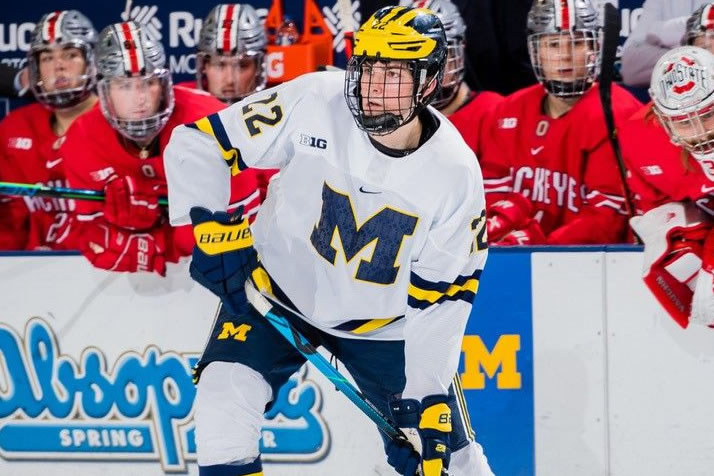 Michigan's Owen Power was drafted first overall by the Buffalo Sabres in 2021 (Photo: Michigan Athletics)
College Hockey Inc. and TSN announced Tuesday that the entire 2022 NCAA Men's Hockey Tournament, including the NCAA Regionals (March 24-27) and the NCAA Frozen Four (April 7-9), will be streamed live on TSN.ca and on the TSN app.
All 15 tournament matchups, including the NCAA Frozen Four championship game, can be seen on TSN.ca and on the TSN mobile app.
More than 100 Canadians, representing seven provinces and one territory, will be playing in the NCAA Tournament, including the likes of Michigan sophomore defenseman and Mississauga, Ontario, native Owen Power, drafted first overall by the Buffalo Sabres in 2021.
Additionally, Canada's seven National Hockey League teams have a combined 25 prospects in the tournament, including first-round draft picks Matthew Coronato (Harvard/Calgary Flames), Chaz Lucius (Minnesota/Winnipeg Jets) and Jake Sanderson (North Dakota/Ottawa Senators).
With the addition of the 2022 NCAA Men's Hockey Tournament to TSN's broadcast schedule, Canada's Sports Leader will have showcased more than 75 NCAA women's and men's hockey games throughout the 2021-22 season.
Click HERE to view the complete 2022 NCAA Men's Hockey Championship bracket. Click HERE to view the 2022 NCAA Tournament Media Kit.