Thursday, March 10, 2022
Notes: All six conference tourneys underway
Pair of goalies chasing significant records
---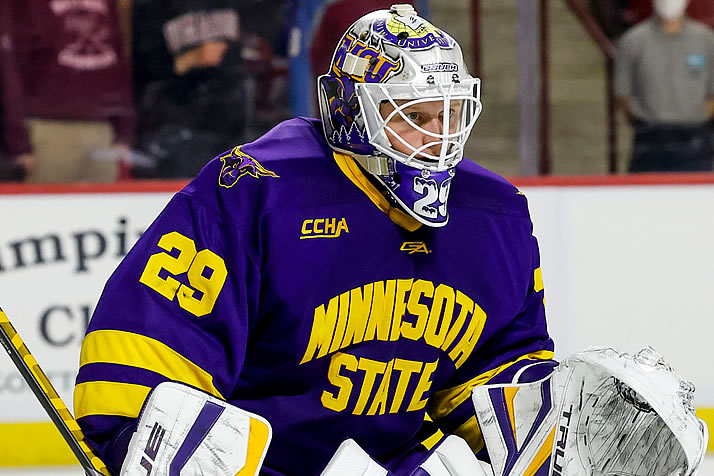 Dryden McKay is eyeing the NCAA single-season wins record (Photo: Matt Dewkett / CCHA)
By Jayson Hajdu
The men's college hockey regular season is now in the rearview mirror with all six conference tournaments in full swing. Hockey East got the week started Wednesday night with a trio of first-round matchups that saw Boston College down New Hampshire in overtime (4-3), Providence defeat Vermont (2-1), and Merrimack defeat Maine (6-1). Those three winners now advance to the Hockey East Quarterfinals on Saturday.
Atlantic Hockey, the Big Ten, CCHA and ECAC all began their conference tournaments last week and continue play this weekend, while the NCHC Tournament gets underway Friday. For playoff brackets and additional information, visit the tournament homepages below:
Conference Tournament Websites
Atlantic Hockey | Big Ten | CCHA | ECAC | Hockey East | NCHC
---
Daily Scoreboard | Weekly Schedule | TV Schedule | Stat Leaders
---
Must Read:
College Hockey News: Midseason Newcomer Lugris Lifting Penn State
Minnesota Hockey: How Delano Became a Perennial Contender
The Rink Live: Sam Hentges picks up attention to details, his scoring follows suit for SCSU
The Rink Live: After 50 years on the road, it's one last ride for Al Pearson's UND hockey fan bus
USCHO: Recapping the thrilling weekend in college hockey, discussing Hobey, Richter award candidates
---
Must Hear:
CHN Insiders (Conference tournament preview)
College Hockey SW Weekly (Talking playoff hockey and the final series for Sun Devil Hockey)
Talking Hockey Sense (Covering undrafted FA candidates with guest Brad Schlossman)
The Rink Live (UND wins another Penrose Cup, postseason hockey in full swing)
USCHO Spotlight (Bentley's Ryan Soderquist on playoff road sweep, working through on-ice adversity)
USCHO Weekend Review (Wild finish in Hockey East, NCHC; drama in first round of conference playoffs)
---
Goalie Watch:
Already the NCAA Division I men's hockey record-holder with 33 career shutouts, Minnesota State senior G Dryden McKay (UDFA) needs just one win to tie the NCAA single season record currently shared by future NHLers Marty Turco and Robb Stauber:
NCAA Single-Season Wins Leaders
Rk
Name, Team
Year
W
1.
Marty Turco, Michigan
1995-96
34
Robb Stauber, Minnesota
1987-88
34
3.
Dryden McKay, Minnesota State
2021-22
33
Marty Turco, Michigan
1997-98
33
Marty Turco, Michigan
1996-97
33
McKay, a semifinalist for the 2022 Mike Richter Award, is 33-4-0 this season with a 1.28 GAA and .932 save percentage. McKay and the top-ranked Mavericks will face Northern Michigan in the CCHA Mason Cup Semifinals on Saturday.
---
Goalie Watch, Part Deux:
Another 2022 Mike Richter Award finalist is taking aim at the NCAA record books. Quinnipiac first-year G Yaniv Perets (UDFA) needs one more shutout to match Greg Gardner's NCAA single-season record that has stood for more than 20 years:
NCAA Single-Season Shutout Leaders
Rk
Name, Team
Year
SHO
1.
Greg Gardner, Niagara
1999-00
12
2.
Yaniv Perets, Quinnipiac
2021-22
11
3.
Dryden McKay, Minnesota State
2019-20
10
Thatcher Demko, Boston College
2015-16
10
David McKee, Cornell
2004-05
10
Ryan Miller, Michigan State
2000-01
10
Perets is 18-4-2 on the year and leads the nation in both GAA (0.82) and save percentage (.955). His GAA would be a new NCAA single-season record if the season ended today, and his save percentage would trail only Jimmy Howard's record-setting .956 mark from 2003-04:
NCAA Single-Season GAA Leaders
Rk
Name, Team
Year
GAA
1.
Yaniv Perets, Quinnipiac
2021-22
0.82
2.
Jimmy Howard, Maine
2003-04
1.19
3.
David LeNeveu, Cornell
2002-03
1.20
4.
David McKee, Cornell
2004-05
1.24
5.
Dryden McKay, Minnesota State
2021-22
1.28
NCAA Single-Season Save Percentage Leaders
Rk
Name, Team
Year
SV%
1.
Jimmy Howard, Maine
2003-04
.956
2.
Yaniv Perets, Quinnipiac
2021-22
.955
3.
Devon Levi, Northeastern
2021-22
.953
4.
Connor Hellebuyck, UMass Lowell
2012-13
.952
5.
Ryan Miller, Michigan State
2000-01
.950
Perets and the sixth-ranked Bobcats will host St. Lawrence on Friday in the ECAC Hockey Quarterfinals.
---
NHL Note of the Week:
Nick Schmaltz (North Dakota, 2014-16) set an Arizona Coyotes franchise record Saturday when he racked up seven points (two goals, five assists) in an 8-5 win over Ottawa. Schmaltz tied Red Berenson's (Michigan, 1959-62) record for most points by a college hockey product in a single NHL game:
Most Points in NHL Game by Former NCAA Player>
Rk
Name, Team (Alma Mater)
Date
PTS (G-A)
1.
Nick Schmaltz, Arizona (North Dakota)
3/05/22 vs OTT
7 (2-5)
Red Berenson, St. Louis (Michigan)
11/7/68 at PHI
7 (6-1)
3.
Johnny Gaudreau, Calgary (Boston College)
3/12/19 vs NJD
6 (3-3)
Multiple others tied w/ 6
Schmaltz added four more points (two goals, two assists) in his next game Tuesday at Detroit, giving him the franchise record for most points (11) in a two-game span. He now has 16 goals and 37 points in 38 games overall this season.
---
Fries at the Bottom of the Bag:
On Wednesday, the Big Ten announced its finalists for the conference's 2021-22 individual awards, the NCHC unveiled its all-conference team, and Hockey East named its all-rookie squad … Minnesota Duluth senior D Matt Anderson (UDFA) became the program's all-time games played leader Saturday when he skated in career tilt No. 175 … A former Bulldogs defender, longtime NHLer Norm Maciver, was named associate general manager for the Chicago Blackhawks on Wednesday. Maciver, who starred at UMD from 1982-86, had been serving as director of player personnel for the Seattle Kraken.
---
Conference Champions (reg. season):
Atlantic Hockey – American International (fourth in a row)
Big Ten – Minnesota (first since 2017)
CCHA – Minnesota State (unprecedented fifth outright in a row; first four came in WCHA)
ECAC Hockey – Quinnipiac (second in a row)
Hockey East – Northeastern (first time in program history)
NCHC – Denver, North Dakota (co-champs; North Dakota's third straight)
---
College Hockey Inc. Resources: