Wednesday, March 2, 2022
Notes: Down the Stretch They Come
Final two league races on the line
---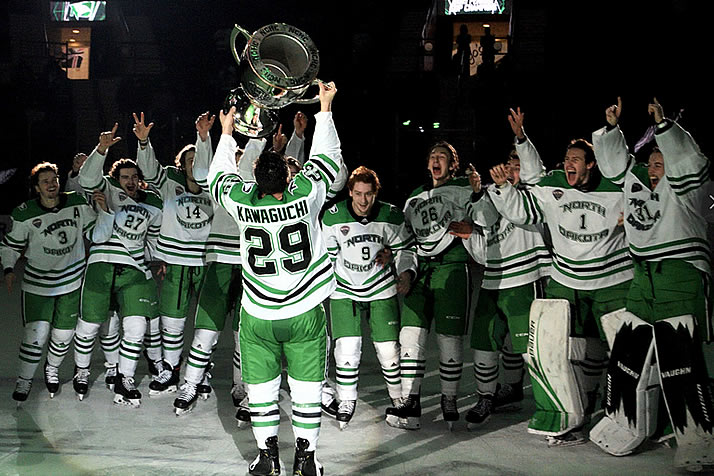 UND is seeking its third straight Penrose Cup (Photo: Russ Hons/UND Athletics)
By Jayson Hajdu
Regular-season champions have been crowned in four of the six NCAA Division I men's hockey conferences, with Hockey East and the NCHC yet to be decided entering the final weekend. UMass holds a five-point lead over second-place Northeastern and Merrimack in Hockey East, while two-time defending NCHC champion North Dakota leads Denver by four points.
Elsewhere around the nation, Minnesota State won the CCHA crown for the Mavericks' fifth straight conference title, American International captured its fourth straight Atlantic Hockey championship, Quinnipiac repeated as ECAC champion, and Minnesota won its first Big Ten title since 2017.
If UND can secure its third straight Penrose Cup, it would give college hockey four repeat conference champions for the first time since 2015-16, when five teams did it: Minnesota, Minnesota State (co-champ), North Dakota, Quinnipiac, and Robert Morris.
Daily Scoreboard | Weekly Schedule | TV Schedule | Stat Leaders
---
Must Read:
College Hockey News: Kondelik, Tverberg Driving UConn's Offense
Grand Forks Herald: UND signs men's hockey coach Brad Berry to contract extension
The Athletic: How Jack Johnson reached 1,000 NHL games and what his night looked like
College Hockey News: AIC's Millette Continues to Use Hockey to Channel Adversity Into Strength
Minnesota Hockey: How Delano Became a Perennial Contender
NHL.com: Best young U.S.-born player debated by NHL.com writers
NHL.com: Mobile museum makes impact at HBCU school considering NCAA Division I hockey
---
Must Hear:
Analytics and Eyeballs (Guest: CBS Sports Network Analyst Dave Starman)
CHN Insiders (Guest: North Dakota Head Coach Brad Berry)
College Hockey SW Weekly (Talking all things NCAA hockey and upcoming playoffs)
The Pipeline Show (Guest: CBS Sports Network Analyst Dave Starman)
The Rink Live (NCHC teams vie for playoff status, Gophers men win conference title, WCHA playoffs)
USCHO Weekend Review (Minnesota, Quinnipiac win conferences, North Dakota close; Bubble teams?)

---
The Second Season:
While Hockey East and the NCHC are settling their regular-season races this weekend, Atlantic Hockey, the Big Ten, CCHC and ECAC all will begin the first round of their respective conference tournaments. Visit the links below for brackets and additional information:
Atlantic Hockey | Big Ten | CCHA | ECAC | Hockey East | NCHC
---
NHL Note of the Week:
Colorado Avalanche defenseman Jack Johnson (Michigan, 2005-07) skated in his 1,000th NHL game Tuesday night against the Islanders. Johnson became the 10th active college hockey alum to have reached that milestone:
Most NHL GP by NCAA Players (active)
Rk
Name, Alma Mater (NHL Teams)
GP
1.
Ryan Suter, Wisconsin (MIN/NSH/DAL)
 1,250
2.
Duncan Keith, Michigan State (CHI/EDM)
1,228
3.
Phil Kessel, Minnesota (BOS/TOR/PIT/ARI)
1,175
4.
Joe Pavelski, Wisconsin (SJS/DAL)
1,138
5.
Andrew Cogliano, Michigan (EDM/ANH/DAL/SJS)
1,114
6.
Zach Parise, North Dakota (NJD/MIN/NYI)
1,110
7.
Paul Stastny, Denver (COL/STL/VGK/WPG)
1,044
8.
Andy Greene, Miami (NJD/NYI)
1,028
9.
Blake Wheeler, Minnesota (BOS/ATL/WPG)
1,021
10.
Jack Johnson, Michigan (LAK/CBJ/PIT/NYR/COL)
1,000
Sixty-five NCAA products overall have played in 1,000 NHL games. View the full list HERE.
---
Fries at the Bottom of the Bag:
Minnesota State senior G Dryden McKay enters the CCHA Mason Cup Playoffs with 31 wins on the year, tied for the sixth-best single-season mark in NCAA history. Michigan's Marty Turco (1995-96) and Minnesota's Robb Stauber (1987-88) share the record with 34 … When Brad Malone (North Dakota, 2007-11) made his season debut for the Edmonton Oilers on Tuesday, he became the 24th UND alum to play in the NHL in 2021-22, the most of any program in college hockey. UND, Minnesota (23), Boston College (20) and Boston University (20) all boast 20-plus NHLers this season … Sportsnet's Elliotte Friedman had this note in his latest 32 Thoughts column Wednesday: T.J. Tynan is averaging 1.62 points per game for AHL Ontario – 11 goals and 52 assists in 39 games. That would be the best since 2006-07, when three players beat that: Brandon Bochenski (1.88), Jason Krog (1.82) and Darren Haydar (1.67). All four players listed by Friedman are college hockey products: Tynan played at Notre Dame and Bochenski at North Dakota, while Krog and Haydar were teammates at New Hampshire.
---
College Hockey Inc. Resources: