Tuesday, March 22, 2022
Notes: Puck drops Thursday on NCAA Tournament
Sixteen teams eyeing Frozen Four appearance
---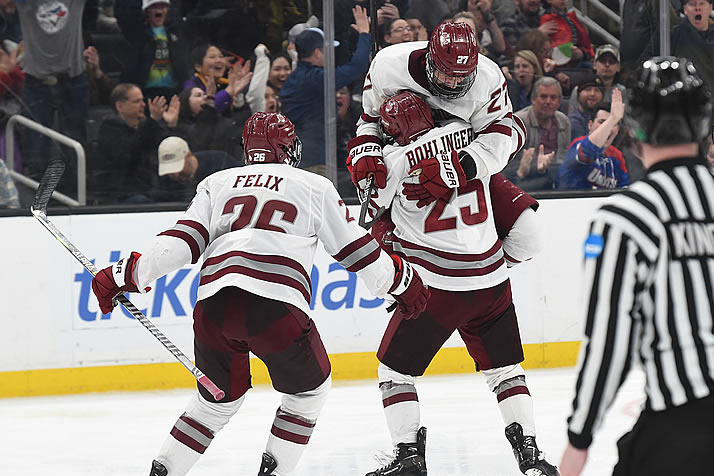 UMass captured its first national title in 2021 (Photo: Steve Babineau/Hockey East)
By Jayson Hajdu
Sixteen teams continue their pursuit of a Frozen Four berth this week when the 2022 NCAA Men's Hockey Tournament gets underway at regional sites in Albany, N.Y., Allentown, Pa., Worcester, Mass., and Loveland, Colorado. The puck drops Thursday with a quartet of regional matchups.
Each regional champion will advance to the NCAA Frozen Four in Boston (April 7-9).
All 15 tournament matchups can be seen on the ESPN network of channels, and Canadian viewers can watch the entire tournament online via TSN.ca and the TSN mobile app.
Visit College Hockey Inc.'s 2022 NCAA Tournament Media Kit for more tournament information, statistics, and key storylines.
---
Tournament Media Kit | Bracket | TV Schedule | Stat Leaders
---
Must Read:
Chicago Sun-Times: New Blackhawks defenseman Alex Vlasic an early bird on first day
ESPN: NCAA men's hockey tournament schedule, storylines, players to watch
The Rink Live: Through turbulence to a title; Gophers' road to the top of the Big Ten
---
Must Hear:
CHN Insiders Podcast (Special post-bracket show)
The Rink Live (Conference tournament craziness, UMD's run to a title game, NCAA regionals preview)
USCHO Weekend Review (Recapping the championship weekend, reacting to the NCAA brackets)
---
The Champ Is Here:
Hockey East playoff champion UMass is back in the NCAA Tournament after claiming the first national title in program history in 2021. Head coach Greg Carvel's Minutemen are bidding to become college hockey's second straight repeat champ after Minnesota Duluth did it in 2018 and 2019 (the 2020 tournament was canceled due to COVID-19). The last time two different schools won back-to-back repeat titles was in the early 2000s, when Minnesota (2002-03) and Denver (2004-05) did it.
---
Familiar Faces:
Michigan and Minnesota are both making their 39th appearance in the NCAA Tournament, tops among NCAA Division I programs:
Most NCAA Tournament Appearances
Michigan, Minnesota – 39
Boston University – 37
Boston College – 36
North Dakota – 34
Denver – 30
Minnesota Duluth boasts the longest active tournament streak with seven consecutive appearances.
---
Home is Where the Heart Is:
Nearly half of the head coaches in the 2022 tournament field – seven of the 16 – are behind the bench of their respective alma maters: UMass Lowell's Norm Bazin, North Dakota's Brad Berry, Denver's David Carl, UMass' Greg Carvel (master's degree), Harvard's Ted Donato, Western Michigan's Pat Ferschweiler, and American International's Eric Lang.
---
We're Going Streaking:
Top-ranked Minnesota State enters the national tournament on a 15-game winning streak. The Mavericks also boast a 9-2-0 record against the rest of the tournament field, the best such record among the 16 teams:
American International – 0-3-1
Denver – 7-6-0
Harvard – 2-2-0
Massachusetts – 7-4-1
Mass Lowell – 2-4-1
Michigan – 9-7-1
Michigan Tech – 0-5-1
Minnesota – 7-8-0
Minnesota Duluth – 12-11-2
Minnesota State – 9-2-0
North Dakota – 11-7-1
Northeastern – 2-5-0
Notre Dame – 6-4-0
Quinnipiac – 4-3-1
St. Cloud State – 5-11-4
Western Michigan – 9-10-1
Minnesota Duluth has the most familiarity with the tournament field, having played 25 of its 40 games this season against the other tourney qualifiers.
---
The Best of the Best:
All 10 of this year's Hobey Baker Memorial Award finalists are competing in the NCAA Tournament, the second straight year and third overall (1989) the entire Hobey field has qualified for the national tournament.
---
Conference Champions (playoffs):
Atlantic Hockey – American International
Big Ten – Michigan
CCHA – Minnesota State
ECAC Hockey – Harvard
Hockey East – Massachusetts
NCHC – Minnesota Duluth
---
Conference Champions (reg. season):
Atlantic Hockey – American International
Big Ten – Minnesota
CCHA – Minnesota State
ECAC Hockey – Quinnipiac
Hockey East – Northeastern
NCHC – Denver, North Dakota
---
Key College Hockey Dates:
March 24: Mike Richter Award finalists announced
March 31: "Hobey Hat Trick" Hobey Baker Memorial Award finalists announced
April 7-9: NCAA Frozen Four (Boston)
April 8: Hockey Humanitarian Award announced
---
College Hockey Inc. Resources: