Thursday, March 31, 2022
Storylines to watch in Boston
Stage set for star-studded Frozen Four
---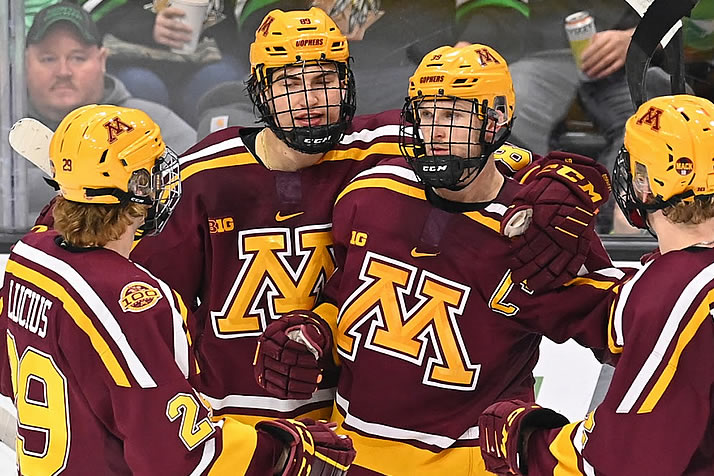 Minnesota seeks its first NCAA title since 2003 (Photo: Minnesota Athletics).
By Jayson Hajdu
Thursday, April 7
5:00 pm ET: Michigan vs. Denver (ESPN2/TSN.ca)
8:30 pm ET: Minnesota vs. Minnesota State (ESPNU/TSN.ca)

Saturday, April 9
8:00 pm ET: Championship Game (ESPN2/TSN.ca)
Download Complete Frozen Four Media Pack (PDF Format)
The 2022 Frozen Four features three No. 1 seeds (Denver, Michigan, Minnesota State), a No. 2 seed (Minnesota) and a combined 22 national championships, the most ever in a single Frozen Four field.
Three of those teams – Michigan (9), Denver (8), Minnesota (5) – are responsible for all 22 NCAA titles, while top-ranked Minnesota State is seeking the program's first national championship. Michigan's nine national titles are the most of any program in the country, while Denver's eight are tied for second (with North Dakota).
The four teams have also combined for 67 Frozen Four appearances, tied for the most of any field in history (2014).
The Roads Traveled – How each of the four semifinalists made their way to Boston:
Denver: The high-flying Pioneers are the nation's most prolific offensive team, averaging a nation's-best 4.3 goals per game … junior Bobby Brink (14-42—56) leads the individual national scoring race and is one of eight Pioneers with 30-plus points on the season … boasting a well-balanced roster, Denver owns both the highest-scoring senior class (147 points) and freshman class (135) in the Frozen Four.
Michigan: The Wolverines, featuring seven first-round draft picks, scored a tournament-high 12 goals during the NCAA Regionals, advancing with wins over American International and Quinnipiac … no class in the Frozen Four has produced more than Michigan's group of sophomores, who have combined for 220 points (68 goals, 152 assists) … Michigan's nine national championships are the most of any program in Division I men's hockey, but the Wolverines are searching for their first crown since 1997-98, which also happened to come at Boston's TD Garden (then known as the FleetCenter).
Minnesota: The Golden Gophers erased a pair of two-goal deficits in the first round of the regionals to defeat defending national champion UMass in overtime, then secured its Frozen Four berth with a 3-0 shutout over No. 1 seed Western Michigan … junior goalie Justen Close authored the shutout against WMU, his third goose egg in the last six games. Close had appeared in just four collegiate games over his first two seasons but took over the No. 1 goaltending duties for Minnesota in January after fifth-year senior Jack LaFontaine signed with the NHL's Carolina Hurricanes.
Minnesota State: The Mavericks enter their second straight Frozen Four as the hottest team in the country, riding a 17-game unbeaten streak and having lost just once in 22 games since Christmas … MSU features a balanced scoring attack at one end – 11 players have amassed 20-plus points, tops among Frozen four teams – and Mike Richter Award finalist Dryden McKay at the other. McKay, the most experienced postseason goalie in the field with six NCAA tourney starts, has set new NCAA records for career shutouts (34) and single-season wins (37).
Star-Studded – This year's Frozen Four field features a whopping 41 NHL draft picks, up from 18 a season ago:
NHL Draft Picks by Team
14 – Minnesota
13 – Michigan
12 – Denver
2 – Minnesota State
NHL Draft Picks, Last Five Frozen Fours
2016-17 – 27
2017-18 – 25
2018-19 – 25
2019-20 – Tournament canceled due to COVID-19
2020-21 – 18
2021-22 – 41

Nine of those 41 picks, including seven from Michigan, were selected in the first round. More than 75 percent of the NHL will be represented in this year's Frozen Four, with 25 of 32 teams boasting at least one prospect in the field, and 10 teams have multiple prospects competing:
Prospects in the Frozen Four by NHL Team:
4 – Buffalo, Tampa Bay
3 – Anaheim, Detroit
2 – Florida, Montreal, New Jersey, Philadelphia, San Jose, Toronto
1 – Arizona, Boston, Carolina, Colorado, Columbus, Dallas, Edmonton, Los Angeles, NY Rangers, Pittsburgh, Seattle, Vancouver, Vegas, Washington, Winnipeg
On the Offensive – This year's Frozen Four field has the makings of an explosive one, with each of the nation's top four teams in scoring offense having qualified. Denver enters the semifinals averaging a nation's-best 4.3 goals per game. Minnesota State (4.1) and Michigan (4.0) are right behind, while Minnesota is tied for fourth nationally at 3.6.
Individually, five of the nation's top 10 scorers are still playing, led by national scoring leader Bobby Brink (39 GP, 14-42—56) of Denver. He holds a six-point lead on Minnesota State junior forward Nathan Smith (36 GP, 19-31—50) and is bidding to join Ed Beers (84 points in 1981-82) as the only Pioneers ever to lead Division I men's hockey in scoring.
Beantown Background – Boston will serve as host of the NCAA Frozen Four for the ninth time in tournament history. Three of this year's Frozen Four participants have previously captured national championships in Boston: Denver (2004, 1960), Michigan (1998) and Minnesota (1974).
Frozen Four Champions in Boston (runner-up in parentheses)
1960 – Denver (Michigan Tech)
1963 – North Dakota (Denver)
1972 – Boston University (Cornell)
1973 – Wisconsin (Denver)
1974 – Minnesota (Michigan Tech)
1998 – Michigan (Boston College)
2004 – Denver (Maine)
2015 – Providence (Boston University)
Second-Half Surge – The four Frozen Four squads have rolled up a collective .849 winning percentage since Christmas, having lost just 12 times in a combined 86 games from Dec. 26 on.
Records since Christmas
21-1-0 – Minnesota State (.955)
17-3-1 – Michigan (.833)
18-4-1 – Denver (.804)
16-4-0 – Minnesota (.800)
Welcome to the Show – When former Boston College captain Marc McLaughlin made his NHL debut with Boston on March 31, he became the 328th college hockey product to play the NHL in 2021-22, a new record. That number has continued to grow over the past week:
Most NCAA Alumni in the NHL, by Season
333 – 2021-22
327 – 2018-19
314 – 2016-17
310 – 2017-18
305 – 2013-14
48 schools have had an alum in the NHL this season
Colleges producing the most NHLers, 2021-22:
Minnesota, North Dakota – 24
Boston College 22
Boston University, Michigan – 21
Frozen Four schools:
Minnesota – 24
Michigan – 21
Denver – 12
Minnesota State – 4
---
IMPORTANT LINKS
Frozen Four History
NCAA Record Book
TV Schedule
National Scoring Leaders:
National Goaltending Leaders
Team Rosters, Statistics & Results
Frozen Four Media Pack
---
MUST READ
| | |
| --- | --- |
| Ann Arbor News | Frozen Four in Boston a 'dream come true' homecoming for Michigan star Beniers |
| Boston Globe | Michigan, Denver bring plenty of history to Frozen Four showdown |
| Boston Globe | Minnesota men's hockey team rode a second-half surge all the way to the Frozen Four |
| Boston Herald | Michigan center Johnny Beecher at home in the Garden |
| Canadian Press | Canadian contingent, led by Michigan's Owen Power, set for NCAA's Frozen Four |
| College Hockey News | Michigan out to make, and change, history |
| College Hockey News | For Denver, last time in Boston was great – and strange |
| College Hockey News | Minnesota's Poderzay has 'Close' connection to Frozen Four |
| College Hockey News | Wolverines prepared for target on their back |
| College Hockey News | Second time around different for Minnesota State |
| Denver Post | DU freshmen exceed lofty expectations on Pioneers' run to Frozen Four |
| EP Rinkside | Historically dominant teams highlight exciting matchups |
| ESPN | What Michigan, Denver, Minnesota and Minnesota State need to do to win it all |
| ESPN | Top NHL prospects to watch in Boston |
| Hockey Sense | Men's Frozen Four preview |
| Mankato Free Press | Knott's recruiting chops have shaped MSU |
| Michigan Daily | Michigan looks to peak at the right time against Denver |
| Minneapolis Star Tribune | Cast aside, MSU Mankato now a national power under Hastings |
| Minneapolis Star Tribune | Gophers freshman Huglen finds a groove on way to Frozen Four |
| NCAA.com | How Michigan, Minnesota, Denver and Minnesota State got to the Frozen Four |
| NCAA.com | Ten biggest storylines in the 2022 Frozen Four |
| NHL.com | Frozen Four filled with NHL prospects |
| St. Paul Pioneer Press | Mavericks use different model than other powerhouse programs at Frozen Four |
| The Rink Live | Frozen Four notebook |
| The Sporting News | Ranking the top 10 players in NCAA Frozen Four, from Owen Power to Matty Beniers |
| TSN | Players to watch at the 2022 NCAA men's Frozen Four |
| USCHO | Detailing the Hub's long history hosting the Frozen Four |
| USCHO | Offense anyone? More than half of the nation's top 20 scorers are at the Frozen Four |
| USCHO | State of Hockey championship at stake in Frozen Four semifinal |
| USCHO | Denver like 'looking in the mirror' for Michigan, but Frozen Four foes have differences, too |