Wednesday, May 4, 2022
Record-breaking year for NCAA alumni in NHL
Nearly 350 former college hockey standouts played in NHL in '21-22
---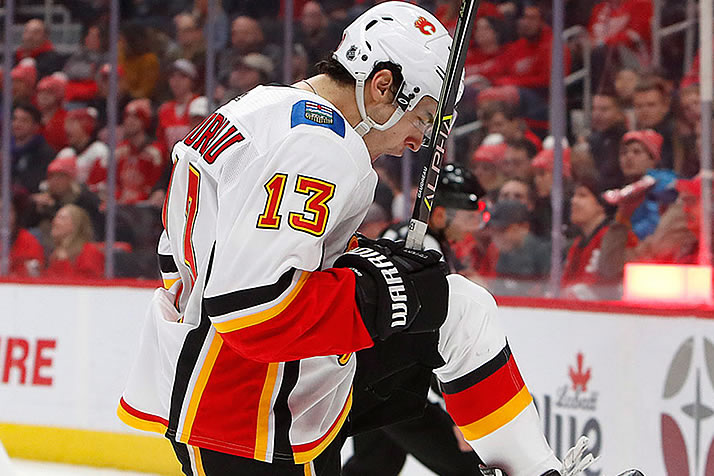 Johnny Gaudreau tied for second in the NHL scoring race with 115 points in 2021-22
The number of NCAA alumni in the National Hockey League reached unprecedent heights in 2021-22, with a record 348 former college hockey players having played in the NHL during the regular season.
List of 348 Alumni in the NHL | NHL Matchup Tool
The 348 former college players in the NHL shattered the previous record of 327 (2018-19) and marked an 11% increase from last season. The former college players in the NHL included 15 who debuted in 2022 following the completion of their NCAA hockey season.
The number of NCAA alumni in the NHL has grown 65% in the last 19 years, both in terms of total number (211 in 2002-03) and percentage of all NHL players (21.1% in 2002-03).
Forty-eight NCAA Division I schools had an alum playing in the NHL in 2021-22. Michigan led all schools with 26 alumni in the NHL, followed by Minnesota (25), Boston College (24) and North Dakota (24). The vast majority (68%) of the 348 former college players in the NHL played at least three seasons on campus.
Eleven NCAA alums led their NHL teams in goals and 10 led their squads in points, the latter highlighted by former Hobey Baker Award-winner Johnny Gaudreau, whose 115 points for the Calgary Flames tied for the fifth-most ever by a former college hockey player. Other highlights included:
Gaudreau's 75 assists were the most by a former NCAA player since Edmonton's Doug Weight (Lake Superior State) had 79 in 1995-96.


UMass' Cale Makar (Colorado) scored 28 goals, the most ever by a former NCAA defenseman.


Makar also set a Colorado Avalanche franchise record for points by a defenseman with 86, the fourth-most ever by an NCAA defenseman.


Boston College's Chris Kreider (NY Rangers) led New York with 52 goals, the most by a college hockey alum since Boston University's Keith Tkachuk (Phoenix) scored 52 in 1996-97.


Kreider was one of four NCAA alums to score 40 or more goals this year: Michigan's Kyle Connor (47, Winnipeg), Omaha's Jake Guentzel (40, Pittsburgh) and Gaudreau (40). That's the most in a season since a record five did it in 1985-86 (Glenn Anderson, Troy Murray, Joe Mullen, Scott Bjugstad, Dave Christian).


The NHL's top four defensemen in plus/minus rating were all former NCAA standouts: Quinnipiac's Devon Toews (+52, Colorado), Makar (+48), Minnesota's Alex Goligoski (+41, Minnesota) and Minnesota Duluth's Justin Faulk (+41, St. Louis).


Miami's Andy Greene (NY Islanders), Michigan's Jack Johnson (Colorado), North Dakota's Jonathan Toews (Chicago), and Minnesota's Blake Wheeler (Winnipeg) all played in their 1,000th career games this season bringing the total of active NCAA alums that have played 1000+ NHL games to 13.
Men's college hockey successes also extend beyond the ice; the sport enjoys a 93-percent graduation rate, tied for the best among all NCAA Division I men's sports according to the NCAA.
---
NCAA Alums Who Led NHL Team in Points
Anaheim: Troy Terry (Denver), 67*
Arizona: Clayton Keller (Boston University), 63
Buffalo: Tage Thompson (Connecticut), 68*
Calgary: Johnny Gaudreau (Boston College), 115*
Dallas: Joe Pavelski (Wisconsin), 81*
Detroit: Dylan Larkin (Michigan), 69
NY Islanders: Brock Nelson (North Dakota), 59*
Ottawa: Brady Tkachuk (Boston University), 67*
Pittsburgh: Jake Guentzel (Omaha), 84*
Winnipeg: Kyle Connor (Michigan), 93*
---
NCAA Alums Who Led NHL Team in Goals
Anaheim: Troy Terry (Denver), 37*
Arizona: Clayton Keller (Boston University), 28*
Buffalo: Tage Thompson (Connecticut), 38*
Detroit: Dylan Larkin (Michigan), 31
Montreal: Cole Caufield (Wisconsin), 23*
NY Islanders: Brock Nelson (North Dakota), 37*
NY Rangers: Chris Kreider (Boston College), 52*
Ottawa: Josh Norris (Michigan), 35*
Philadelphia: James van Riemsdyk (New Hampshire), 24
Pittsburgh: Jake Guentzel (Omaha), 40**
Winnipeg: Kyle Connor (Michigan), 47*
* denotes career high
** denotes tied career high