Friday, July 8, 2022
Seven with NCAA ties taken in first round of NHL Draft
Pair of incoming freshmen drafted inside top five
---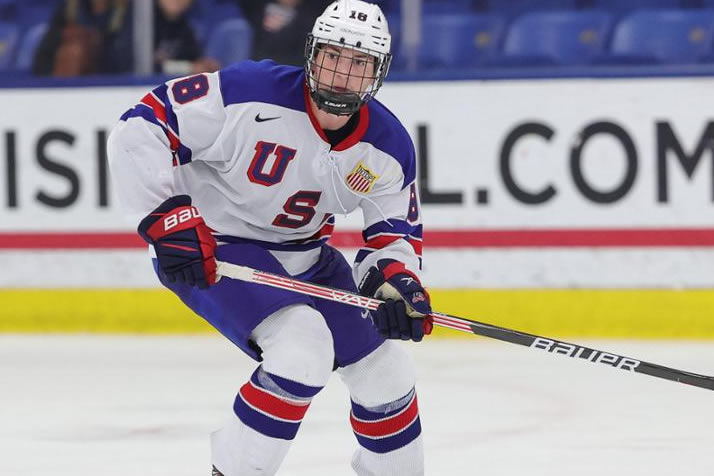 Minnesota incoming freshman forward Logan Cooley was the first collegian taken (credit Rena Laverty/USA Hockey)
Seven future NCAA players, including six incoming freshmen, were selected in the first round of the 2022 National Hockey League (NHL) Entry Draft on Thursday night in Montreal.
All-Time First-Round Draft Picks (NCAA)
The Big Ten boasted five of those seven selections, with three of them coming from the University of Minnesota and two more from the University of Michigan. Boston College and Minnesota Duluth each had one first-round pick.
Minnesota incoming freshman forward Logan Cooley was the first collegian taken, going third overall to the Arizona Coyotes to become the second-highest drafted Golden Gopher in program history. Boston College incoming freshman forward Cutter Gauthier followed two picks later when he was selected by the Philadelphia Flyers, tying him for the highest-drafted player in BC history.
A pair of incoming Michigan Wolverines were later selected with consecutive picks when Frank Nazar went 13th to the Chicago Blackhawks and Rutger McGroarty went 14th to the Winnipeg Jets.
Minnesota incoming freshman Jimmy Snuggerud (St. Louis Blues) and Minnesota recruit Sam Rinzel (Chicago Blackhawks) were drafted 23rd and 25th, respectively, while Minnesota Duluth incoming freshman Isaac Howard was the final collegian taken in the first round, going 31st to the Tampa Bay Lightning.
Also of note:
A total of 192 NCAA players have been selected in the first round in the history of the NHL Draft.
There have been 52 first-round picks from the NCAA over the last seven NHL Drafts (2016-22) compared to 31 first-rounders over the previous seven drafts (2009-15).
Tonight marked the second straight year in which two collegians went inside the top five overall. Michigan's Owen Power, Matty Beniers, Luke Hughes and Kent Johnson all did it in 2021.
McGroarty, who was born in Omaha and grew up in Lincoln, was the first-ever Nebraskan to be taken in the first round of the NHL Draft.
Rounds two through seven of the 2022 NHL Draft will be held Friday beginning at 11 a.m. ET. Broadcast coverage will be provided by the NHL Network and ESPN+ in the U.S. and Sportsnet in Canada.
NCAA Selections in the First Round
No.
Name
Pos.
NHL Team
NCAA Team
2021-22 Team
1
Logan Cooley
F
Arizona
Minnesota
U.S. NTDP
2
Cutter Gauthier
F
Philadelphia
Boston College
U.S. NTDP
13
Frank Nazar
F
Chicago
Michigan
U.S. NTDP
14
Rutger McGroarty
F
Winnipeg
Michigan
U.S. NTDP
23
Jimmy Snuggerud
F
St. Louis
Minnesota
U.S. NTDP
25
Sam Rinzel
D
Chicago
Minnesota
U.S. NTDP
31
Isaac Howard
F
Tampa Bay
Minnesota Duluth
U.S. NTDP