Tuesday, August 9, 2022
Eighteen NCAA schools represented at 2022 WJC
Tourney gets underway today in Edmonton
---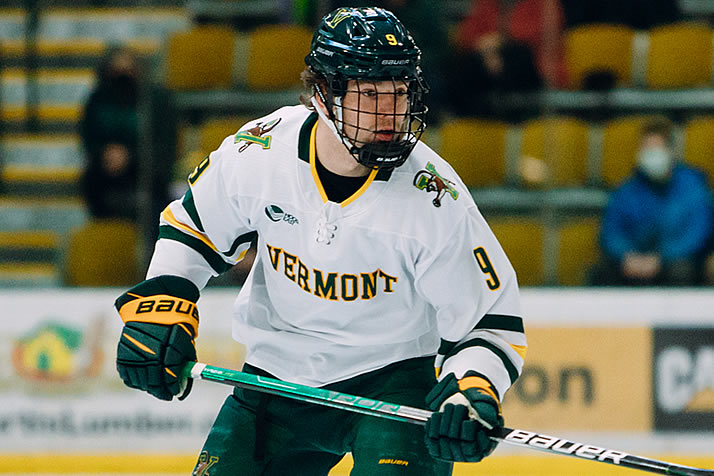 Vermont forward Joel Määttä will represent Finland (Photo by UVM Athletics).
Thirty-three current and former NCAA Division I men's hockey players have earned roster spots for the 2022 International Ice Hockey Federation (IIHF) World Junior Championship, which begins today in Edmonton, Alberta.
Eighteen different schools will be represented during the tournament, led by Michigan (five), Vermont (four) and Providence (three). They are among the nine programs with two or more players competing.
Seven of the 10 participating countries feature at least one player with NCAA ties, topped by the United States with 23. Latvia has the second-most with five.
The tournament, originally scheduled for December but canceled due to the spread of COVID-19, gets underway Tuesday with a trio of games: Czechia vs. Slovakia, Latvia vs. Finland, and Germany vs. the United States. The medal round begins Aug. 17.
NHL Network will provide live coverage of all U.S. games in the tournament. The tournament can also be seen in Canada on TSN.
---
AUSTRIA
None
---
CANADA (1)
F Kent Johnson (Michigan, 2020-22)
---
CZECHIA (1)
F Jaroslav Chmelar (Providence, incoming)
---
FINLAND (1)
F Joel Määttä (Vermont, 2021-present)
---
GERMANY (1)
D Luca Münzenberger (Vermont, 2021-present)
---
LATVIA (5)
D Ralfs Bergmanis (Vermont, incoming)
F Felikss Gavars (St. Lawrence, incoming)
D Gustavs Ozolins (Bemidji State, incoming)
F Peteris Purmalis (Lake Superior State, incoming)
F Raimonds Vitolins (Vermont, 2020-22)
---
SLOVAKIA (1)
G Šimon Latkóczy (Omaha, incoming)
---
SWEDEN
None
---
SWITZERLAND
None
---
UNITED STATES (23)
D Sean Behrens (Denver, 2021-present)
F Brett Berard (Providence, 2020-present)
F Thomas Bordeleau (Michigan, 2020-22)
F Logan Cooley (Minnesota, incoming)
F Matt Coronato (Harvard, 2021-present)
F Riley Duran (Providence, 2021-present)
D Brock Faber (Minnesota, 2020-present)
D Luke Hughes (Michigan, 2021-present)
F Dominic James (Minnesota Duluth, 2021-present)
D Wyatt Kaiser (Minnesota Duluth, 2020-present)
G Remington Keopple (Cornell, incoming)
D Tyler Kleven (North Dakota, 2020-present)
F Matt Knies (Minnesota, 2021-present)
F Carter Mazur (Denver, 2021-22)
G Kaidan Mbereko (Colorado College, incoming)
F Hunter McKown (Colorado College, 2020-present)
D Ian Moore (Harvard, 2021-present)
D Jack Peart (St. Cloud State, 2021-present)
F Mackie Samoskevich (Michigan, 2021-present)
F Red Savage (Miami, 2021-present)
F Landon Slaggert (Notre Dame, 2020-present)
F Charlie Stramel (Wisconsin, incoming)
D Jacob Truscott (Michigan, 2020-present)