Thursday, September 8, 2022
For youth players in Minnesota, path consistent but timelines may vary
As always, distinguishing between facts and myths is the key
---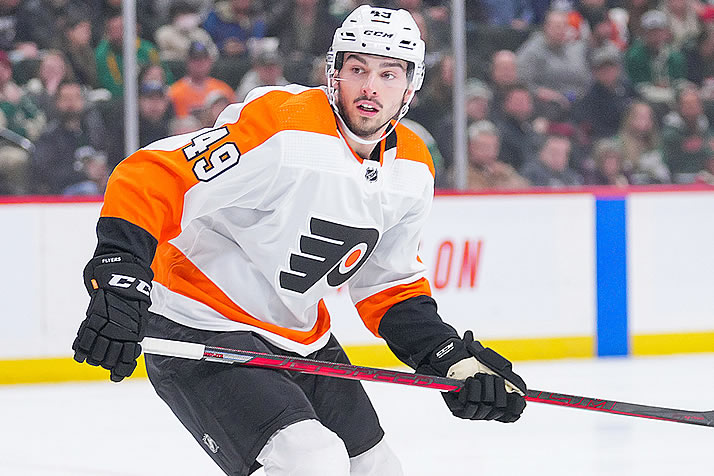 Noah Cates made his National Hockey League debut just days after his standout collegiate career at Minnesota Duluth had come to an end (Photo: Brad Rempel)
By Sean Hogan, Jayson Hajdu and Mike Snee
Hockeyland, a much-anticipated film that documents a season of Minnesota boys high school hockey in the towns of Hermantown and Eveleth, premiers in theaters tomorrow. College Hockey Inc. thought this would be an appropriate time to release our findings from a comprehensive, Minnesota-focused research project that we just concluded.
Where an aspiring NCAA Division I men's hockey player plays hockey in the years prior to his college hockey career is heavily influenced by where that player grows up. In June 2022, College Hockey Inc. released the findings of our project that researched the paths of the 156 Michigan men who earned NCAA Division I hockey commitments from May 14, 2018 through Nov. 15, 2021. Now we present the findings from our project researching the paths of the 194 Minnesota men who earned NCAA Division I hockey commitments during that same period.
Despite the state's smaller population, no state or province sends more players to NCAA Division I men's hockey each year than Minnesota. Noteworthy themes that emerged from the Minnesota study:
In Minnesota, high school hockey is the undisputed dominant route to NCAA Division I men's hockey. The vast majority of Minnesota players travel the same path to college hockey, spending several years playing for their community youth hockey associations and then for their high school hockey teams.
The average age of commitment in Minnesota was 18.5, which is a half-year younger than the national average of 19.
A significant majority of committed Minnesota players will play high school hockey through their senior year and then move into either the USHL or NAHL after their senior year of high school.
Only five committed players played full-time Tier III junior hockey. All five started their Tier III junior hockey careers after completing their high school hockey eligibility.
"For Minnesota's best male hockey players, the route to the highest levels of hockey is pretty obvious and easy to understand – play for the youth hockey association in your community and then for your high school," said Mike MacMillan, USA Hockey Coach-in-Chief.
---
The Data: Hockey Before NCAA
The vast majority of players in Minnesota will earn NCAA Division I commitments between 18 and 19 years old while they are playing high school or NCAA-eligible junior hockey. The average age of these commitments is 18.5-years old (national average commitment age is 19), and the oldest commitment was made at 21.6. It should be noted that the average commitment age will likely continue to become older as the NCAA recruiting rule changes that were implemented in May 2019 take full effect.
Of the 194 commitments made by players from Minnesota studied by College Hockey Inc., 171 of them played high school hockey and 140 played high school hockey as seniors.
Where committed players played during their high school senior year:
League
No.
Minnesota High School
140
USHL
24
No data/not yet seniors
8
U.S. NTDP
8
NAHL
7
PREP
5
18U AAA
1
NCAA
1
Minnesota is the only state in the country where high school hockey players earned more commitments than any other league, with 60 of 194 commitments coming while playing high school compared to 59 while playing in the NAHL and 47 while playing in the USHL.
However, it is important to understand that most players who committed while playing in the USHL or NAHL will not earn their commitment until after graduating from high school. There is little evidence suggesting that leaving high school hockey early will lead to a quicker commitment. In fact, it likely just adds another year of junior hockey to one's junior hockey career.
Only seventeen players played NCAA Division I hockey in their first year after high school: seven from high school hockey, five from the U.S. NTDP, four from the USHL and one from prep hockey.
Where committed players played when they earned their commitments?
League
No.
Minnesota High School
60
NAHL
59
USHL
47
PREP
8
16U
5
BCHL
4
U.S. NTDP
3
Minnesota Bantam
2
15U
2
14U AAA
1
AJHL
1
CCHL
1
NCDC
1
"Once high school is over, for most future college hockey players from Minnesota it means a season or two in the USHL or NAHL before college," said MacMillan. "The every-player-has-his-own-path notion isn't accurate for a player from Minnesota. Most college hockey players from Minnesota have the same path. They just have different timelines."
---
Case Study: Noah Cates
Noah Cates, a native of Stillwater, Minn., made his National Hockey League debut with the Philadelphia Flyers on March 29, 2022, just days after his standout collegiate career at Minnesota Duluth had come to an end.
Cates was a four-year stalwart and two year-captain for the Bulldogs, who won the men's NCAA Division I championship during Cates' freshman season. On his way to Minnesota Duluth and the NCAA, Cates honed his development in the Stillwater Area Youth Hockey Association and at Stillwater High School. Like most Minnesotans who will play college hockey, Cates opted to stay for his senior season rather than depart early for the junior ranks.
Cates, who dreamed of winning a state high school championship with his lifelong Stillwater teammates and best friends, told College Hockey Inc. he was careful to avoid the notion that you can rush development.
"The decision to leave for junior never crossed my mind," said Cates, now 23-years old. "Staying in high school for my senior year gave me the opportunity to dominate on the ice and be in all situations and develop my game, with and without the puck.
"It gave me the closure that I wanted on and off the ice, which got me ready for my next journey, rather than "what-iffing" about different scenarios or situations in my career and life."
Whether it's Cates, or Minnesota Duluth's Blake Biondi and Holy Cross commit Will Troutwine, both of whom are featured in Hockeyland, the path to college hockey for Minnesotans goes through high school hockey.
---
NOTE:
College Hockey Inc. has produced four separate "paths" studies: a comprehensive examination in 2020, a goalie-specific analysis in 2021, a Michigan-centric breakdown, and now this fourth study focused specifically on the state of Minnesota.