Second annual College Hockey Inc. Virtual Coaching Clinic set for October
College Hockey Inc. partners with The Coaches Site for event held Oct. 17-22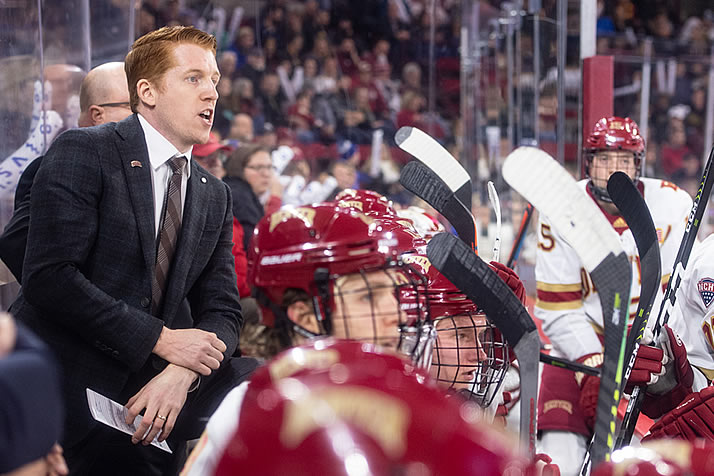 Denver head coach David Carle is among the presenters for the College Hockey Inc. Virtual Coaching Clinic (Photo: DU Athletics)
For the second year in a row, College Hockey Inc. is partnering with The Coaches Site to host the College Hockey Inc. Virtual Coaching Clinic, powered by InStat. This five-day coaching masterclass provides an opportunity for some of college hockey's top coaches to share their knowledge and experience with a global audience of coaches, across every level of the game.
The event, set for Oct. 17-21, 2022, celebrates the start of the men's and women's college hockey season with 10 presentations over the course of five days. Topics range from Xs and Os, to team building, and include technical presentations and interviews.
Presenters represent both men's and women's NCAA Division I hockey, including all six Division I men's conferences and highlighted by:
2022 NCAA champion David Carle of Denver (with ESPN's John Buccigross)
2022 NCAA champion Nadine Muzerall of Ohio State (with her former coach Laura Halldorson)
Legendary collegiate coach Jerry York
Penn State head coach Guy Gadowsky and Augustana head coach Garrett Raboin
And many more!
The College Hockey Inc. Virtual Coaching Clinic. is an exclusive event for members of The Coaches Site. Memberships are available today for a discounted rate and include access to the clinic and The Coaches Site's entire library of coaching content.
Click here for a full list of presenters and more info on how you can register for the clinic.