Tuesday, January 10, 2017
USHL Prospects Set to Drop Puck
22 schools have committed recruits set for Tuesday night's game in Sioux Falls, S.D.
---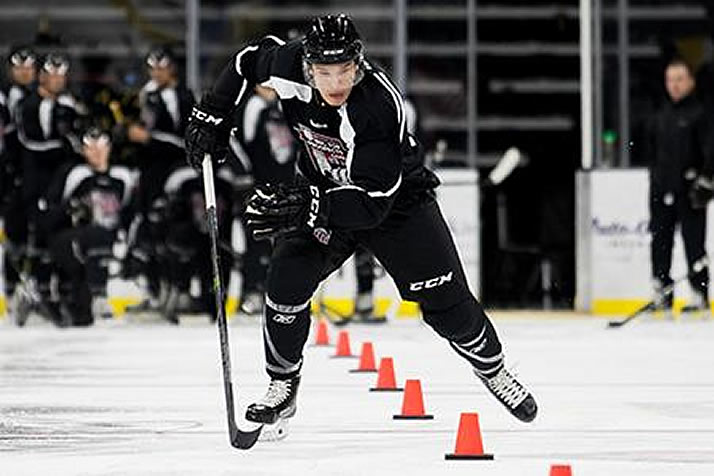 USHL prospects took part in on-ice testing Monday in Sioux Falls, S.D.
Future NCAA stars will take the stage Tuesday night in Sioux Falls, S.D., at the 2017 USHL/NHL Top Prospects Game, showcasing the top draft-eligible players in USA Hockey's only Tier I junior league.
2017 USHL/NHL Top Prospects Game Hub
A free, HD broadcast of the game will be available on HockeyTV. More than one-third of all Division I programs have a committed recruit in the game, with 32 players committed to 22 schools. Boston University and Minnesota Duluth lead all schools with three recruits represented.
The two teams - divided roughly on conference lines - will be coached by Dan Muse (East) and Jay Varady (West). Muse is a former Yale assistant coach who played at Stonehille College; Varady played at Union.
In addition to the game's rosters (below), commits Eeli Tolvanen (Boston College) and Eero Teravainen (Denver) were selected to the game but replaced due to injury.
The selection process for players competing in the game was completed in cooperation with NHL general managers and scouts, NHL Central Scouting and USHL general managers.
2017 USHL/NHL Top Prospects Game Rosters
Team East
Pos.
No.
Name
USHL Team
NCAA Commitment
F
10
Mick Messner
Madison
Wisconsin
F
11
Keeghan Howdeshell
Muskegon
Ferris State
F
12
Walker Duehr
Chicago
Minnesota State
F
13
Nicolas Werbik
Youngstown
F
14
Robert Arrak
Cedar Rapids
F
15
Brannon McManus
Chicago
Minnesota
F
18
Nolan Moyle
Green Bay
Michigan State
F
20
John Leonard
Green Bay
Massachusetts
F
21
Jordan Timmons
Cedar Rapids
Connecticut
F
22
Joshua Dunne
Green Bay
F
26
Marc McLaughlin
Cedar Rapids
Boston College
F
28
Zach Solow
Dubuque
Northeastern
D
4
Jakub Sirota
Cedar Rapids
D
5
Ronald Brickey
Muskegon
Western Michigan
D
6
Corson Green
Chicago
New Hampshire
D
8
Ben Mirageas
Bloomington
Providence
D
16
Alexis Binner
Green Bay
Maine
G
29
Keith Petruzzelli
Muskegon
Quinnipiac
G
33
Maksim Zhukov
Green Bay

Team West
F
10
Wyatt Bongiovanni
Tri-City
F
11
Charlie Dovorany
Fargo
Minnesota Duluth
F
12
Adam Goodsir
Tri-City
Denver
F
13
Nick Swaney
Waterloo
Minnesota Duluth
F
14
Paul Washe
Tri-City
Western Michigan
F
15
Kamil Sadlocha
Madison
Ohio State
F
16
Jack Adams
Fargo
Union
F
17
Gregory Printz
Omaha
Providence
F
19
Matthew Quercia
Sioux Falls
Boston University
F
23
Isaac Johnson
Des Moines
F
25
Shane Bowers
Waterloo
Boston University
F
27
Alex Limoges
Tri-City
Cornell
D
6
John St. Ivany
Sioux Falls
Yale
D
7
Matthew Hellickson
Sioux City
Notre Dame
D
18
Mario Ferraro
Des Moines
Massachusetts
D
20
Clayton Phillips
Fargo
Minnesota
D
24
Michael Anderson
Waterloo
Minnesota Duluth
D
26
Kasper Kotkansalo
Sioux Falls
Boston University
G
29
Cayden Primeau
Lincoln
Northeastern
G
31
Dayton Rasmussen
Tri-City
Denver