NCAA Frozen Four
---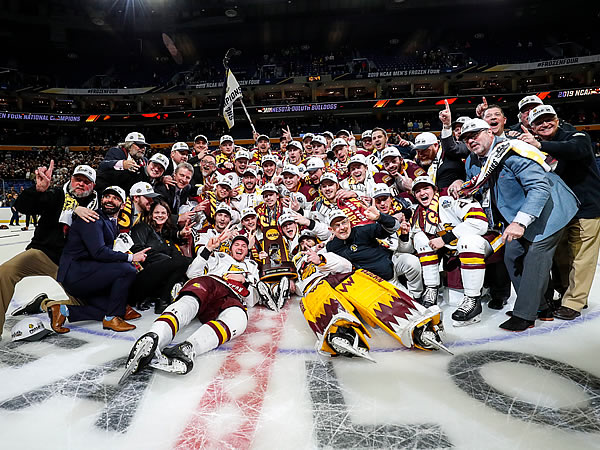 The NCAA crowns its national champion at the culmination of the college hockey season, the Frozen Four, each spring. Held before sellout crowds at NHL arenas, the Frozen Four consists of the two semifinal games and one championship game, played over three days.
Minnesota Duluth claimed the 2019 national championship – its second in a row and the third in school history – with a 3-0 shutout of Massachusetts at Buffalo's KeyBank Arena. The Bulldogs became the first repeat champions in Division I men's hockey since Denver in 2004 and '05.
2019 Championship Recap & Photo Gallery
The Frozen Four crowns the winner of the NCAA Tournament, which has been held each year since 1948. The tournament expanded to its current 16-team format in 2003. The tournament opens at four regional sites of four teams each, with the winners advancing to the Frozen Four.
Over time, the Frozen Four has become more than just the games - it's a weekend long celebration of college hockey. Thousands of fans attend year after year, regardless of the teams involved, creating crowds filled with dozens of different jerseys. On the day between games college hockey celebrates some of its best, with the presentation of the Hobey Baker Award, the Hockey Humanitarian Award, the Mike Richter Award and the AHCA All-America Teams.
The 2020 Frozen Four was canceled due to the COVID-19 pandemic. Future sites have been awarded to Pittsburgh (2021), Boston (2022), Tampa (2023), St. Paul (2024), St. Louis (2025) and Las Vegas (2026).
All-Time Frozen Four Tournament History
Year
Champion
Runner-up
Third
Fourth
Site
1948
Michigan
Dartmouth
Other semifinalists: BC and Colorado College
Col. Springs, Colo.
1949
Boston College
Dartmouth
Michigan
Colorado College
Col. Springs, Colo.
1950
Colorado College
Boston University
Michigan
Boston College
Col. Springs, Colo.
1951
Michigan
Brown
Boston University
Colorado College
Col. Springs, Colo.
1952
Michigan
Colorado College
Yale
St. Lawrence
Col. Springs, Colo.
1953
Michigan
Minnesota
Rensselaer
Boston University
Col. Springs, Colo.
1954
Rensselaer
Minnesota
Michigan
Boston College
Col. Springs, Colo.
1955
Michigan
Colorado College
Harvard
St. Lawrence
Col. Springs, Colo.
1956
Michigan
Michigan Tech
St. Lawrence
Boston College
Col. Springs, Colo.
1957
Colorado College
Michigan
Clarkson
Harvard
Col. Springs, Colo.
1958
Denver
North Dakota
Clarkson
Harvard
Minneapolis, Minn.
1959
North Dakota
Michigan State
Boston College
St. Lawrence
Troy, N.Y.
1960
Denver
Michigan Tech
Boston University
St. Lawrence
Boston, Mass.
1961
Denver
St. Lawrence
Minnesota
Rensselaer
Denver, Colo.
1962
Michigan Tech
Clarkson
Michigan
St. Lawrence
Utica, N.Y.
1963
North Dakota
Denver
Clarkson
Boston College
Chestnut Hill, Mass.
1964
Michigan
Denver
Rensselaer
Providence
Denver, Colo.
1965
Michigan Tech
Boston College
North Dakota
Brown
Providence, R.I.
1966
Michigan State
Clarkson
Denver
Boston University
Minneapolis, Minn.
1967
Cornell
Boston University
Michigan State
North Dakota
Syracuse, N.Y.
1968
Denver
North Dakota
Cornell
Boston College
Duluth, Minn.
1969
Denver
Cornell
Harvard
Michigan Tech
Col. Springs, Colo.
1970
Cornell
Clarkson
Wisconsin
Michigan Tech
Lake Placid, N.Y.
1971
Boston University
Minnesota
Denver
Harvard
Syracuse, N.Y.
1972
Boston University
Cornell
Wisconsin
Denver
Boston, Mass.
1973
Wisconsin
Denver
Boston College
Cornell
Boston, Mass.
1974
Minnesota
Michigan Tech
Boston University
Harvard
Boston, Mass.
1975
Michigan Tech
Minnesota
Boston University
Harvard
St. Louis, Mo.
1976
Minnesota
Michigan Tech
Brown
Boston University
Denver, Colo.
1977
Wisconsin
Michigan
Boston University
New Hampshire
Detroit, Mich.
1978
Boston University
Boston College
Bowling Green
Wisconsin
Providence, R.I.
1979
Minnesota
North Dakota
Dartmouth
New Hampshire
Detroit, Mich.
1980
North Dakota
Northern Michigan
Dartmouth
Cornell
Providence, R.I.
1981
Wisconsin
Minnesota
Michigan Tech
Northern Michigan
Duluth, Minn.
1982
North Dakota
Wisconsin
Northeastern
New Hampshire
Providence, R.I.
1983
Wisconsin
Harvard
Providence
Minnesota
Grand Forks, ND
1984
Bowling Green
Minnesota Duluth
North Dakota
Michigan State
Lake Placid, N.Y.
1985
Rensselaer
Providence
Minnesota Duluth
Boston College
Detroit, Mich.
1986
Michigan State
Harvard
Minnesota
Denver
Providence, R.I.
1987
North Dakota
Michigan State
Minnesota
Harvard
Detroit, Mich.
1988
Lake Superior State
St. Lawrence
Maine
Minnesota
Lake Placid, N.Y.
1989
Harvard
Minnesota
Michigan State
Maine
St. Paul, Minn.
Year
Champion
Runner-up
Other Semifinalists
Site
1990
Wisconsin
Colgate
Boston College
Boston University
Detroit, Mich.
1991
Northern Michigan
Boston University
Maine
Clarkson
St. Paul, Minn.
1992
Lake Superior State
Wisconsin
Michigan
Michigan State
Albany, N.Y.
1993
Maine
Lake Superior State
Boston University
Michigan
Milwaukee, Wis.
1994
Lake Superior State
Boston University
Harvard
Minnesota
St. Paul, Minn.
1995
Boston University
Maine
Michigan
Minnesota
Providence, R.I.
1996
Michigan
Colorado College
Boston University
Vermont
Cincinnati, Ohio
1997
North Dakota
Boston University
Colorado College
Michigan
Milwaukee, Wis.
1998
Michigan
Boston College
New Hampshire
Ohio State
Boston, Mass.
1999
Maine
New Hampshire
Boston College
Michigan State
Anaheim, Calif.
2000
North Dakota
Boston College
Maine
St. Lawrence
Providence, R.I.
2001
Boston College
North Dakota
Michigan
Michigan State
Albany, N.Y.
2002
Minnesota
Maine
New Hampshire
Michigan
St. Paul, Minn.
2003
Minnesota
New Hampshire
Cornell
Michigan
Buffalo, N.Y.
2004
Denver
Maine
Boston College
Minnesota Duluth
Boston, Mass.
2005
Denver
North Dakota
Colorado College
Minnesota
Columbus, Ohio
2006
Wisconsin
Boston College
Maine
North Dakota
Milwaukee, Wis.
2007
Michigan State
Boston College
Maine
North Dakota
St. Louis, Mo.
2008
Boston College
Notre Dame
Michigan
North Dakota
Denver, Colo.
2009
Boston University
Miami
Bemidji State
Vermont
Washington, D.C.
2010
Boston College
Wisconsin
Miami
RIT
Detroit, Mich.
2011
Minnesota-Duluth
Michigan
Notre Dame
North Dakota
St. Paul, Minn.
2012
Boston College
Ferris State
Minnesota
Union
Tampa, Fla.
2013
Yale
Quinnipiac
UMass Lowell
St. Cloud State
Pittsburgh, Pa.
2014
Union
Minnesota
Boston College
North Dakota
Philadelphia, Pa.
2015
Providence
Boston University
Nebraska Omaha
North Dakota
Boston, Mass.
2016
North Dakota
Quinnipiac
Boston College
Denver
Tampa, Fla.
2017
Denver
Minnesota Duluth
Harvard
Notre Dame
Chicago, Ill.
2018
Minnesota Duluth
Notre Dame
Michigan
Ohio State
St. Paul, Minn.
2019
Minnesota Duluth
Massachusetts
Denver
Providence
Buffalo, N.Y.
2020
Canceled: COVID-19