Ice Breaker Tournament
---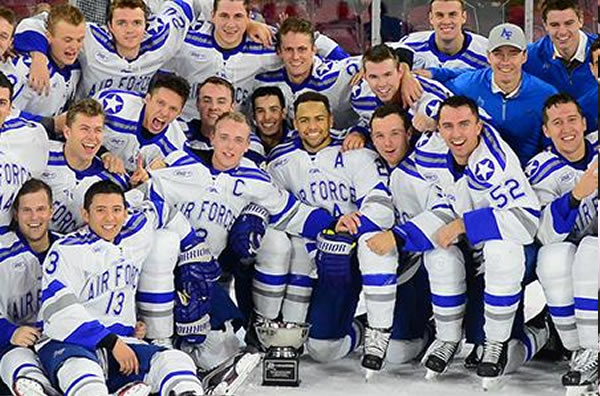 The annual Ice Breaker Tournament marks the traditional start to the college hockey season. Celebrating its 22nd season in 2018-19, the Ice Breaker brings together four of the nation's top teams from different conferences.
Michigan Tech captured the 2017 Ice Breaker title in a field that featured three teams that have won NCAA titles in the last 15 years. Minnesota Duluth hosted the tournament at AMSOIL Arena and went on to become the second straight host school to win the NCAA championship the following spring.
A terrific opportunity to put the spotlight on college hockey just as the season gets underway, the Ice Breaker also provides a tough early season test for some NCAA championship contenders. Past Ice Breaker champions include Boston University (three times), Minnesota (three times), New Hampshire (twice), Boston College (twice), Air Force, Colorado College, Denver, Michigan State, Michigan Tech, Nebraska-Omaha, North Dakota, Notre Dame, St. Cloud State and Vermont.
The event has taken place at a mix of on- and off-campus sites, visiting top venues such as Xcel Energy Center (St. Paul), Scottrade Center (St. Louis) and Kohl Center (Madison, Wis.).
The 2018 event will be held in Erie, Pa., at the Erie Insurance Arena, with Mercyhurst University and the Erie Sports Commission serving as hosts. Miami, Notre Dame and Providence will join the Lakers in pursuit of the tournament title.
Ice Breaker Tournament History
| | | | |
| --- | --- | --- | --- |
| Year | Host | Site | Field (Champion in Boldface) |
| 1997 | University of Wisconsin | Dane County Coliseum (Madison) | BU, Clarkson, Michigan State, Wisconsin |
| 1998 | University of Minnesota | Mariucci (Minneapolis) | BC, Minnesota, Ohio State, St. Lawrence |
| 1999 | University of Denver | Magness Arena (Denver) | Denver, Notre Dame, Providence, Union |
| 2000 | University of Michigan | Yost Arena (Ann Arbor) | Colgate, Michigan, New Hampshire, North Dakota |
| 2001 | University of Maine | Alfond Arena (Orono) | Bowling Green, Clarkson, Maine, St. Cloud |
| 2002 | University of Wisconsin | Kohl Center (Madison) | BU, Northern Michigan, Rensselaer, Wisconsin |
| 2003 | Michigan State University | Munn Arena (East Lansing) | BC, Findlay, Minnesota-Duluth, Michigan State |
| 2004 | New Hampshire | Whittemore Center (Durham) | New Hampshire, Ohio St., St. Cloud, St. Lawrence |
| 2005 | Colorado College | World Arena (Colorado Springs) | Air Force, Colorado College, Maine, Union |
| 2006 | Miami University | Goggin Ice Arena (Oxford) | Colgate, Denver, Miami, Vermont |
| 2007 | University of Minnesota | Xcel Energy Center (St. Paul) | BC, Michigan, Minnesota, Rensselaer |
| 2008 | Boston University | Agganis Arena (Boston) | BU, UMass, Michigan State, North Dakota |
| 2009 | Nebraska-Omaha | Qwest Center (Omaha) | Army, UMass Lowell, Nebraska-Omaha, St. Lawrence |
| 2010 | St. Louis Sports Commission | Scottrade Center (St. Louis) | BU, Holy Cross, Notre Dame, Wisconsin |
| 2011 | University of North Dakota | Ralph Engelstad Arena (Grand Forks) | Air Force, BC, Michigan State, North Dakota |
| 2012 | Kansas City Sports Commission | Sprint Center (Kansas City) | Army, Maine, Nebraska-Omaha, Notre Dame |
| 2013 | University of Minnesota | Mariucci Arena (Minneapolis) | Clarkson, Mercyhurst, Minnesota, New Hampshire |
| 2014 | University of Notre Dame | Compton Family Ice Arena (South Bend) | Minnesota, Minnesota Duluth, Notre Dame, Rensselaer |
| 2015 | University of Maine | Cumberland County Civic Center (Portland) | Lake Superior State, Maine, Michigan State, North Dakota |
| 2016 | University of Denver | Magness Arena (Denver) | Denver, Air Force, Boston College, Ohio State |
| 2017 | University of Minnesota Duluth | AMSOIL Arena (Duluth) | Michigan Tech, Minnesota, Minnesota Duluth, Union |
| 2018 | Mercyhurst University | Erie Insurance Arena (Erie) | Mercyhurst, Miami, Notre Dame, Providence |