Ice Breaker Tournament
---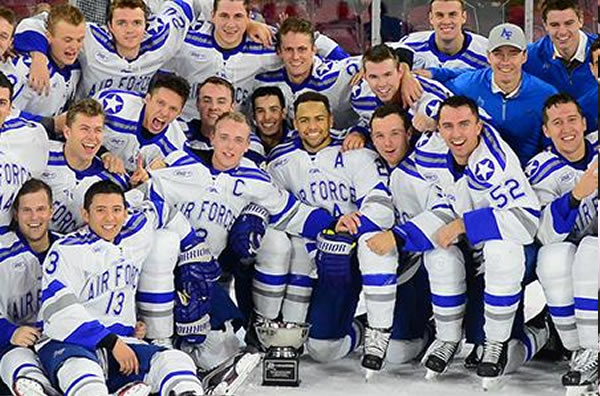 The annual Ice Breaker Tournament marks the traditional start to the college hockey season. Celebrating its 25th year in 2021-22, the Ice Breaker brings together four of the nation's top teams, typically from different conferences.
After the 2020 Ice Breaker Tournament was postponed due to the COVID-19 pandemic, the 2021-22 season will feature a pair of events for the first time. In October, Holy Cross will host three other schools in Worcester, Mass., while three schools visit Minnesota Duluth in Duluth, Minn.
Ohio State captured the 2019 Ice Breaker title, topping Western Michigan and RIT on the way to the title. The Huntington Center in Toledo, Ohio, hosted the tournament for the first time.
A terrific opportunity to put the spotlight on college hockey just as the season gets underway, the Ice Breaker also provides a tough early season test for some NCAA championship contenders.
Fifteen schools have won an Ice Breaker title since Michigan State claimed the first one 25 years ago. Past Ice Breaker champions include Boston University (three times), Minnesota (three times), New Hampshire (twice), Boston College (twice), Notre Dame (twice), Air Force, Colorado College, Denver, Michigan State, Michigan Tech, North Dakota, Ohio State, Omaha, St. Cloud State and Vermont.
The event has taken place at a mix of on- and off-campus sites, visiting top venues such as Xcel Energy Center (St. Paul), Scottrade Center (St. Louis) and Kohl Center (Madison, Wis.).
In 2021, Duluth's AMSOIL Arena will host the Ice Breaker for the second time in five years, while the event returns to New England for the first time since 2015. Between the two events, three of the participating schools have won a national championship in the past, combining for 14 titles between them.
Ice Breaker Tournament History
Year
Host
Site
Field (Champion in Boldface)
1997
University of Wisconsin
Dane County Coliseum (Madison)
BU, Clarkson, Michigan State, Wisconsin
1998
University of Minnesota
Mariucci (Minneapolis)
BC, Minnesota, Ohio State, St. Lawrence
1999
University of Denver
Magness Arena (Denver)
Denver, Notre Dame, Providence, Union
2000
University of Michigan
Yost Arena (Ann Arbor)
Colgate, Michigan, New Hampshire, North Dakota
2001
University of Maine
Alfond Arena (Orono)
Bowling Green, Clarkson, Maine, St. Cloud
2002
University of Wisconsin
Kohl Center (Madison)
BU, Northern Michigan, Rensselaer, Wisconsin
2003
Michigan State University
Munn Arena (East Lansing)
BC, Findlay, Minnesota-Duluth, Michigan State
2004
New Hampshire
Whittemore Center (Durham)
New Hampshire, Ohio St., St. Cloud, St. Lawrence
2005
Colorado College
World Arena (Colorado Springs)
Air Force, Colorado College, Maine, Union
2006
Miami University
Goggin Ice Arena (Oxford)
Colgate, Denver, Miami, Vermont
2007
University of Minnesota
Xcel Energy Center (St. Paul)
BC, Michigan, Minnesota, Rensselaer
2008
Boston University
Agganis Arena (Boston)
BU, UMass, Michigan State, North Dakota
2009
Nebraska-Omaha
Qwest Center (Omaha)
Army, UMass Lowell, Nebraska-Omaha, St. Lawrence
2010
St. Louis Sports Commission
Scottrade Center (St. Louis)
BU, Holy Cross, Notre Dame, Wisconsin
2011
University of North Dakota
Ralph Engelstad Arena (Grand Forks)
Air Force, BC, Michigan State, North Dakota
2012
Kansas City Sports Commission
Sprint Center (Kansas City)
Army, Maine, Nebraska-Omaha, Notre Dame
2013
University of Minnesota
Mariucci Arena (Minneapolis)
Clarkson, Mercyhurst, Minnesota, New Hampshire
2014
University of Notre Dame
Compton Family Ice Arena (South Bend)
Minnesota, Minnesota Duluth, Notre Dame, Rensselaer
2015
University of Maine
Cumberland County Civic Center (Portland)
Lake Superior State, Maine, Michigan State, North Dakota
2016
University of Denver
Magness Arena (Denver)
Denver, Air Force, Boston College, Ohio State
2017
University of Minnesota Duluth
AMSOIL Arena (Duluth)
Michigan Tech, Minnesota, Minnesota Duluth, Union
2018
Mercyhurst University
Erie Insurance Arena (Erie)
Mercyhurst, Miami, Notre Dame, Providence
2019
Bowling Green State University
Huntington Center (Toledo)
Bowling Green, Ohio State, RIT, Western Michigan
2020
Postponed: COVID-19
2021
College of the Holy Cross
Luth Athletic Complex (Worcester)
Boston College, Holy Cross, Northeastern, Quinnipiac
2021
University of Minnesota Duluth
AMSOIL Arena (Duluth)
Michigan, Minnesota Duluth, Minnesota State, Providence