Wednesday, March 1, 2017
Notes: Phinney Leads Princeton
Goalie in spotlight as playoffs begin in four conferences
---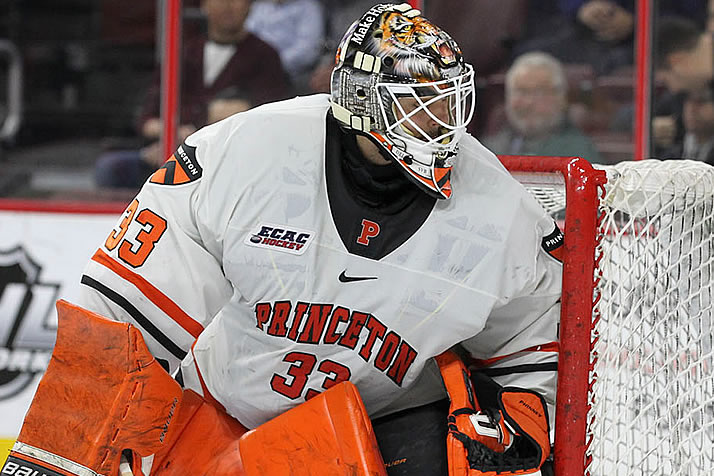 Colton Phinney has the most career saves (3,291) of any Ivy League goaltender in history (Photo by Beverly Schaefer).
By Nate Ewell
Princeton, in head coach Ron Fogarty's third season, is .500 for the first time since 2011 (13-13-3) and hosting Fogarty's alma mater, Colgate, in the first round of the ECAC Hockey Tournament. The Tigers are 6-2-2 in their last 10 and riding the hot goaltending of senior Colton Phinney (Chatham, N.J./Islanders-EJHL), who has more career saves than any other active goalie and any Ivy League goaltender in history. Phinney and a young group on offense – none of the Tigers' top eight scorers are seniors – turned around an 0-6-1 start to earn home ice.
Most Career Saves, Active Goaltenders
3,291 – Colton Phinney, Princeton
3,190 – Charlie Finn, Colgate
3,040 – Parker Gahagen, Army West Point
2,998 – Kyle Hayton, St. Lawrence
2,918 – Gordon Defiel, Lake Superior State
---
Must Read/See/Hear Material
The Hockey Writers: College hockey sustaining the Blackhawks
Columbus Dispatch: Schilkey pushing OSU toward NCAAs
Land of 10: Russian duo making big impact at Penn State | Smirnov hopes high-scoring style translates to NHL
Minnesota Hockey Journal: Poehling brothers' path to the dog pound
Quinnipiac Now: Hockey goalie defends against allergy to ice
GoGriffs.com: Get to know Charles Williams
BSNDenver.com: Borgstrom painting himself a masterpiece of a season
The Pipeline Show: Brad Schlossman, more
---
Five More Storylines No One Should Be Without
Nell thriving for BGSU – Bowling Green hosts Ferris State in a WCHA quarterfinal series and enters on a three-game winning streak in which the Falcons have outscored foes 12-0. Junior Chris Nell (Green Bay, Wis./Chicago-USHL) has set the school's shutout streak record (207:31) and stopped 93 shots in the three games. Nell, last year's first-team All-WCHA goaltender, is thriving after a difficult first half of the season on and off the ice – his father, Rick, passed away unexpectedly less than a month before the season. | BGSUHockey.com: BG building confidence, momentum from Nell's goaltending
In like a Tiger – Two-time defending Atlantic Hockey tournament champion RIT begins the pursuit of a threepeat with a home series against Niagara. Last year's tourney MVP, Myles Powell (Courtenay, B.C./Cowichan Valley-BCHL) was at his best last March – a month the Tigers have excelled in historically, with a 30-14 record since joining Division I. Powell, a junior captain, has three career overtime goals, including one in the Atlantic Hockey semifinals last March.
UNH's big man – Five of the nation's top seven scorers open playoff action this weekend, including co-leader Tyler Kelleher (Longmeadow, Mass./U.S. NTDP), who has averaged two points per game during his current nine-game point streak. Kelleher has added strength to his 5-foot-6, 154-pound frame, earning NHL free agent attention – a good fit for a league that increasingly values skill over size. | SBN College Hockey: Hockey sense sparks offense for Kelleher
Most Power-Play Points
30 – Tyler Kelleher, New Hampshire
29 – Dylan Sikura, Northeastern (CHI)
28 – Brady Ferguson, Robert Morris
26 – Zach Aston-Reese, Northeastern
24 – Michael McNicholas, New Hampshire
24 – Adam Gaudette, Northeastern (VAN)
Heirs to the CBS Line? – North Dakota wraps up its regular season at Miami and the defending NCAA champions enter the weekend tied with Omaha in the race for the final home-ice spot in the first round of the NCHC tournament. The Fighting Hawks, who last year were led by the "CBS Line," have united their top three scorers on a top line for the last three games. Shane Gersich (Chaska, Minn./Omaha-USHL/WSH), Tyson Jost (St. Albert, Alta./Penticton-BCHL/COL) and Brock Boeser (Burnsville, Minn./Waterloo-USHL/VAN) have combined for 45 percent of UND's goals this season.
MSU – Michigan State travels to Ohio State this weekend just two weeks removed from a pair of tough one-goal losses to the Buckeyes in East Lansing. Freshman Taro Hirose (Calgary, Alta./Salmon Arm-BCHL) has been a bright spot for the Spartans, as only five Big Ten freshmen have produced more than his 22 points through 29 games. Hirose is among five freshmen and sophomores who sit atop the Spartans' scoring leaders.
---
NHL Note of the Week
With the acquisition of Brendan Smith, the New York Rangers now have three former Wisconsin teammates (Ryan McDonagh, Derek Stepan) and four players who appeared in the 2010 national championship game. Chris Kreider scored a goal in that game and Boston College won, 5-0, giving him bragging rights over his three Badger teammates.

Follow any more movement among NCAA alumni in the NHL on our NHL Matchup Tool
---
Fries at the Bottom of the Bag
Eleven teams have reached the 20-win milestone; five of those did not win 20 games last season … Preseason conference rankings of the conference champions to this point: Canisius (9th), Bemidji State (6th), Harvard (3rd), Union (7th), Boston University (1st), UMass Lowell (4th) and Boston College (6th) … Minnesota Duluth alum Brett Hull, who scored more NHL goals than any other former NCAA player, will be a guest on this weekend's Hockey On Campus (SiriusXM NHL Network Radio, Sat., 8 a.m. ET).