Sunday, March 19, 2017
Path to Chicago is Set
Denver, UMD, Harvard and Minnesota earn top seeds in NCAA Tournament
---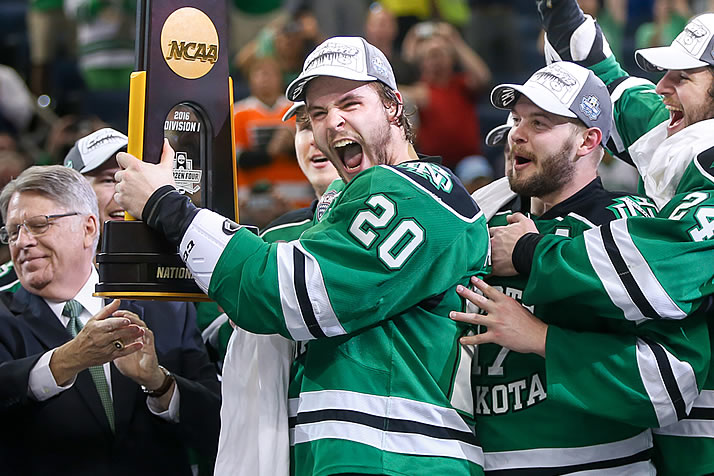 North Dakota will begin the defense of its 2016 national championship against Boston University (Photo by Larry Radloff).
The NCAA and ESPN unveiled the 16-team NCAA Tournament bracket Sunday on ESPNU, highlighted by Denver, Minnesota Duluth, Harvard and Minnesota earning the top four seeds.
2017 Men's Ice Hockey Bracket: Interactive - Printer-friendly bracket (.pdf)
TV Schedule - Sortable Team Stats
All games in the tournament will be broadcast on the ESPN family of networks and carried in Canada on TSN GO.
The field includes the six conference champions from Saturday night, teams that each earned automatic bids to the tournament: UMD, Harvard, Air Force, Michigan Tech, UMass Lowell and Penn State.
For Penn State, it's the first NCAA Tournament appearance in the program's five-year history. Only half of the field was in the 2016 NCAA Tournament.
North Dakota will have the opportunity to defend its championship and become the first team since Denver (2004 and '05) to repeat as champions. Six different schools have won the last six titles.