Tuesday, April 25, 2017
NCAA Alums Continue Chase for Cup
Second-round series feature matchups of former teammates, numerous rookies.
---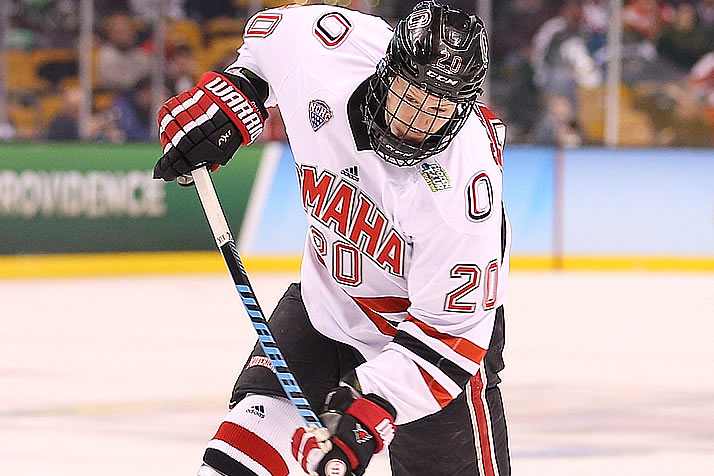 Omaha alum Jake Guentzel leads all NHL rookies in playoff scoring after the first round.
Former teammates will square off and at least 10 schools will be represented in each series as the second round of the Stanley Cup Playoffs opens Wednesday night.
The impact of former college players is especially evident among NHL rookies. More than 47% of all NHL rookies who remain in the Stanley Cup Playoffs (9 of 19) played college hockey, including leading rookie scorer Jake Guentzel (Pittsburgh/Omaha).
---
Capitals-Penguins
Guentzel will take part in the much-anticipated Washington Capitals-Pittsburgh Penguins series that features the top two teams in the NHL's regular season. The Caps-Pens series will pit two former Boston University teammates – Kevin Shattenkirk and Nick Bonino – against each other in a series that opens at Verizon Center, where those two and the Terriers captured the 2009 NCAA title.
Pittsburgh had more former college players in its regular season lineup than any team in NHL history, a trend that has continued in the playoffs. Twelve of the Pens' 18 skaters in the first round were NCAA alumni. Washington countered with seven former college players in its lineup. In all, 13 schools are represented by Capitals or Penguins who played in the first round.
---
Senators-Rangers
The other Eastern Conference series, Ottawa vs. the New York Rangers, will feature at least 15 players from 10 schools, led by Wisconsin. Former Badger teammates Kyle Turris and Ryan McDonagh will face off, while McDonagh is joined in the Ranger lineup by college teammates Derek Stepan and Brendan Smith.
---
Ducks-Oilers
Out West, former Northeastern teammates Josh Manson and Matt Benning will meet in the Anaheim-Edmonton series. That matchup features 12 NCAA alums from 11 schools, including Oilers starting goaltender Cam Talbot (Alabama Huntsville) and three members of the Ducks defense corps.
---
Predators-Blues
Colorado College alum Jaden Schwartz led St. Louis in its first-round victory against Minnesota, headlining a group of six Blues who played college hockey. Nashville counters with three NCAA alums who played in the first round, plus the possible return of Colin Wilson from injury. Wilson was a BU teammate of Shattenkirk and Bonino in 2009.