Tuesday, April 18, 2017
NCAA Sets Future Frozen Four Sites
Buffalo, Detroit, Pittsburgh, Boston set to host from 2019-22.
---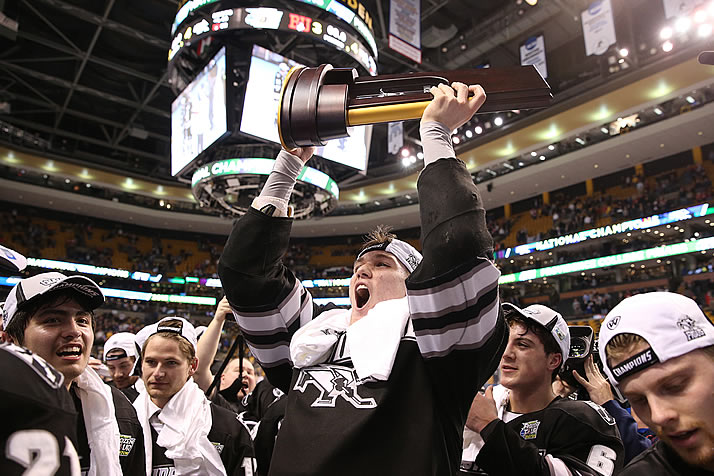 Boston last hosted the Frozen Four in 2015, when Providence beat Boston University.
College hockey fans can make plans to descend on Buffalo, Detroit, Pittsburgh and Boston in April of 2019 through 2022, as the NCAA announced the next four Frozen Four sites on Tuesday.
Each city has hosted a Frozen Four previously, though the 2020 event will take place at Detroit's yet-to-open Little Caesars Arena. Buffalo and Pittsburgh welcome the Frozen Four back for a second time each while the event returns to regular host Boston after a six-year hiatus.
The NCAA also revealed the regional sites for 2018 and '19, as follows:
2018: Allentown, Pa.; Bridgeport, Conn.; Sioux Falls, S.D.; Worcester, Mass.
2019: Allentown, Pa.; Fargo, N.D.; Manchester, N.H.; Providence, R.I.
The 2018 Frozen Four, previously announced, is set for St. Paul's Xcel Energy Center.
Buffalo will welcome the 2019 Frozen Four at the KeyBank Center, hosted by the MAAC conference. Buffalo last hosted the event in 2003, when Minnesota won the second of back-to-back championships.
Michigan State and the Detroit Sports Commission are the hosts for the Detroit event, as the Frozen Four returns to the Motor City for the first time since 2010 at Ford Field.
PPG Paints Arena will welcome the Frozen Four back to Pittsburgh for the second time after hosting Yale's championship in 2013. Robert Morris and SportsPITTSBURGH are the hosts for the event.
Hockey East and the Massachusetts Sports Marketing Office will co-host the Frozen Four's return to Boston in 2022, as TD Garden will be the site for the championship for the fourth time.