Monday, April 24, 2017
U.S. Captures U18 Gold
Team filled with NCAA ties completes tournament with perfect record.
---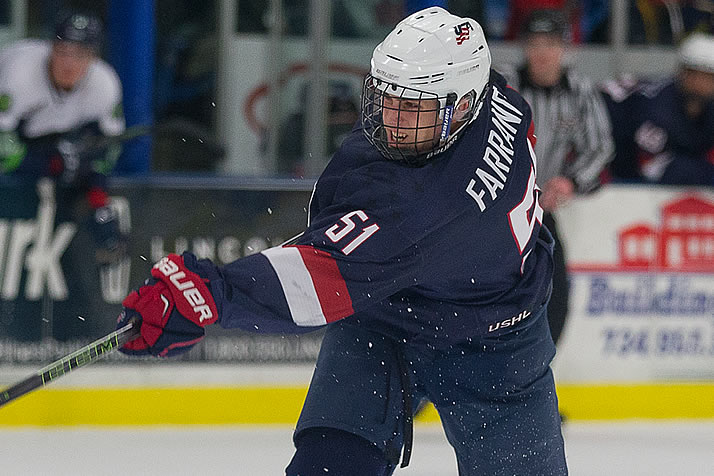 David Farrance was one of four BU commits on Team USA (Photo by Rena Laverty).
The United States Men's National Under-18 Team capped off a perfect IIHF Under-18 World Championship with a 4-2 win vs. Finland in the gold medal game Sunday.
The U.S. – featuring one current NCAA player and 22 committed recruits – captured its 14th consecutive medal in the tournament, including gold medals in seven of the last nine years (2009, 2010, 2011, 2012, 2014, 2015, 2017).
USA Hockey Release with Highlights
Boston University commit Joel Farabee – one of four future Terriers on the roster – scored twice in the gold medal game, while Grant Mismash (North Dakota) and Josh Norris (Michigan) also scored. Goaltender Dylan St. Cyr (Notre Dame) stopped 22 Finnish shots.
St. Cyr, Sean Dhooghe (Wisconsin) and Max Gildon (New Hampshire) all earned spots on the media all-star team for the tournament, while St. Cyr, Dhooghe and Quinn Hughes (Michigan) were named the top U.S. players by the coaching staff.
Dhooghe led a balanced U.S. offense with 9 points, followed closely by Mismash (8), Norris (7), Michael Pastujov (Michigan, 7) and Brady Tkachuk (Boston University, 7). Gildon and Oliver Wahlstrom (Harvard) shared the team lead with 4 goals each.
The U.S. finished the tournament 7-0-0-0, but was not without challenges. The Americans beat Russia in a one-goal game in the preliminary round, 5-4, and went to overtime before beating Sweden in the semifinals. Dhooghe scored the winner in that game to set up the gold-medal matchup with Finland.
St. Cloud State freshman Ryan Poehling was the one current NCAA player on the roster, while 12 other schools were represented by commits on the roster.