Friday, April 14, 2017
USHL Honors Future NCAA Stars
Recruits fill league awards as Clark Cup playoffs poised to begin.
---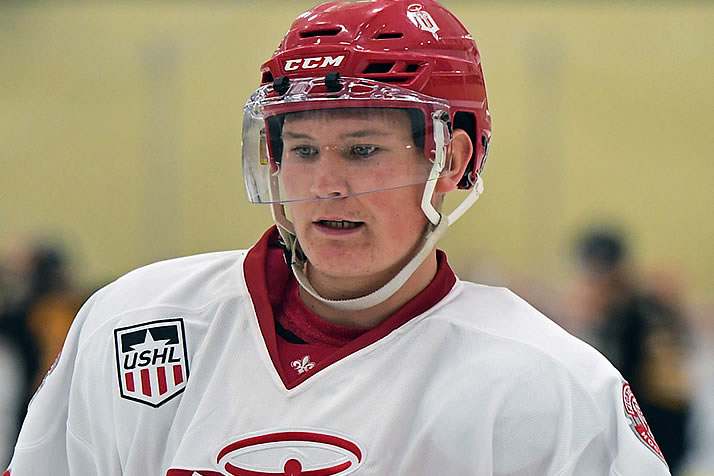 Northeastern commit Zach Solow was a first-team All-USHL selection and the league's Forward of the Year.
With the USHL's Clark Cup playoffs set to begin Friday night in Chicago, Dubuque, Sioux City and Waterloo, the league has honored a number of future NCAA stars with its year-end awards.
USHL Awards | 2017 Clark Cup Hub
Player of the Year, Goaltender of the Year and first-team All-USHL selection Matiss Kivlenieks – a Minnesota State recruit – led the way, and he was joined by fellow Maverick recruit Connor Mackey on the league's first team. Mackey was also named the USHL Defenseman of the Year.
Forward of the Year went to Northeastern commit Zach Solow, while two other Hockey East recruits – Eeli Tolvanen (Boston College) and Mario Ferraro (Massachusetts) – rounded out the all-league first team.
Player of the Year: Matiss Kivlenieks, Sioux City (Minnesota State)
Goaltender of the Year: Matiss Kivlenieks, Sioux City (Minnesota State)
Forward of the Year: Zach Solow, Dubuque (Northeastern)
Defenseman of the Year: Connor Mackey, Green Bay (Minnesota State)
Rookie of the Year: Andrei Svechnikov, Muskegon
First-Team All-USHL
G – Matiss Kivlenieks, Sioux City (Minnesota State)
D – Connor Mackey, Green Bay (Minnesota State)
D – Mario Ferraro, Des Moines (Massachusetts)
F – Zach Solow, Dubuque (Northeastern)
F – Eeli Tolvanen, Sioux City (Boston College)
F – Andrei Svechnikov, Muskegon
Second-Team All-USHL
G – Ivan Kulbakov, Youngstown
D – Mikey Anderson, Waterloo (Minnesota Duluth)
D – Quinn Hughes, U.S. Under-18 Team (Michigan)
F – Blake Lizotte, Fargo (St. Cloud State)
F – Jack Adams, Fargo (Union)
F – Nick Swaney, Waterloo (Minnesota Duluth)
Third-Team All-USHL
G – Robbie Beydoun, Waterloo (Michigan Tech)
D – Bo Hanson, Muskegon (St. Lawrence)
D – Wyatt Kalyuk, Bloomington (Wisconsin)
F – Colin Theisen, Dubuque (Notre Dame)
F – Linus Weissback, Tri-City (Wisconsin)
F – Shane Bowers, Waterloo (Boston University)
All-Rookie First Team
G – Keith Petruzzelli, Muskegon (Quinnipiac)
D – Mario Ferraro, Des Moines (Massachusetts)
D – Clayton Phillips, Fargo (Minnesota)
F – Andrei Svechnikov, Muskegon
F – Cole Guttman, Dubuque (St. Cloud State)
F – Isaac Johnson, Des Moines
All-Rookie Second Team
G – Maksim Zhukov, Green Bay
D – Marc Del Gaizo, Muskegon (Massachusetts)
D – Michaek Karow, Youngstown (Boston College)
F – Curtis Hall, Youngstown (Yale)
F – Adam Goodsir, Tri-City (Denver)
F – Tyler Gratton, Chicago
Curt Hammer Award (performance, leadership, pride, determination)
Logan Halladay, Bloomington (Merrimack)
Riese Zmolek, Cedar Rapids (Minnesota State)
USHL Scholar Athlete
Michael Karow, Youngstown (Boston College)
Graham Lillibridge, Chicago (Yale)
USHL All-Academic Team
Adam Goodsir, Tri-City (Denver)
Travis Mitchell, Muskegon
Michael Karow, Youngstown (Boston College)
Graham Lillibridge, Chicago (Yale)
Dylan St. Cyr, U.S. Under-18 Team (Notre Dame)