Wednesday, May 17, 2017
Alums Lead U.S. to First in Group
Americans face Finland in Thursday's quarterfinals at Worlds.
---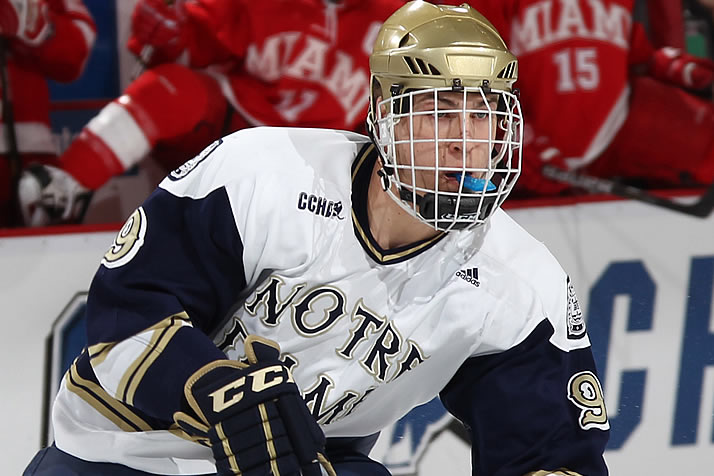 Notre Dame alumnus Anders Lee scored his fifth power-play goal of the tournament to lead the U.S. past Russia on Tuesday.
The U.S. Men's National Team – featuring 23 current or former NCAA players – won its sixth straight game Tuesday and captured first place in Group A of the 2017 IIHF World Championship, setting up a quarterfinal meeting with Finland on Thursday.
NCAA alums accounted for all five goals as the United States beat Russia Tuesday, 5-3, with Kevin Hayes (Boston College) scoring twice and Anders Lee (Notre Dame) recording the game-winning goal on a third-period power play.
The NCAA players on the roster include players who have appeared in each of the last seven Frozen Fours, 15 All-Americans, three NCAA champions and two Hobey Baker Award winners. The entire coaching staff – led by Ferris State alum and former Western Michigan head coach Jeff Blashill – also played college hockey.
The top 10 scorers on the U.S. team all played college hockey, led by Johnny Gaudreau (Boston College, 11 points) and Dylan Larkin (Michigan, 10). Jimmy Howard (Maine), Connor Hellebuyck (UMass Lowell) and Cal Petersen (Notre Dame) are the goaltenders on the U.S. roster, with Howard playing five of the seven games to this point.
Six players on the U.S. roster played college hockey in 2016-17: Petersen, Anders Bjork (Notre Dame), Daniel Brickley (Minnesota State), Jordan Greenway (Boston University), Clayton Keller (Boston University) and Charlie McAvoy (Boston University).
Eleven schools are represented on the roster, with Boston University and Michigan each boasting four players. Boston College and Notre Dame have three apiece.
The current six-game winning streak is the longest by a U.S. team at the World Championship since 1990. The U.S. is seeking its second gold medal in World Championship history and its first since 1933; the Americans have won bronze two of the past four years.
2017 U.S. Men's National Team
No.
Name
Pos.
2016-17 Team
NCAA Team
5
Connor Murphy
D
Arizona (NHL)
6
Daniel Brickley
D
Minnesota State
Minnesota State
7
JT Compher
F
Colorado (NHL)
Michigan
8
Jacob Trouba
D
Winnipeg (NHL)
Michigan
9
Andrew Copp
F
Winnipeg (NHL)
Michigan
10
Anders Bjork
F
Notre Dame
Notre Dame
12
Jordan Greenway
F
Boston University
Boston University
13
Johnny Gaudreau
F
Calgary (NHL)
Boston College
14
Nick Bjugstad
F
Florida (NHL)
Minnesota
15
Jack Eichel
F
Buffalo (NHL)
Boston University
17
Nick Schmaltz
F
Chicago (NHL)
North Dakota
18
Christian Dvorak
F
Arizona (NHL)
19
Clayton Keller
F
Boston University/Arizona (NHL)
Boston University
21
Dylan Larkin
F
Detroit (NHL)
Michigan
25
Charlie McAvoy
D
Boston University/Boston (NHL)
Boston University
26
Kevin Hayes
F
NY Rangers (NHL)
Boston College
27
Anders Lee
F
NY Islanders (NHL)
Notre Dame
29
Brock Nelson
F
NY Islanders (NHL)
North Dakota
35
Jimmy Howard
G
Detroit (NHL)
Maine
37
Connor Hellebuyck
G
Winnipeg (NHL)
UMass Lowell
40
Cal Petersen
G
Notre Dame
Notre Dame
55
Noah Hanifin
D
Carolina (NHL)
Boston College
57
Trevor van Riemsdyk
D
Chicago (NHL)
New Hampshire
65
Danny DeKeyser
D
Detroit (NHL)
Western Michigan
76
Brady Skjei
D
NY Rangers (NHL)
Minnesota
Asst. Executive Director, Hockey Operations: Jim Johannson (Wisconsin)
U.S. Men's National Team Management: Chris Drury (Boston University)
U.S. Men's National Team Management: Bill Guerin (Boston College)
Head Coach: Jeff Blashill (Ferris State)
Assistant Coach: Jack Capuano (Maine)
Assistant Coach: Rand Pecknold (Connecticut College/Quinnipiac head coach)
Assistant Coach: Seth Appert (Ferris State)
Video Coordinator: Adam Nightingale (Michigan State)