Thursday, May 11, 2017
Commits Contend for Clark Cup
USHL title comes down to Chicago vs. Sioux City, two teams filled with future NCAA talent.
---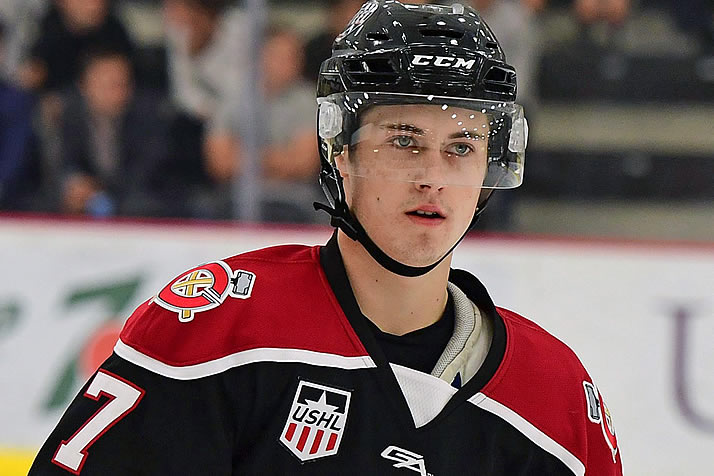 Yale recruit Graham Lillibridge plays for former Bulldogs assistant coach Dan Muse in Chicago.
The top teams in each USHL conference in the regular season will meet in the Clark Cup Final as the Chicago Steel and Sioux City Musketeers open the best-of-five series Friday night in Sioux City, Iowa.
As expected in the nation's only Tier I junior league, both rosters are filled with future NCAA players. A total of 44 players on the two teams are committed to 30 Division I schools (full list below).
USHL.com Clark Cup Hub | Listen: The U Show Final Preview
Chicago enters the Clark Cup Final with three of the top six scorers in the USHL playoffs in Jack Badini (Harvard, 13 points), Marc Johnstone (Sacred Heart, 10) and Eduards Tralmaks (Maine, 9). Sioux City counters with Kristian Pospisil (uncommitted, 10) and Tarek Baker (Wisconsin, 9) among the league's top six scorers.
The Steel defeated Youngstown and Dubuque to advance to the finals, while Sioux City won series vs. Des Moines and Waterloo. The first two games of the series will be held Friday and Saturday in Sioux City before the series shifts to Chicago for Game 3 on May 19. All games are available on HockeyTV.
Five schools have had recruits on each team appear in the playoffs:
Arizona State – Chicago's Johnny Walker and Sioux City's Jacob Wilson
Connecticut – Chicago's Adam Karashik and Sioux City's Brian Rigali
New Hampshire – Chicago's Corson Green and Sioux City's Charlie Kelleher
Penn State – Chicago's Tyler Gratton and Sioux City's Connor McMenamin
Western Michigan – Chicago's Derek Daschke and Sioux City's Carson Vance
Several other schools have had multiple commits appear in the playoffs for one of the teams in the Clark Cup Final:
Boston College – Sioux City's Aapeli Rasanen and Eeli Tolvanen
Harvard – Chicago's Badini and Baker Shore
Minnesota State – Chicago's Jake Jaremko and Reggie Lutz
Providence – Chicago's Ben Mirageas and Jason O'Neill
Tolvanen is a first-round NHL Draft prospect, while Chicago counters with three players on NHL Central Scouting's final rankings in Mirageas, Brannon McManus (Minnesota) and Dayton Rasmussen (Denver).
Both head coaches in the final are former NCAA players and assistant coaches. Chicago's Dan Muse is in his second season in the USHL after winning an NCAA champion as an assistant at Yale. Jay Varady, who played and coached at Union, is in his fourth season at Sioux City.
Chicago is seeking its first Clark Cup, while Sioux City seeks its fourth, but first since 2002.
NCAA Commitments in Clark Cup Final
Chicago Steel (22)
Wyatt Aamodt
Minnesota State
Jack Badini
Harvard
Derek Daschke
Western Michigan
Tyler Gratton
Penn State
Corson Green
New Hampshire
Jake Jaremko
Minnesota State
Marc Johnstone
Sacred Heart
Adam Karashik
Connecticut
Matthew Kiersted
North Dakota
Mitch Lewandowski
Michigan State
Graham Lillibridge
Yale
Austen Long
Colorado College
Reggie Lutz
Minnesota State
Brannon McManus
Minnesota
Ben Mirageas
Providence
Jason O'Neill
Providence
Dayton Rasmussen
Denver
Alec Regula
Michigan
Jordan Seyfert
Merrimack
Baker Shore
Harvard
Eduards Tralmaks
Maine
Johnny Walker
Arizona State

Sioux City Musketeers (22)
Tarek Baker
Wisconsin
Anea Ferrario
Brown
Connor Ford
Bowling Green
Matt Hellickson
Notre Dame
Jackson Keane
North Dakota
Charlie Kelleher
New Hampshire
Philip Knies
Miami
Cole Koepke
Minnesota Duluth
J.C. MacLean
Clarkson
Keegan Mantaro
Air Force
Joseph Matthews
Dartmouth
Connor Mayer
Connecticut
Connor McMenamin
Penn State
Matthew Miller
Michigan State
Micah Miller
St. Cloud State
Sampo Ranta
Wisconsin
Aapeli Rasanen
Boston College
Brian Rigali
Connecticut
Eeli Tolvanen
Boston College
Peter Tufto
Quinnipiac
Carson Vance
Western Michigan
Jacob Wilson
Arizona State