Tuesday, June 20, 2017
33 NCAA Players Invited to WJC Camp
USA Hockey Arena to host 2017 World Junior Summer Showcase.
---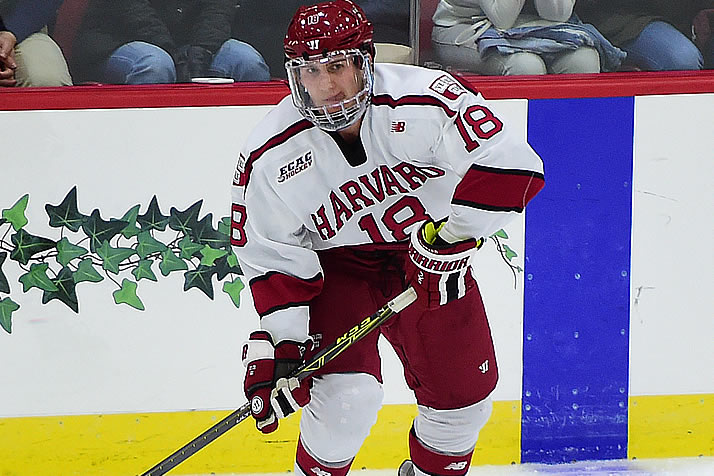 Harvard's Adam Fox led all NCAA defensemen in scoring as a freshman (Photo by Gil Talbot).
Players with NCAA connections make up the vast majority of United States invitations to the 2017 World Junior Summer Showcase, USA Hockey announced Tuesday.
A total of 33 college players are on the 42-player U.S. roster headed to the event, which is set for July 29 to Aug. 5 at USA Hockey Arena in Plymouth, Mich. The four-nation event features players contending for spots on their respective national teams for the 2018 World Junior Championship, which will be held in Buffalo, N.Y.
Fifteen NCAA schools have players or recruits among the U.S. invitees. Boston University leads all schools with six representatives (including a former player); Minnesota Duluth and Michigan have four each while Harvard, Minnesota and Wisconsin each have three.
Seven invitees are returnees from the U.S. team that captured the gold medal in the 2017 World Junior Championship, a group that featured 20 NCAA players. The entire coaching staff from that team – led by St. Cloud State head coach Bob Motzko – returns to guide this year's group.
The U.S. players at the World Junior Summer Showcase will be divided into two rosters. Those teams will compete against teams from Finland, Sweden, and two teams from Canada. Visit usahockey.com for a complete schedule of games.
NCAA Players on the U.S. World Junior Summer Showcase Roster
Player
2016-17 Team
NCAA Team

Goaltenders
Jake Oettinger
Boston University
Keith Petruzzelli
Muskegon (USHL)
Quinnipiac
Dylan St. Cyr
U.S. National Under-18 Team (USHL)
Notre Dame
Joseph Woll
Boston College

Defensemen
Mikey Anderson
Waterloo (USHL)
Minnesota Duluth
Adam Fox
Harvard
Max Gildon
U.S. National Under-18 Team (USHL)
New Hampshire
Quinn Hughes
U.S. National Under-18 Team (USHL)
Michigan
Tyler Inamoto
U.S. National Under-18 Team (USHL)
Wisconsin
Phil Kemp
U.S. National Under-18 Team (USHL)
Yale
Nate Knoepke
U.S. National Under-18 Team (USHL)
Minnesota
Chad Krys
Boston University
Ryan Lindgren
Minnesota
Luke Martin
Michigan
Andrew Peeke
Notre Dame
Dylan Samberg
Waterloo (USHL)
Minnesota Duluth

Forwards
Joey Anderson
Minnesota Duluth
Jack Badini
Chicago (USHL)
Harvard
Evan Barrett
U.S. National Under-18 Team (USHL)
Penn State
Kieffer Bellows
Boston University*
Logan Cockerill
U.S. National Under-18 Team (USHL)
Boston University
Sean Dhooghe
U.S. National Under-18 Team (USHL)
Wisconsin
Trent Frederic
Wisconsin
Patrick Harper
Boston University
Patrick Khodorenko
Michigan State
Will Lockwood
Michigan
Grant Mismash
U.S. National Under-18 Team (USHL)
North Dakota
Casey Mittelstadt
Eden Prairie HS
Minnesota
Josh Norris
U.S. National Under-18 Team (USHL)
Michigan
Ryan Poehling
St. Cloud State
Brady Tkachuk
U.S. National Under-18 Team (USHL)
Boston University
Riley Tufte
Minnesota Duluth
Oliver Wahlstrom
U.S. National Under-18 Team (USHL)
Harvard
* Former player