Saturday, June 24, 2017
Six Selected in Draft's First Round
UMass commit Makar leads group at fourth overall.
---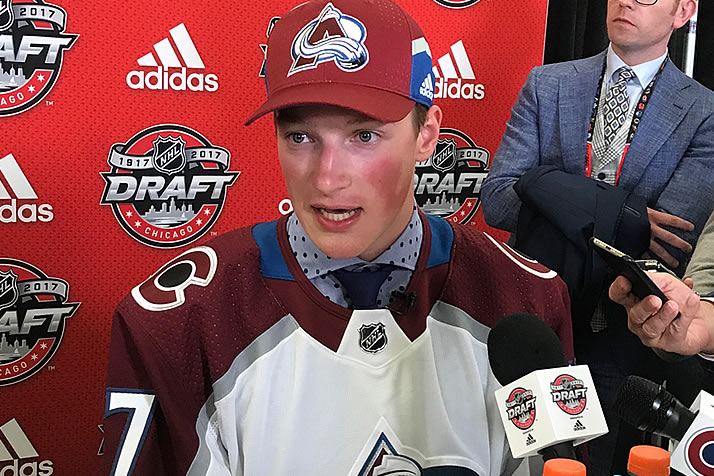 Cale Makar, who will be a freshman at Massachusetts in the fall, is the highest drafted Minuteman ever at No. 4 overall.
Six current and future college hockey stars were among the first 31 selections as the first round of the NHL Draft was conducted Friday night in Chicago.
Cale Makar, who will be at Massachusetts in the fall, started the night for NCAA hockey, becoming the first UMass player ever selected in the first round when he went fourth overall to Colorado.
The half-dozen NCAA selections were:
No. 4 overall Cale Makar (UMass), to Colorado
No. 8 overall Casey Mittelstadt (Minnesota), to Buffalo
No. 19 overall Josh Norris (Michigan), to San Jose
No. 25 overall Ryan Poehling (St. Cloud State), to Montreal
No. 26 overall Jake Oettinger (Boston University), to Dallas
No. 28 Shane Bowers (Boston University), to Ottawa
Just two months removed from crowning Denver as the NCAA champion, the United Center was host to a historic announcement to begin the evening. The NHL and NHLPA revealed their plan to help encourage the growth of NCAA hockey by funding feasibility studies for potential new programs, beginning at the University of Illinois.
Not long after that, Makar went to the Avalanche, a historic selection for the UMass program and just the 13th top-four selection in NHL Draft history to come from the NCAA ranks.
Mittelstadt, Minnesota's Mr. Hockey who will be a freshman at Minnesota in the fall, went eighth overall to Buffalo. The Eden Prairie native played both high school and USHL hockey in his draft year and could be in Buffalo with the U.S. National Junior Team in December and January.
Norris, a Michigan incoming freshman whose father, Dwayne, starred at rival Michigan State, was the third NCAA selection and the first from USA Hockey's National Team Development Program at 19 overall to San Jose.
Two rising NCAA sophomores and best friends from Lakeville, Minn., went back-to-back at 25 and 26. Ryan Poehling, one of three Poehlings at St. Cloud State, went first to Montreal, followed by his friend Jake Oettinger, the goaltender at Boston University. Oettinger was selected by Dallas.
Oettinger is the first NCAA goaltender taken in the first round since Cory Schneider (Boston College) in 2004.
Oettinger's future BU teammate Shane Bowers was selected 28th by Ottawa, giving the Terriers two first-round picks this year and six in the last two years.